Resumesbot is a Professional Resume Writing Service
We know how to succeed with: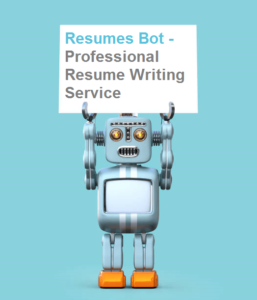 Attention-grabbing resume tailored per each job position
Keyword-rich resume optimized for Applicant Tracking System algorithms
One-on-one consultation with a Professional Resume Writers (PRWs)
If you are not invited to an interview within 60 days, we guarantee a free revision.
3-5 business day turnaround
Wondering what's in store for job seekers in 2019? We've got your crystal ball! The future belongs to ATS-friendly resume.
Creating a strong ATS resume is one way to conquer the system and get a job interview.
Resumes Bot provides classy writing services that are working for you right now! We know exactly what to say to employers to PICK YOU as #1.
Our company provides top rated resume writing services online and has 88,7% of satisfied customers all over the world. We combine our excellent resume writing proficiency with the requests and demands of our clients to create a killer resume to become a "job opportunity magnet" for hiring managers. Due to our dedicated Certified Resume Writers and unique database, including LinkedIn profiles with over 75+ specialties and full access to section "Skills", we can move mountains in your favor.
Get the Most Out of Our Writing Service
So you know you're facing some serious competition and your cv need professional help. If you're willing to invest in yourself with a superb written resume, you want to verify to make sure you get the full benefit of the experience, right?
Below are 4 tips to take advantage of Resumes Bot to ensure you can "game" the applicant tracking system and catch the employer's eye.
Provide as much information as you can. Together with a current copy of resume, send all the details concerning your work history, volunteering, list of technical/software skills, educational qualifications and references.
Define your job objective. This is the foundation of your resume. It helps your Certified Resume Writer to identify which of your core qualifications are most relevant to a specific job position.
Don't forget to mention your weak sides. Are you worried about being seen as a job-hopper? We know how to stick it out.
Emphasize your plan of action. According to studies, you're 10 times more likely to land a job when your job history is accompanied by a referral. Think about growing your LinkedIn network while searching for a job.
The resume, cover letter and LinkedIn profile are the most essential marketing tools for job seekers. We believe you are unique, thus our core focus is to provide high-quality services to make you stay ahead of an ever-changing market and strong competitors.
4 Reasons to Choose ResumesBot
The best thing about cooperation with our Top Rated Resume Writing Service is a good opportunity to work with first-class writers, who cooperate with hiring gurus to help you to learn the most powerful strategies for growing your career.
We DON'T use TEMPLATES! Our recruiting research team conducts a precise analysis of your competitors' resumes on LinkedIn (who already passed the ATS-screening), and Professional Resume Writers implement it into your job history, taking into consideration the contextualization of ATS screening.
We have dedicated writers with specialized expertise in all levels of resumes: from entry-level through C-Level resumes.
Multi-industry expertise including healthcare, manufacturing, sales, engineering, legal, information technology, government, scientific and military fields.
We believe that business strategies success when they bring us to a competitive position and solid financial performance. That's why our main strategy in resume writing is NOT to perform what you're responsible for, BUT show what you accomplished.
Remember, great things take time. Finding your dream job won't happen overnight. Be patient, persistent and positive, your job-search efforts are sure to be crowned with success.
Make your next career move with confidence. Let us write your resume!