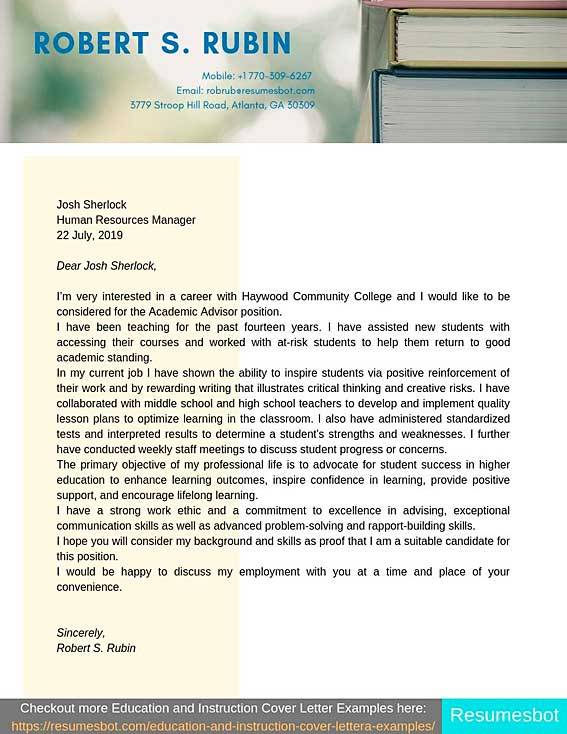 Design similar cover letter template in minutes
It's Okay to be different
ACADEMIC ADVISOR COVER LETTER TEMPLATE (TEXT FORMAT)
Robert S. Rubin
Mobile: +1 770-309-6267
3779 Stroop Hill Road, Atlanta, GA 30309
---
Josh Sherlock
Human Resources Manager
22.07.2019
Dear Josh Sherlock,
I'm very interested in a career with Haywood Community College and I would like to be considered for the Academic Advisor position.
I have been teaching for the past fourteen years. I have assisted new students with accessing their courses and worked with at risk students to help them return to good academic standing.
On my current job I have shown ability to inspire students via positive reinforcement of their work and by rewarding writing that illustrates critical thinking and creative risks. I collaborated with middle school and high school teachers to develop and implement quality lesson plans to optimize learning in the classroom. I also administered standardized tests and interpreted results to determine student's strengths and weaknesses. I further conducted weekly staff meetings to discuss student progress or concerns.
The primary objective of my professional life is to advocate for student success in higher education to enhance learning outcomes, inspire confidence in learning, provide positive support, and encourage lifelong learning.
I have a strong work ethic and a commitment to excellence in advising, exceptional communication skills as well as advanced problem-solving and rapport-building skills.
I hope you will consider my background and skills as proof that I am a suitable candidate for this position.
I would be happy to discuss my employment with you at a time and place of your convenience.
Sincerely,
Robert S. Rubin
How useful was this post?
Click on a star to rate it!
Average rating / 5. Vote count:
Other Samples from this Industry: