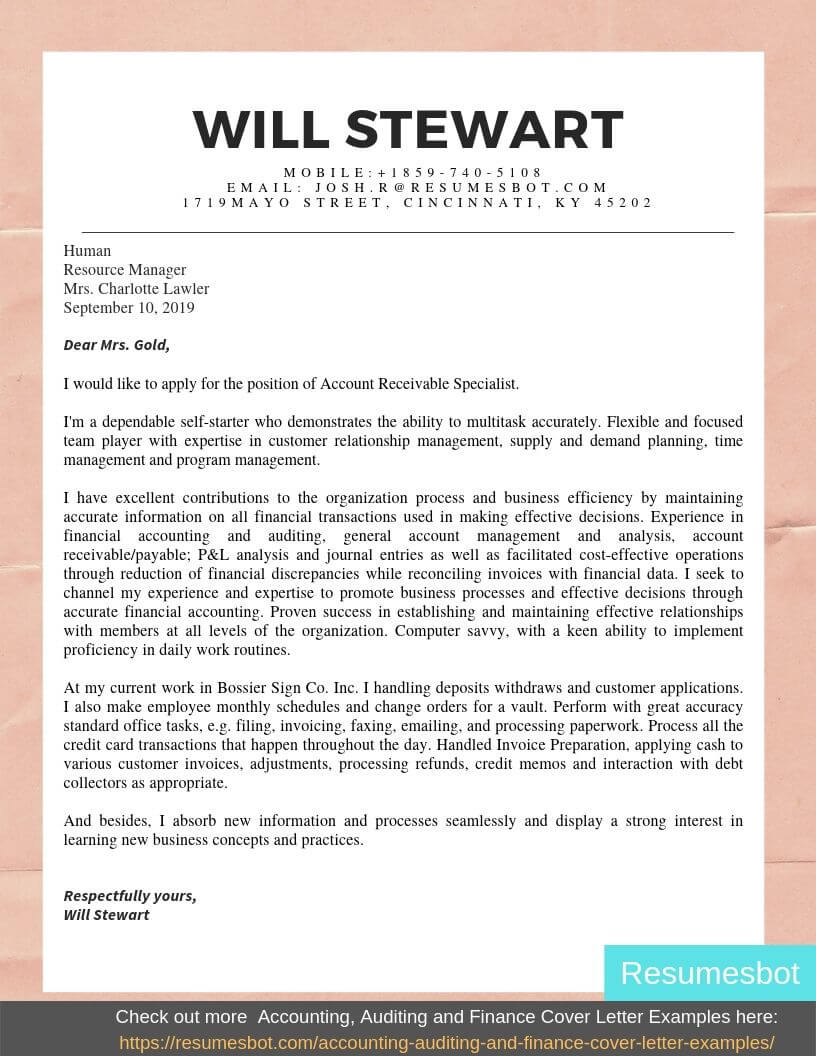 Design similar cover letter template in minutes
It's Okay to be different
ACCOUNT RECEIVABLE COVER LETTER TEMPLATE (TEXT FORMAT)
Will Stewart
Mobile: +1 859-740-5108
Email: josh.r@resumesbot.com
1719 Mayo Street, Cincinnati, KY 45202
---
Human Resource Manager
Mrs. Charlotte Lawler
September 10, 2019
Dear Mr. Charlotte,
I would like to apply for the position of Account Receivable Specialist.
I'm a dependable self-starter who demonstrates the ability to multitask accurately. Flexible and focused team player with expertise in customer relationship management, supply and demand planning, time management and program management.
I have excellent contributions to the organization process and business efficiency by maintaining accurate information on all financial transactions used in making effective decisions. Experience in financial accounting and auditing, general account management and analysis, account receivable/payable; P&L analysis and journal entries as well as facilitated cost-effective operations through reduction of financial discrepancies while reconciling invoices with financial data. I seek to channel my experience and expertise to promote business processes and effective decisions through accurate financial accounting. Proven success in establishing and maintaining effective relationships with members at all levels of the organization. Computer savvy, with a keen ability to implement proficiency in daily work routines.
At my current work in Bossier Sign Co. Inc. I handling deposits withdraws and customer applications. I also make employee monthly schedules and change orders for a vault. Perform with great accuracy standard office tasks, e.g. filing, invoicing, faxing, emailing, and processing paperwork. Process all the credit card transactions that happen throughout the day. Handled Invoice Preparation, applying cash to various customer invoices, adjustments, processing refunds, credit memos and interaction with debt collectors as appropriate.
And besides, I absorb new information and processes seamlessly and display a strong interest in learning new business concepts and practices.
Respectfully yours,
Will Stewart
How useful was this post?
Click on a star to rate it!
Average rating / 5. Vote count:
Other Samples from this Industry: