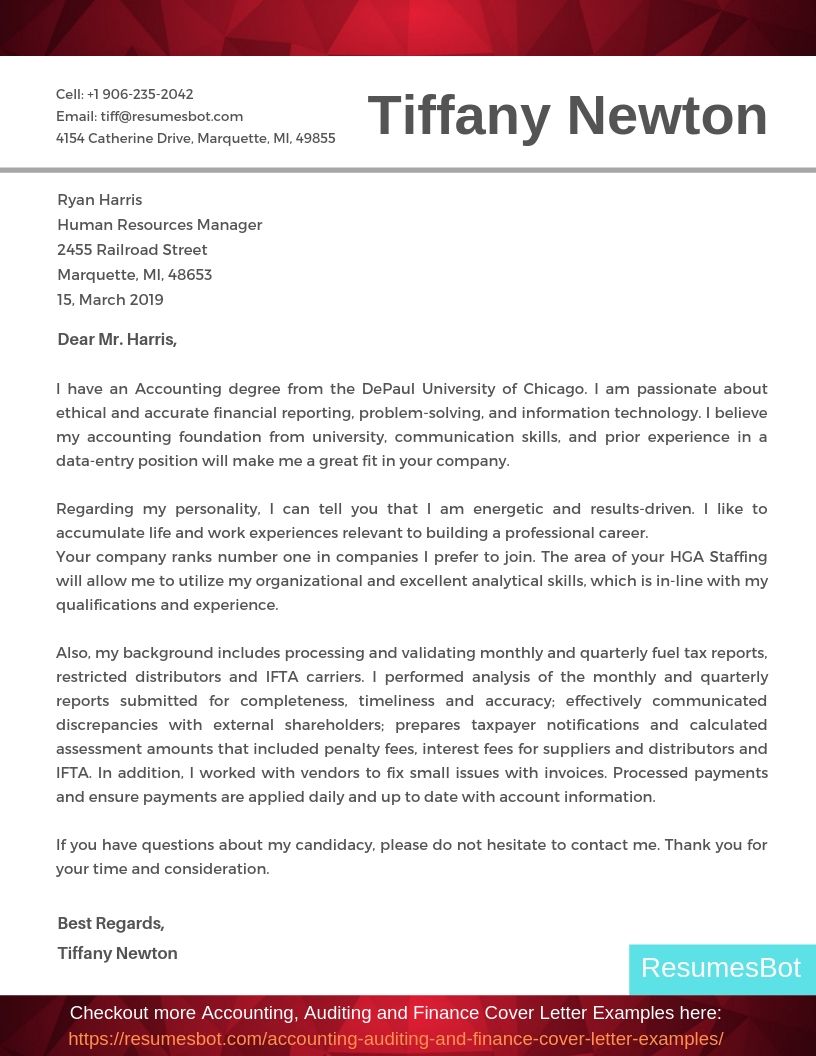 Design similar cover letter template in minutes
It's Okay to be different
ACCOUNTING CLERK COVER LETTER TEMPLATE (TEXT FORMAT)
Tiffany Newton
Cell: +1 906-235-2042
Email: tiff@resumesbot.com
4154 Catherine Drive, Marquette, MI, 49855
---
Ryan Harris
Human Resources Manager
2455 Railroad Street
Marquette, MI, 48653
15, March 2019
Dear Mr. Harris,
I have an Accounting degree from DePaul University Chicago. I am passionate about ethical and accurate financial reporting, problem-solving, and information technology. I believe my accounting foundation from university, communication skills, and prior experience in a data-entry position will make me a great fit in your company.
Regarding my personality, I can tell you that I am energetic and results-driven. I like to accumulate life and work experiences relevant to building a professional career.
Your company ranks number one in companies I prefer to join. The area of HGA Staffing will allow me to utilize my organizational and excellent analytical skills, which is in-line with my qualifications and experience.
Also, my background includes processing and validating monthly and quarterly fuel tax reports, restricted distributors and IFTA carriers. I Performed analysis of the monthly and quarterly reports submitted for completeness, timeliness and accuracy; effectively communicated discrepancies with external shareholders; prepares taxpayer notifications and calculated assessment amounts that included penalty fees, interest fees for suppliers and distributors and IFTA. In addition, I worked with vendors to fix small issues with invoices. Processed payments and ensure payments are applied daily and up to date with account information.
If you have questions about my candidacy, please do not hesitate to contact me. Thank you for your time and consideration.
Best Regards,
Tiffany Newton
How useful was this post?
Click on a star to rate it!
Average rating / 5. Vote count:
Other Samples from this Industry: