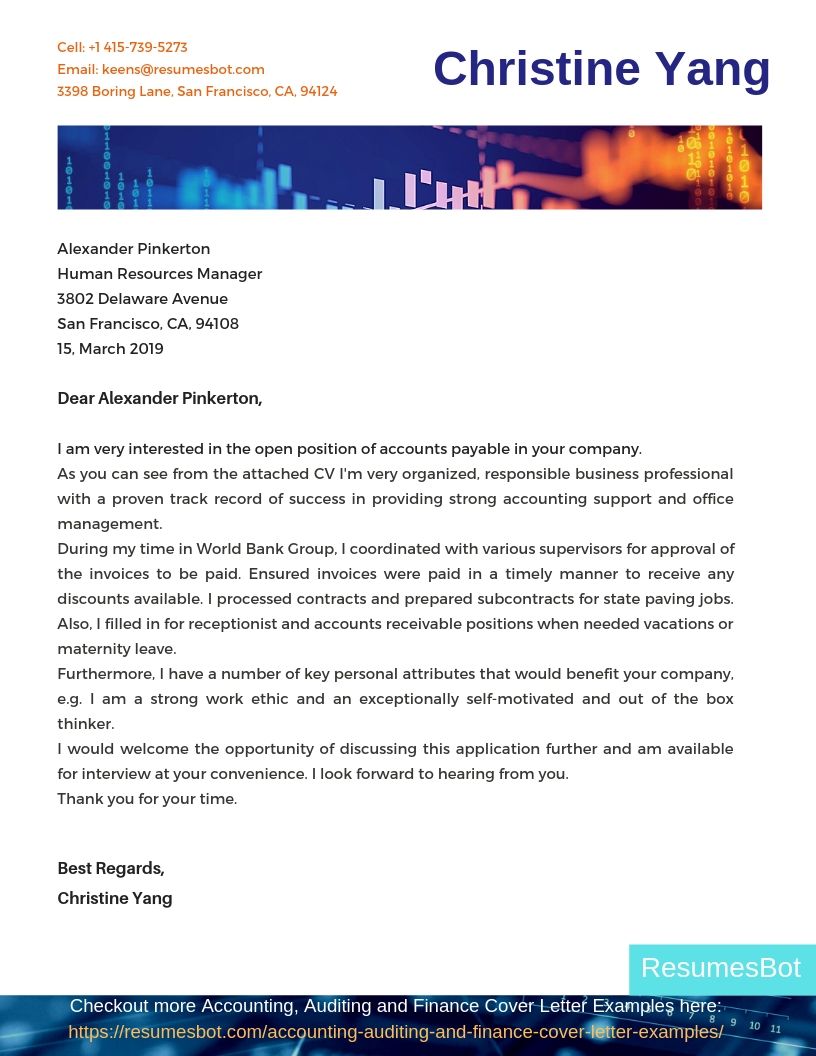 Design similar cover letter template in minutes
It's Okay to be different
ACCOUNTS PAYABLE COVER LETTER TEMPLATE (TEXT FORMAT)
Christine Yang
Cell: +1 415-739-5273
Email: keens@resumesbot.com
3398 Boring Lane, San Francisco, CA, 94124
---
Alexander Pinkerton
Human Resources Manager
3802 Delaware Avenue
San Francisco, CA, 94108
15, March 2019
Dear Alexander Pinkerton,
I am very interested in the open position of accounts payable in your company.
As you can see from the attached CV I'm very organized, responsible business professional with a proven track record of success in providing strong accounting support and office management.
During my time in World Bank Group, I coordinated with various supervisors for approval of the invoices to be paid. Ensured invoices were paid in a timely manner to receive any discounts available. I processed contracts and prepared subcontracts for state paving jobs. Also, I filled in for receptionist and accounts receivable positions when needed vacations or maternity leave.
Furthermore, I have a number of key personal attributes that would benefit your company, e.g. I am a strong work ethic and an exceptionally self-motivated and out of the box thinker.
I would welcome the opportunity of discussing this application further and am available for interview at your convenience. I look forward to hearing from you.
Thank you for your time.
Best Regards,
Christine Yang
How useful was this post?
Click on a star to rate it!
Average rating / 5. Vote count:
Other Samples from this Industry: