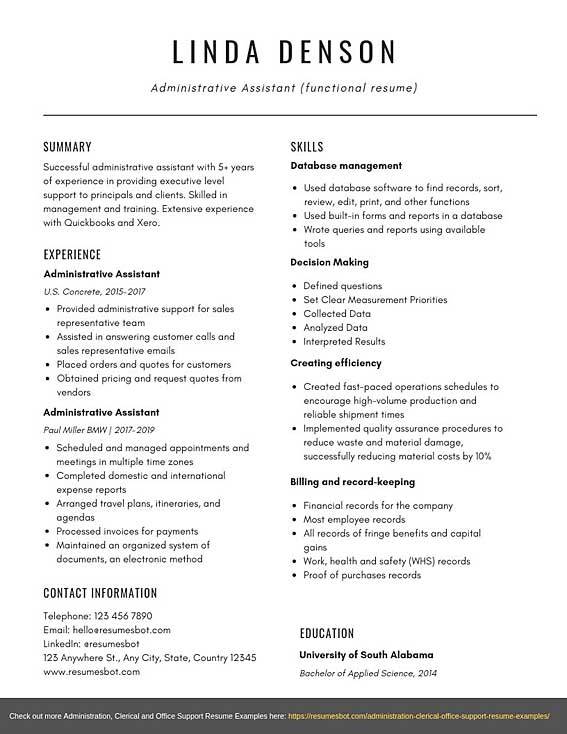 ADMINISTRATIVE ASSISTANT RESUME TEMPLATE (TEXT FORMAT)
SUMMARY
Successful administrative assistant with 5+ years of experience in providing executive level support to principals and clients. Skilled in management and training. Extensive experience with Quickbooks and Xero.
EDUCATION
University of South Alabama
Bachelor of Applied Science, 2014
SKILLS
Database management
Used database software to find records, sort, review, edit, print, and other functions
Used built-in forms and reports in a database
Wrote queries and reports using available tools
Decision Making
Defined questions
Set Clear Measurement Priorities
Collected Data
Analyzed Data
Interpreted Results
Creating efficiency
Created fast-paced operations schedules to encourage high-volume production and reliable shipment times
Implemented quality assurance procedures to reduce waste and material damage, successfully reducing material costs by 10%
Billing and record-keeping
Financial records for the company
Most employee records
All records of fringe benefits and capital gains
Work, health and safety (WHS) records
Proof of purchases records
EXPERIENCE
Administrative Assistant
U.S. Concrete, 2015-2017
Provided administrative support for sales representative team
Assisted in answering customer calls and sales representative emails
Placed orders and quotes for customers
Obtained pricing and request quotes from vendors
Administrative Assistant
Paul Miller BMW | 2017-2019
Scheduled and managed appointments and meetings in multiple time zones
Completed domestic and international expense reports
Arranged travel plans, itineraries, and agendas
Processed invoices for payments
Maintained an organized system of documents, an electronic method
Average Salary for Administrative Assistant Job
Administrative Assistant
Salaries
National Average
| | | |
| --- | --- | --- |
| Base Salary | $30k – $58k | |
| Bonus | $203 – $4k | |
| Profit Sharing | $343 – $4k | |
| Commission | $495 – $12k | |
| Total Pay | $26k – $52k | |
***Data are taken from payscale.com
How to Write a Resume for an Administrative Assistant
As an administrative assistant, you used to save your manager a couple of hours of work time each day. Your task now is to save a recruiter's time and to prove your worth with a perfectly written resume.
Let's reveal how to create a concise and elegant resume for an administrative assistant to reflect the core of your professional job skills — multitasking, discretion, and time management.
1. The Best Resume Format for Administrative Assistant
The best resume format for an administrative assistant is one page of clean, simple, ATS-friendly professional content.
The most reliable and resume-friendly fonts are Arial, Calibri, Cambria, Georgia, Times New Roman, and Verdana.
Regardless of a chosen font, use a font size 10.5-12 for better readability and clearness.
Structure your resume with headings and white spaces that help navigate through the blocks.
PDF keeps the layout in shape better than bubble wrap, that is why it is considered to be the best format to save your resume.
Some ATS can't recognize PDF-formatted documents, that is why you should always check the requirements of the job ad to make sure it's suitable.
Arrange your resume in reverse-chronological format, which is regarded as the best choice for resume for the admin assistant position.
2. Administrative Assistant Duties and Responsibilities for Resumes
Show through the bullet lines that you ran and coordinated the same day-to-day administrative duties and responsibilities as stated in the posting.
Mention the phrasings from the job ad requirements like 'answering and directing phone calls,' 'organizing and scheduling meetings and appointments,' 'maintaining contact lists' in your Professional Experience section.
Use more keywords and action verbs.
The titles for the Admin Assistant may vary according to a specific industry, company culture, or levels of competence. Though all of them mean the same administrative and clerical duties, ATS needs specific keywords for an administrative assistant resume to let it go through a filter.
Check twice the vacancy to edit and optimize your titles, duties, and responsibilities as they are specified in the job posting. Interchangeable roles for Administrative Assistant may include the following titles:
Office Assistant;
Executive Assistant;
Office Administrator;
Data Entry Clerk;
Secretary;
Receptionist;
Operations Manager;
Office Manager.
3. Resume Summary for Administrative Assistant
An administrative assistant resume summary aims to highlight your skills and their potential value for an employer.
It's better to place a professional summary for an administrative assistant first as a concise argument for why you would fit the job the best, making a hiring manager proceed with further reading.
There are three core points to include in your summary:
description of how long you've been an administrative assistant with essential duties you performed;
listing of your degree, strengths, and expertise in relevant software (Microsoft Excel, Microsoft Office, Outlook, Trello, QuickBook, databases, etc.);
specification of role you want to fill, emphasizing why your candidacy is a good choice.
Resume Summary Examples for Administrative Assistants
Do "Motivated administrative professional with 7 years of relevant experience and a Bachelor's degree looking for as an administrative professional at 'Company's name'. Coming with proficiency in MadCap and Cicero, in-depth knowledge of legal terminology, practice, and a licensed notary public. Multitasking and extremely organized professional, able to work under pressure and collaborate with a team."
This example of a strong and targeted summary of qualifications for an administrative assistant reinforces the candidate's personality and qualifications. It ties together diverse skillsets and showcases them to the employer who looks for specific qualities in a candidate in a meaningful way.
Don't "Accomplished specialist with more than 7 years of experience in a large law firm and a Bachelor's degree, seeking to advance a career. Can work with documents and know computer programs. A friendly individual, working in any environment."
Here you can see several common mistakes making lose your readers at the beginning:
Lack of specific — the absence of company's name and a targeted position;
Overused and general cliches — "… seeking to advance a career";
Vague framing — "… can work with documents and know computer programs";
Bush-league language — "friendly";
No focusing on the company's needs.
4. Skills for Administrative Assistant Resume
The importance of organization and communication skills and abilities for administrative assistant resume is highlighted right in any job description of Admin Assistant.
Skills to Include on Administrative Assistant Resume
As an Administrative Assistant, you need strong organization skills to keep yourself and the whole office organized as well. This includes organizing team schedules, events, and files with a system that makes sense for everyone.
Technological skills are necessary to perform data entry, manage team schedules, and create company reports. It's important to be adept in Microsoft Office software (Excel, Word, PowerPoint, Outlook). It's also not uncommon for admin assistants to help input data into a customer relationship management (CRM) system, customer service platform, or virtual help desk. This means you need to have a thorough understanding of computer software, browsers, and operating systems in order to perform the job.
You need to be able to plan strategically. This means prioritizing your tasks in order of importance or planning out processes for the entire office to follow. Planning skills also come into play when arranging employee and executive calendars when unexpected cancellations or changes arise.
Top Hard Skills for an Administrative Assistant
Hard skills mean learned abilities, such as bookkeeping. Feel free to customize industry-specific terminology, translating your skills. Such skills as administrative support, finance and budget management, staff coordination, calendars, and schedules are common for all fields.
Here are the top hard skills for your administrative assistant resume:
Microsoft Word / Excel / Outlook / PowerPoint / SharePoint;
Database management;
Billing;
Calendar and scheduling management;
Quickbooks and Xerox;
Photocopying, scanning, and competency in projectors;
Touch typing;
Accurate data entry;
Social media knowledge;
Inventory & supply management;
Editing, spelling, and proofreading.
Top Soft Administrative Assistant Resume Skills Examples
Communication & phone etiquette;
Prioritization and problem-solving;
Time management;
Multitasking;
Organization & planning;
Research & analysis;
Attention to detail;
Customer service;
Discretion;
Emotional Intelligence;
Responsibility;
Teamwork & delegation;
Management & training;
Flexibility & efficiency.
5. Resume Action Words for Administrative Assistant
Typed
Opened
Purchased
Greeted
Recorded
Overhauled
Coordinated
Provided
Monitored
Prepared
Assisted
Maintained
Increased
Dealt
Instituted
6. Accomplishments Statements for Administrative Assistant
Perfect resume accomplishments should be quantifiable and measurable.
Specify what you achieved in numbers to illustrate your value to an employer.
Stress your achievements and results instead of duties or responsibilities.
Include challenge, action, and result into each statement.
The Professional Experience section looks better with your achievements:
Johns & Sons Refuse SVC – Lincoln, NE
Secretary, March 2017 – June 2021
Answered and direct phone calls, promptly responded to around 40 general telephone and 10 email inquiries per day.
Implemented Google meetings and bi-weekly scheduled them.
Organized appointments, arranged travel for senior staff.
Maintained contact lists and filing systems, established a personal network, created 2 clients' databases for two departments.
Produced and distributed correspondence, notes, invoices, optimized the process with MS Outlook.
Assisted in the preparation of weekly scheduled reports.
Posted advertisements online to attract new customers, bringing an average $2,000 in service costs per week.
Sample Accomplishments Statements for Administrative Assistant
"Organized annual interstate summit, including flights, accommodations, and itineraries for more than 20 attendees."
"Reduced time spent on inventory by 15% by reorganizing the storage of supplies."
"Digitized company's internal paper-office of 3,000 files."
"Created and managed Instagram ad campaigns with a monthly budget of $10,000."
"Implemented a bi-weekly Google meeting with 7 departments, increasing productivity across departments by 10% year-over-year growth."
"Went above my duties as administrative assistant to implement a filing system for 3 departments, organizing more than 500 records and files."
7. Common Certificates for Administrative Assistant Resume
Certified Associate in Project Management
Certified Administrative Professional
Fundamental Payroll Certification
How useful was this post?
Click on a star to rate it!
Average rating / 5. Vote count:
Other Samples from this Industry: