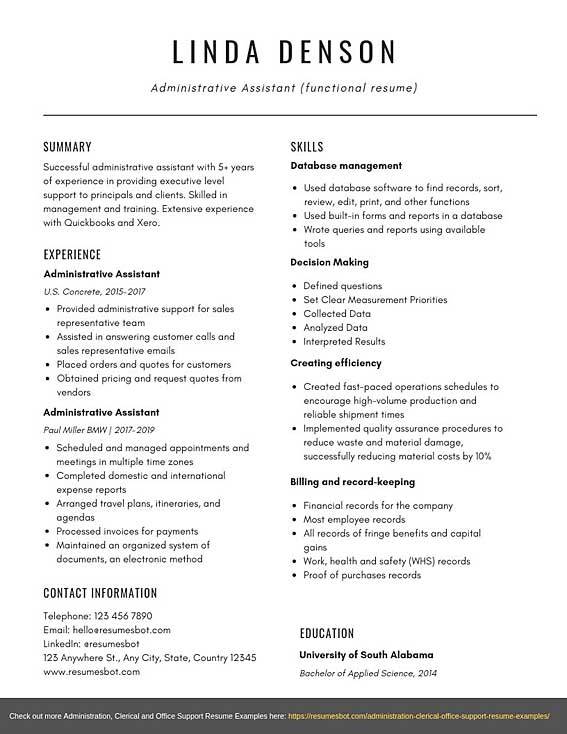 Design similar resume template in minutes
It's Okay to be different
ADMINISTRATIVE ASSISTANT RESUME TEMPLATE (TEXT FORMAT)
SUMMARY
Successful administrative assistant with 5+ years of experience in providing executive level support to principals and clients. Skilled in management and training. Extensive experience with Quickbooks and Xero.
EDUCATION
University of South Alabama
Bachelor of Applied Science, 2014
SKILLS
Database management
Used database software to find records, sort, review, edit, print, and other functions
Used built-in forms and reports in a database
Wrote queries and reports using available tools
Decision Making
Defined questions
Set Clear Measurement Priorities
Collected Data
Analyzed Data
Interpreted Results
Creating efficiency
Created fast-paced operations schedules to encourage high-volume production and reliable shipment times
Implemented quality assurance procedures to reduce waste and material damage, successfully reducing material costs by 10%
Billing and record-keeping
Financial records for the company
Most employee records
All records of fringe benefits and capital gains
Work, health and safety (WHS) records
Proof of purchases records
EXPERIENCE
Administrative Assistant
U.S. Concrete, 2015-2017
Provided administrative support for sales representative team
Assisted in answering customer calls and sales representative emails
Placed orders and quotes for customers
Obtained pricing and request quotes from vendors
Administrative Assistant
Paul Miller BMW | 2017-2019
Scheduled and managed appointments and meetings in multiple time zones
Completed domestic and international expense reports
Arranged travel plans, itineraries, and agendas
Processed invoices for payments
Maintained an organized system of documents, an electronic method
Average Salary for Administrative Assistant Job
Administrative Assistant
Salaries
National Average
| | | |
| --- | --- | --- |
| Salary | $29k – $56k | |
| Bonus | $206 – $5k | |
| Profit Sharing | $299 – $5k | |
| Commission | $252 – $10k | |
| Total Pay | $25k – $51k | |
***Data are taken from payscale.com
Good Skills to Include on Administrative Assistant Resume
As an Administrative Assistant, you need strong organization skills to keep yourself and the whole office organized as well. This includes organizing team schedules, events, and files with a system that makes sense for everyone.
Technological skills are necessary to perform data entry, manage team schedules, and create company reports. It's important to be adept in Microsoft Office software (Excel, Word, PowerPoint, Outlook). It's also not uncommon for admin assistants to help input data into a customer relationship management (CRM) system, customer service platform, or virtual help desk. This means you need to have a thorough understanding of computer software, browsers, and operating systems in order to perform the job.
You need to be able to plan strategically. This means prioritizing your tasks in order of importance or planning out processes for the entire office to follow. Planning skills also come into play when arranging employee and executive calendars when unexpected cancellations or changes arise.
Resume Action Words for Administrative Assistant
Typed
Opened
Purchased
Greeted
Recorded
Overhauled
Coordinated
Provided
Monitored
Prepared
Assisted
Maintained
Increased
Dealt
Instituted
Common Certificates for Administrative Assistant Resume
Certified Associate in Project Management
Certified Administrative Professional
Fundamental Payroll Certification
How useful was this post?
Click on a star to rate it!
Average rating / 5. Vote count:
Other Samples from this Industry: