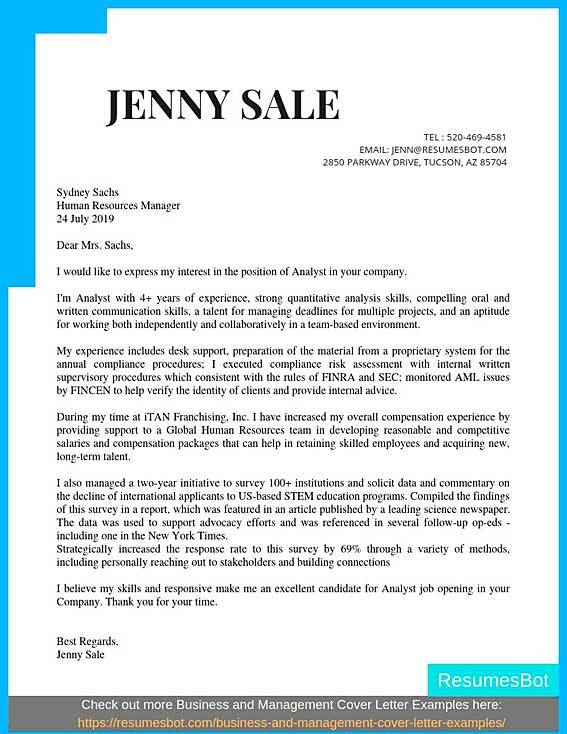 Design similar cover letter template in minutes
It's Okay to be different
ANALYST COVER LETTER TEMPLATE (TEXT FORMAT)
Jenny Sale
Tel : 520-469-4581
2850 Parkway Drive, Tucson, AZ 85704
---
Sydney Sachs
Human Resources Manager
24 July 2019
Dear Mrs. Sachs,
I would like to express my interest in the position of Analyst in your company.
I'm Analyst with 4+ years of experience, strong quantitative analysis skills, compelling oral and written communication skills, a talent for managing deadlines for multiple projects, and an aptitude for working both independently and collaboratively in a team-based environment.
My experience includes desk support, preparation of the material from a proprietary system for the annual compliance procedures; I executed compliance risk assessment with internal written supervisory procedures which consistent with the rules of FINRA and SEC; monitored AML issues by FINCEN to help verify the identity of clients and provide internal advice.
During my time at iTAN Franchising, Inc. I have increased my overall compensation experience by providing support to a Global Human Resources team in developing reasonable and competitive salaries and compensation packages that can help in retaining skilled employees and acquiring new, long-term talent.
I also managed a two-year initiative to survey 100+ institutions and solicit data and commentary on the decline of international applicants to US-based STEM education programs. Compiled the findings of this survey in a report, which was featured in an article published by a leading science newspaper. The data was used to support advocacy efforts and was referenced in several follow-up op-eds – including one in the New York Times.
Strategically increased the response rate to this survey by 69% through a variety of methods, including personally reaching out to stakeholders and building connections.
I believe my skills and responsive make me an excellent candidate for Analyst job opening in your Company. Thank you for your time.
Best Regards,
Jenny Sale
How to Write Cover Letter for Analyst?
The profession of an analyst is pretty broader concept. There are some Analysts specializations:
Business Analyst
Data Analyst
Financial Analyst
Transportation Analyst, etc.
The definition of Analyst is a person who is able to analyze a significant amount of information, summarize it and as a result makes a review and predict further developments. Cover letter for analyst position should include an introductory part, where you can write the aim you send the cover letter. You may underline on how did you know about the opening position of Analyst, that you want to apply.
You should include information about why you are interested in working in this exact company. Try to underline that you have analyzed the company's activities and have a general idea of the analyst's responsibilities in this company. The inclusion of information about your level of expertise and willingness to take action that will improve company productivity will be a great advantage.
You should indicate the degree as well as underline of your academic performance if you had a high score.
If you already got prior analytical work experience as an analyst, you may include this information at will. Definitely include your accomplishments at previous jobs. People perceive quantitative indicators better than others, so try to stress your success accomplishments with numbers. Include all your previous relevant experience. Tell about your skills in a narrative form.
Here are good skills examples to include in a cover letter for analyst:
The analyst job requires critical thinking skills:
Understand the links between ideas.
Identify inconsistencies and errors in reasoning.
Determine the importance and relevance of arguments and ideas.
Reflect on the justification of their own assumptions, beliefs and values.
Experience in statistics field:
Follow complex mathematical and statistical arguments and to develop brief arguments of your own
Find, extract and analyze data from many sources
Communicate mathematical and statistical information effectively
Another important trait for an analyst is the presence of natural curiosity. A good analyst has a true insatiable thirst for knowledge:
A motivated desire for information
I always try to learn the truth
I like to ask better questions
I enjoy understanding why things are the way they are.
Attention to details:
Carefully monitors the details and quality of their own and others' work.
Maintains a checklist, schedule, calendar, etc., to ensure that small details are not overlooked.
For make a good impression finish your letter with words of gratitude and a a call for action.
Use the analyst cover letter example below to write your own cover letter.
Analyst Cover Letter Template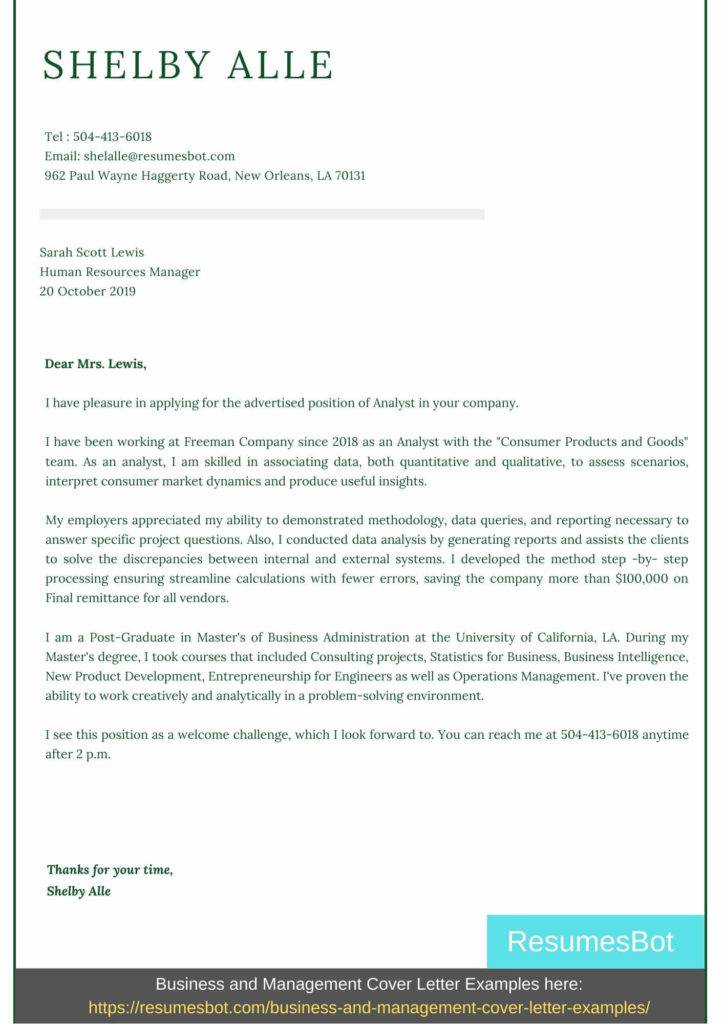 Analyst Cover Letter Entry Level Sample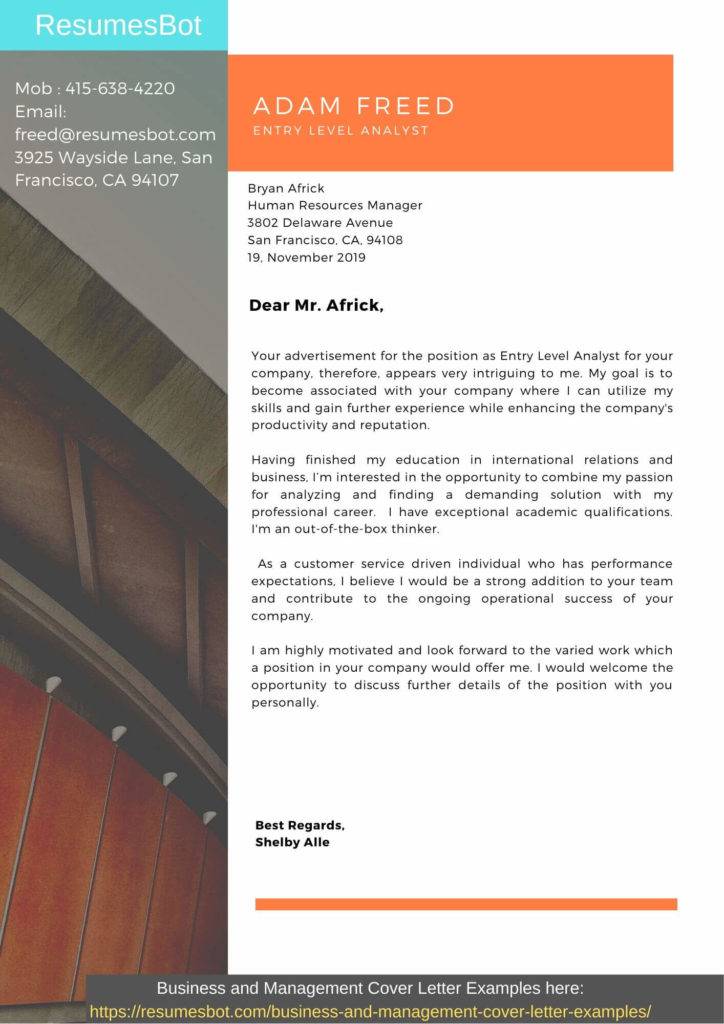 How useful was this post?
Click on a star to rate it!
Average rating / 5. Vote count:
Other Samples from this Industry: