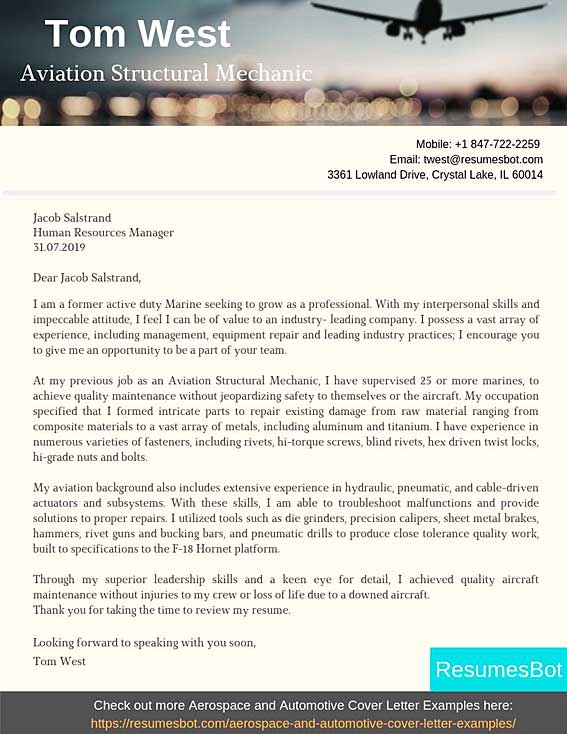 Design similar cover letter template in minutes
It's Okay to be different
AVIATION COVER LETTER TEMPLATE (TEXT FORMAT)
Tom West
Mobile: +1 847-722-2259
3361 Lowland Drive, Crystal Lake, IL 60014
---
Jacob Salstrand
Human Resources Manager
31.07.2019
Dear Jacob Salstrand,
I am a former active duty Marine seeking to grow as a professional. With my interpersonal skills and impeccable attitude, I feel I can be of value to an industry-leading company. I possess a vast array of experience, including management, equipment repair and leading industry practices; I encourage you to give me an opportunity to be a part of your team.
At my previous job as an Aviation Structural Mechanic, I have supervised 25 or more marines, to achieve quality maintenance without jeopardizing safety to themselves or the aircraft. My occupation specified that I formed intricate parts to repair existing damage from raw material ranging from composite materials to a vast array of metals, including aluminum and titanium. I have experience in numerous varieties of fasteners, including rivets, hi-torque screws, blind rivets, hex driven twist locks, hi-grade nuts and bolts.
My aviation background also includes extensive experience in hydraulic, pneumatic, and cable-driven actuators and subsystems. With these skills, I am able to troubleshoot malfunctions and provide solutions to proper repairs.
I utilized tools such as die grinders, precision calipers, sheet metal brakes, hammers, rivet guns and bucking bars, and pneumatic drills to produce close tolerance quality work, built to specifications to the F-18 Hornet platform.
Through my superior leadership skills and a keen eye for detail, I achieved quality aircraft maintenance without injuries to my crew or loss of life due to a downed aircraft.
Thank you for taking the time to review my resume.
Looking forward to speaking with you soon,
Tom West
How to Write Aviation Cover Letter
Writing a letter is not such a difficult task, but it has its own specificities.
Use the right layout. The aviation cover letter sample should look professional and therefore we recommend to use a formal style. You can use our aviation cover letter template as an example to write your own cover letter.
Have no fear, that it won't draw the recruiter's attention because of all formal layout's look similar. If you address your letter to a person who is accepting resumes within the company and start it in the right way you won't be unnoticed.
Try to gather as much information about the company you're writing for. Tell in a short way this company's achievements you admire about, propose ideas for work processes rationalizing.
Do not attempt to duplicate the information from the resume in your cover letter. These are two documents for different purposes. The resume is a standard document, which can indicate your work experience, education, skills, etc. The cover letter is a more personalized document. Your task is to tell the most important relevant information about yourself. It's an opportunity to have an absentee introduction with your employer and show why particular you deserve to assume that position.
The best way is to write a letter directly to the position for which you are applying. Analyze attentively employer's requirements and write your own skills in such a way as to suited to requirements. Try to emphasize your strengths. Your experience and skills should be slightly higher required qualification in vacancy announcements to give the impression that you could fit for the higher position.
Don't forget about soft skills. The company looks for not only a professional but also an employee as a team member, who has to fit in. That is why if you have hobbies, volunteer work, participation in associations include this information safely. An unordinary hobby will really make you stand out of candidates.
Here are key skill suitable for the cover letter for aviation:
High qualification for aviation service.
Eligibility to deploy and mobilize worldwide.
Perfect depth perception.
Airport and Airline or similar industry operational experience with a background in safety and regulatory compliance.
Excellent organizational skills.
High level of awareness and attention to detail.
Able to work under high-stress situations and in hazardous environments.
Positive attitude.
Dependable and reliable.
Do not forget to finish your letter with words of gratitude to a person in which you addressed a letter. It would give the impression that you are a polite and grateful individual.
How useful was this post?
Click on a star to rate it!
Average rating / 5. Vote count:
Other Samples from this Industry: