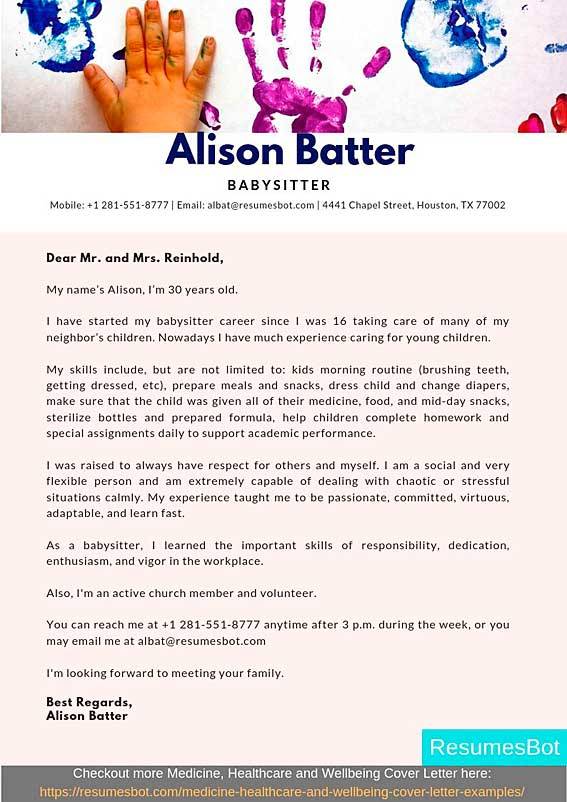 Design similar cover letter template in minutes
It's Okay to be different
BABYSITTER COVER LETTER TEMPLATE (TEXT FORMAT)
Alison Batter
Mobile: +1 281-551-8777
4441 Chapel Street, Houston, TX 77002
---
Dear Mr. and Mrs. Reinhold,
My name's Alison, I'm 30 years old.
I have started my babysitter career since I was 16 taking care of many of my neighbor's children. Nowadays I have much experience caring for young children.
My skills include, but are not limited to: kids morning routine (brushing teeth, getting dressed, etc), prepare meals and snacks, dress child and change diapers, make sure that the child was given all of their medicine, food, and mid-day snacks, sterilize bottles and prepared formula, help children complete homework and special assignments daily to support academic performance.
I was raised to always have respect for others and myself. I am a social and very flexible person and am extremely capable of dealing with chaotic or stressful situations calmly. My experience taught me to be passionate, committed, virtuous, adaptable, and learn fast.
As a babysitter, I learned the important skills of responsibility, dedication, enthusiasm, and vigor in the workplace.
Also, I'm an active church member and volunteer.
You can reach me at +1 281-551-8777 anytime after 3 p.m. during the week, or you may email me at albat@resumesbot.com.
I'm looking forward to meeting your family.
Best Regards,
Alison Batter
How useful was this post?
Click on a star to rate it!
Average rating / 5. Vote count:
Other Samples from this Industry: