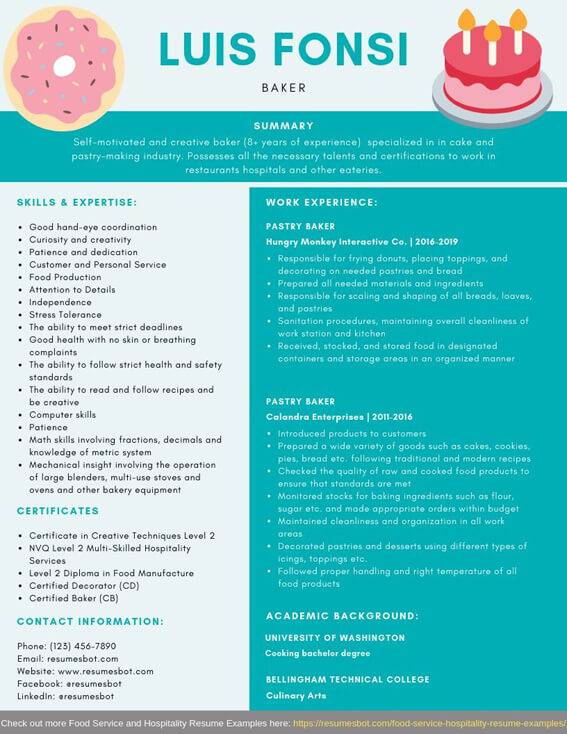 BAKER RESUME TEMPLATE (TEXT FORMAT)
SUMMARY
Self-motivated and creative baker (8+ years of experience) specialized in in cake and pastry-making industry. Possesses all the necessary talents and certifications to work in restaurants hospitals and other eateries.
EDUCATION
UNIVERSITY OF WASHINGTON
Cooking bachelor degree
BELLINGHAM TECHNICAL COLLEGE
Culinary Arts
SKILLS
Good hand-eye coordination
Curiosity and creativity
Patience and dedication
Customer and Personal Service
Food Production
Attention to Details
Independence
Stress Tolerance
The ability to meet strict deadlines
Good health with no skin or breathing complaints
The ability to follow strict health and safety standards
The ability to read and follow recipes and be creative
Computer skills
Patience
Math skills involving fractions, decimals and knowledge of metric system
Mechanical insight involving the operation of large blenders, multi-use stoves and ovens and other bakery equipment
CERTIFICATES
Certificate in Creative Techniques Level 2
NVQ Level 2 Multi-Skilled Hospitality Services
Level 2 Diploma in Food Manufacture
Certified Decorator (CD)
Certified Baker (CB)
EXPERIENCE
PASTRY BAKER
Hungry Monkey Interactive Co. | 2016-2019
Responsible for frying donuts, placing toppings, and decorating on needed pastries and bread
Prepared all needed materials and ingredients
Responsible for scaling and shaping of all breads, loaves, and pastries
Sanitation procedures, maintaining overall cleanliness of work station and kitchen
Received, stocked, and stored food in designated containers and storage areas in an organized manner
PASTRY BAKER
Calandra Enterprises | 2011-2016
Introduced products to customers
Prepared a wide variety of goods such as cakes, cookies, pies, bread etc. following traditional and modern recipes
Checked the quality of raw and cooked food products to ensure that standards are met
Monitored stocks for baking ingredients such as flour, sugar etc. and made appropriate orders within budget
Maintained cleanliness and organization in all work areas
Decorated pastries and desserts using different types of icings, toppings etc.
Followed proper handling and right temperature of all food products
Average Salary for Baker Job
Baker
Salaries
National Average
| | | |
| --- | --- | --- |
| Base Salary | $23k – $64k | |
| Bonus | $51 – $2k | |
| Profit Sharing | $39 – $2k | |
| Commission | $0 – $40k | |
| Total Pay | $20k – $37k | |
***Data are taken from payscale.com
9 Tips for Writing an Effective Baker Resume
Like any cooking profession, baking is a craft, one that requires a lot of patience, practice and sacrifice—but it's all made worth it by the joy their baked masterpieces bring to their customers. They might also create new recipes or make decisions about producing goods based on the availability of ingredients and the needs of customers.
Bakers can work in a number of settings.
We have prepared the next tips on how to write a resume for the baker:
How To Format Resume For Baker?
Diversification Of A Baker Resume Objective.
Become a Baker: Education.
Good Skills to Include on a Baker's Resume.
What Baker Job Description Resume should include?
Baker Duties And Responsibilities.
Baker Resume Have To Contain Considerable Practical Experience.
Certificates and Licenses You Can Include in your Resume.
Resume Action Words for Baker.
1. How To Format Resume For Baker
The good resume format meets the requirements of both the applicant tracking system and the HR Manager.
Font Size: 12pt.
Font type: Century Gothic or Times New Roman.
Header Style:15pt.
The first and last name :17pt.
Resume layout should include:
Name
Contact Info
Object
Summary
Education
Skills
Work Experience
Awards
Certificates
2. Diversification Of A Baker Resume Objective
The objective depends on the position for which you applying. There are a lot of specializations, but you should write the same objective such as indicated in a vacancy announcement.
Cake decorator
Baker
Head baker
Bread baker
Store baker
Production bread baker
Donut fryer/artist
Cake Designer
Pastry Chef
Pastry cook
Executive pastry chef
Wholesale baker
Baking production supervisor
3. Become a Baker: Education
There are many online forums for bakers and cooks, and most of them welcome anyone from chefs with years of experience to novices.
If you are old enough, you can get a part-time job in a bakery.
Some company, organization or other is always having recipe contests. You can develop and submit your baked goods to your county or state fair.
Always take pictures of your own dishes. Your own portfolio will increase your chances of finding a job in prospective companies. You can also keep your own blog and this will open up unlimited career opportunities for you.
4. Good Skills to Include on a Baker Resume
Weighing and preparing ingredients.
"Scratch bakery" (making bread from scratch with raw ingredients), using the four-stage process of mixing, proving, baking and cooling (today the process is usually mechanised but craft bakers may carry out the entire process by hand).
Using machinery and technology in the bread-making process. Plant bakers use Programmable Logic Controllers (PLC) to control the baking process and to set quantities, ingredients, oven temperatures, and cooling times.
Part-baking and freezing produce (usually only in plant bakeries).
Wrapping, slicing, and packaging bread products.
Cleaning.
5. What Baker Job Description Resume Should Include?
Job Description depends on the position you're being considered for.
Example of Baker's Job Description
In addition, you can obtain the next certificates:
Follows recipes and/or product directions to prepare items from scratch such as bread, rolls, muffins, biscuits, etc.
Place products into correctly prepared pans.
Regulates the drafts and temperatures of the ovens.
May clean and sanitize workstations and equipment.
Attends all allergy and foodborne illness in-service training.
Complies with all company safety and risk management policies and procedures.
Reports all accidents and injuries in a timely manner.
Participates in regular safety meetings, safety training and hazard assessments.
Complies with all Sodexo HACCP policies and procedures.
Attends training programs (classroom and virtual) as designated.
6. Baker Duties And Responsibilities
The common duties and responsibilities of a baker are:
Assisted in developing new desserts based on seasonal ingredients and holidays.
Helped in managing inventory, expenses and other operational processes.
Mixed, proofed, shaped and baked dough for pizza, focaccia and king cake.
Cleaned and maintained kitchen equipment and oven.
The recruited new staff of efficient associates.
Baked both high volume quantities and dessert specials for private parties.
Determinedquantityofproductstopreparefornextdayoperation.
Developed weekly salad and dessert specials.
Replenished and rotated dessert options for the display cases.
Managed inventory and expenses.
Two years of experience of baking for gluten-free, vegan and alternative diets.
Plated desserts, cold apps and salads for service.
7. Baker Resume Have To Contain Considerable Practical Experience
Baker's experience is more important than a cooking school.
Samples of a Bakers Resume Experience
Fried doughnuts, frosted, made cakes, cookies, and danishes.
Placed in all departments due to my ability to learn and work with new coworkers, as well as my ability to quickly retain new information.
I was a team leader and worked side by side with 10 co-workers.
Did inventory for the kitchen.
Did catering events and special events for the pub.
Mixed, proofed, shaped and baked dough for donuts and other breads.
Replenished and rotated food items for the display cases.
Tested new recipes and reported results back to management.
Frosted, filled and garnished donuts for service.
Maintained positive vendor relationships by engaging with customers.
Filled out inventory and production sheets.
Created menus based on leftover inventory to eliminate food waste.
Trained new hires.
Tempered chocolate and cooked sugar for hand-dipped garnishes.
8. Certificates and Licenses You Can Include in Your Resume
Portfolio link Professional bakers don't require state or federal certification but industry-standard certification is available.
ServSafe
ServSafe Alcohol
Bread Baking
Culinary Arts
Food Handler
Food Manager Certification
Food Safety Manager
OSHA 10
TABC
TIPS
Journey Baker
Decorator
Master Baker
Working Pastry Chef
Executive Pastry Chef
Master Pastry Chef.
9. Resume Action Words for Baker
Collaborated
Increased
Assisted
Measured
Maintained
Oversaw
Ensured
Prepared
Packaged
Removed
Monitored
Started
Created
Promoted
Trained
How useful was this post?
Click on a star to rate it!
Average rating / 5. Vote count:
Other Samples from this Industry: