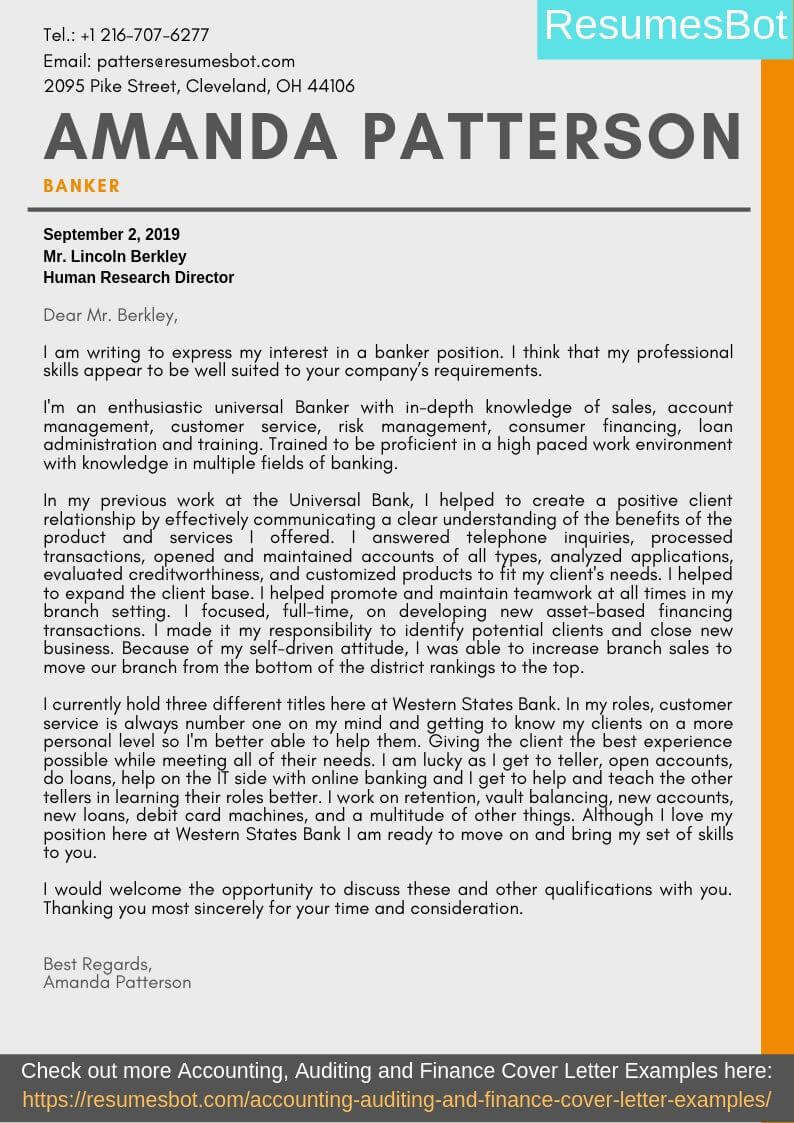 Design similar cover letter template in minutes
It's Okay to be different
BANKER COVER LETTER TEMPLATE (TEXT FORMAT)
Amanda Patterson
Tel.: +1 216-707-6277
patters@resumesbot.com
2095 Pike Street, Cleveland, OH 44106
---
September 2, 2019
Mr. Lincoln Berkley
Human Research Director
Dear Mr. Berkley,
I am writing to express my interest in a banker position. I think that my professional skills appear to be well suited to your company's requirements.
I'm an enthusiastic universal Banker with in-depth knowledge of sales, account management, customer service, risk management, consumer financing, loan administration and training. Trained to be proficient in a high paced work environment with knowledge in multiple fields of banking.
In my previous work at the Universal Bank, I helped to create a positive client relationship by effectively communicating a clear understanding of the benefits of the product and services I offered. I answered telephone inquiries, processed transactions, opened and maintained accounts of all types, analyzed applications, evaluated creditworthiness, and customized products to fit my client's needs. I helped to expand the client base. I helped promote and maintain teamwork at all times in my branch setting. I focused, full-time, on developing new asset-based financing transactions. I made it my responsibility to identify potential clients and close new business. Because of my self-driven attitude, I was able to increase branch sales to move our branch from the bottom of the district rankings to the top.
I currently hold three different titles here at Western States Bank. In my roles, customer service is always number one on my mind and getting to know my clients on a more personal level so I'm better able to help them. Giving the client the best experience possible while meeting all of their needs. I am lucky as I get to teller, open accounts, do loans, help on the IT side with online banking and I get to help and teach the other tellers in learning their roles better. I work on retention, vault balancing, new accounts, new loans, debit card machines, and a multitude of other things. Although I love my position here at Western States Bank I am ready to move on and bring my set of skills to you.
I would welcome the opportunity to discuss these and other qualifications with you. Thanking you most sincerely for your time and consideration.
Best Regards,
Amanda Patterson
How useful was this post?
Click on a star to rate it!
Average rating / 5. Vote count:
Other Samples from this Industry: