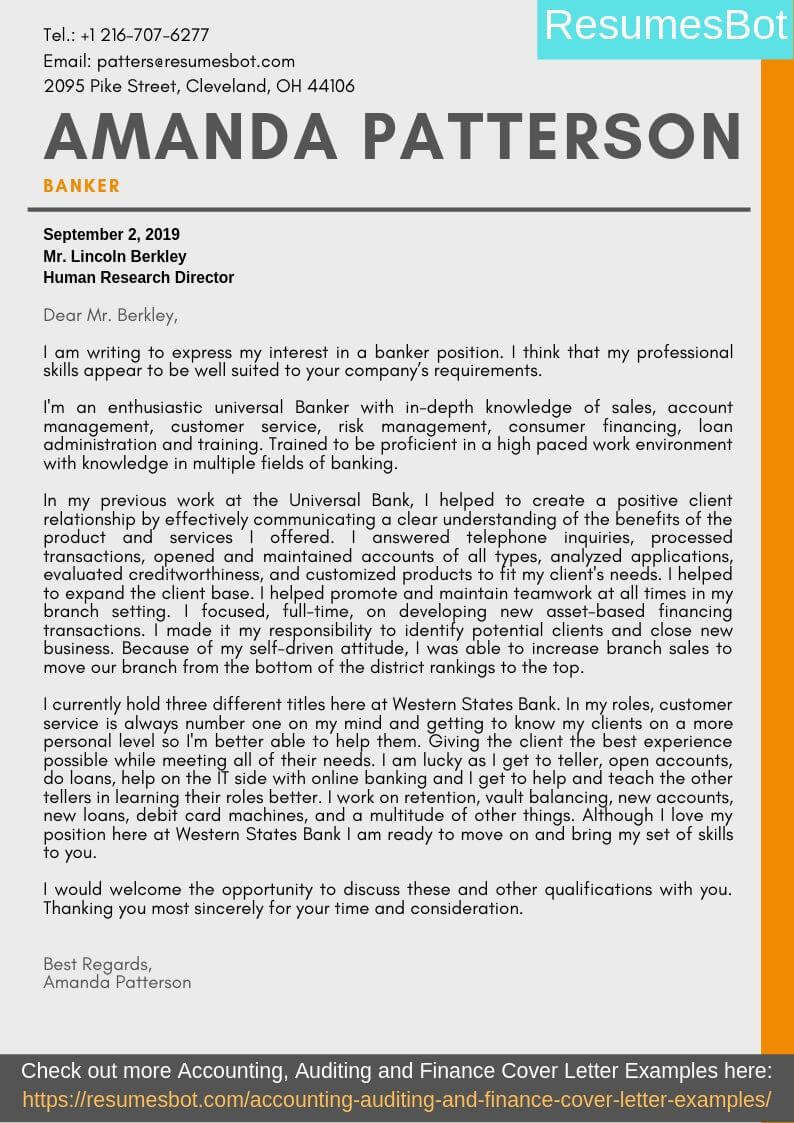 Design similar cover letter template in minutes
It's Okay to be different
BANKER COVER LETTER TEMPLATE (TEXT FORMAT)
Amanda Patterson
Tel.: +1 216-707-6277
patters@resumesbot.com
2095 Pike Street, Cleveland, OH 44106
---
September 2, 2019
Mr. Lincoln Berkley
Human Research Director
Dear Mr. Berkley,
I am writing to express my interest in a banker position. I think that my professional skills appear to be well suited to your company's requirements.
I'm an enthusiastic universal Banker with in-depth knowledge of sales, account management, customer service, risk management, consumer financing, loan administration and training. Trained to be proficient in a high paced work environment with knowledge in multiple fields of banking.
In my previous work at the Universal Bank, I helped to create a positive client relationship by effectively communicating a clear understanding of the benefits of the product and services I offered. I answered telephone inquiries, processed transactions, opened and maintained accounts of all types, analyzed applications, evaluated creditworthiness, and customized products to fit my client's needs. I helped to expand the client base. I helped promote and maintain teamwork at all times in my branch setting. I focused, full-time, on developing new asset-based financing transactions. I made it my responsibility to identify potential clients and close new business. Because of my self-driven attitude, I was able to increase branch sales to move our branch from the bottom of the district rankings to the top.
I currently hold three different titles here at Western States Bank. In my roles, customer service is always number one on my mind and getting to know my clients on a more personal level so I'm better able to help them. Giving the client the best experience possible while meeting all of their needs. I am lucky as I get to teller, open accounts, do loans, help on the IT side with online banking and I get to help and teach the other tellers in learning their roles better. I work on retention, vault balancing, new accounts, new loans, debit card machines, and a multitude of other things. Although I love my position here at Western States Bank I am ready to move on and bring my set of skills to you.
I would welcome the opportunity to discuss these and other qualifications with you. Thanking you most sincerely for your time and consideration.
Best Regards,
Amanda Patterson
How to Write a Banker Cover Letter?
Banker is an individual that is employed by a banking institution and participates in various financial transactions.
There are several types of Bankers:
Relationship Banker
Specialty Banker
Retail Banker
Universal Banker
Personal Banker
A banking expert must know perfectly the theory and practice in the field of finance, investment, money life-cycle, and a lot of other information concerning the financial industry. In addition, the employer usually expects the bank employee to have excellent communication skills. This follows from the fact, that working in the bank is based on communication with people, the ability to express your point of view, induced clients to certain actions, simplify the client's life to earn their loyalty. Next, we will tell you how to correctly compose banker cover letter examples.
Greet a person whom you are writing personally, indicating his name in the corresponding box of the letter's recipient and duplicate it right after the greeting.
Write what you admire in the company's activities which vacancy you're applying for. Show that you are a serious person and have thoroughly prepared for the interview, even if you haven't been invited yet. People are always impressed when somebody's interest in them, so you can score points in the eyes of the employer.
Write your position, the name of the company in which you are working. If you don't have work experience yet, specify the name of your educational facility that you graduated from and the educational level. You can also indicate which dedicated classes you have attended and everything relevant to the position for which you express the interest.
When you'll describe your background try to use action verbs. It will characterize you as an active result-oriented person. Quantitative indicators are also important for a banker's job. Try to include information about your achievements in numbers.
You may tell about your career path from the beginning to your current position if it emphasizes your tenacity and dedication. Try to link your experience and skills to the position more directly. If you have references don't forget to include this information in your cover letter for banker job.
Besides technical skills, a banker must to have excellent listening skills, formulate thoughts in the right way and anticipate every client's needs as we have mentioned above. Such skills are called Soft Skills.
Here are other skills examples you can include in your resume:
Understanding of how e-commerce fits into the banking industry.
Awareness of common e-commerce technologies.
Understanding of the laws governing capital structure changes.
Awareness of different types of investments available, and the pros and cons of each.
Ability to consult with clients on investment opportunities best suited to their goals.
Awareness of laws surrounding individual income tax.
Understanding of common software used in tax return preparation.
Awareness of monetary and fiscal policies.
Awareness of different risk factors affecting lending scenarios.
Outstanding interpersonal skills with the ability to quickly connect with customers.
Intermediate knowledge of Bank operations, products and services.
Be thankful, end your letter with words of gratitude for a time was devoted to you. If you follow our advice you cover letter for banker undoubtedly will help you to get the job.
How useful was this post?
Click on a star to rate it!
Average rating / 5. Vote count:
Other Samples from this Industry: