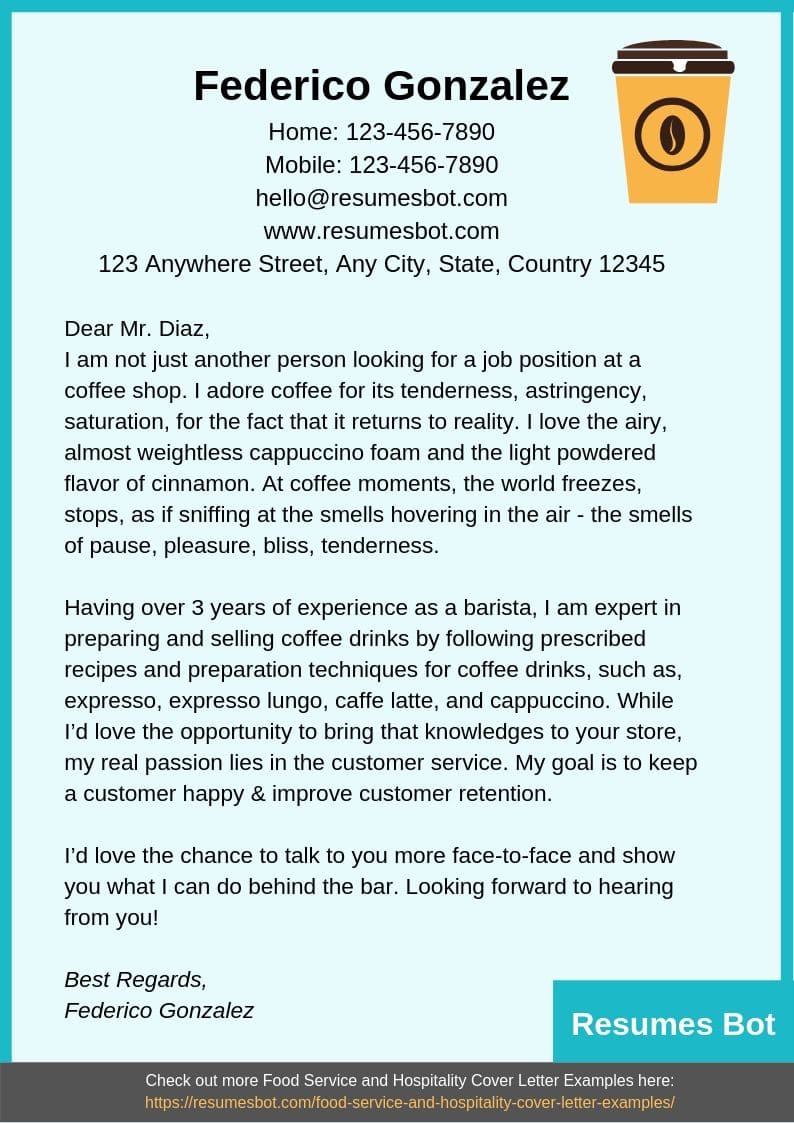 Design similar cover letter template in minutes
It's Okay to be different
BARISTA COVER LETTER TEMPLATE (TEXT FORMAT)
Federico Gonzalez

Home: 123-456-7890
Mobile: 123-456-7890
hello@resumesbot.com
www.resumesbot.com
123 Anywhere Street, Any City, State, Country 12345
---
Dear Mr. Diaz,
I am not just another person looking for a job position at a coffee shop. I adore coffee for its tenderness, astringency, saturation, for the fact that it returns to reality. I love the airy, almost weightless cappuccino foam and the light powdered flavor of cinnamon. At coffee moments, the world freezes, stops, as if sniffing at the smells hovering in the air – the smells of pause, pleasure, bliss, tenderness.
Having over 3 years of experience as a barista, I am expert in preparing and selling coffee drinks by following prescribed recipes and preparation techniques for coffee drinks, such as, espresso, espresso lungo, caffe latte, and cappuccino. While I'd love the opportunity to bring that knowledges to your store, my real passion lies in the customer service. My goal is to keep a customer happy & improve customer retention.
I'd love the chance to talk to you more face-to-face and show you what I can do behind the bar. Looking forward to hearing from you!
Best Regards,
Federico Gonzalez
To be 100% prepared for getting a new job check our Barista Resume Example
How useful was this post?
Click on a star to rate it!
Average rating / 5. Vote count:
Other Samples from this Industry: