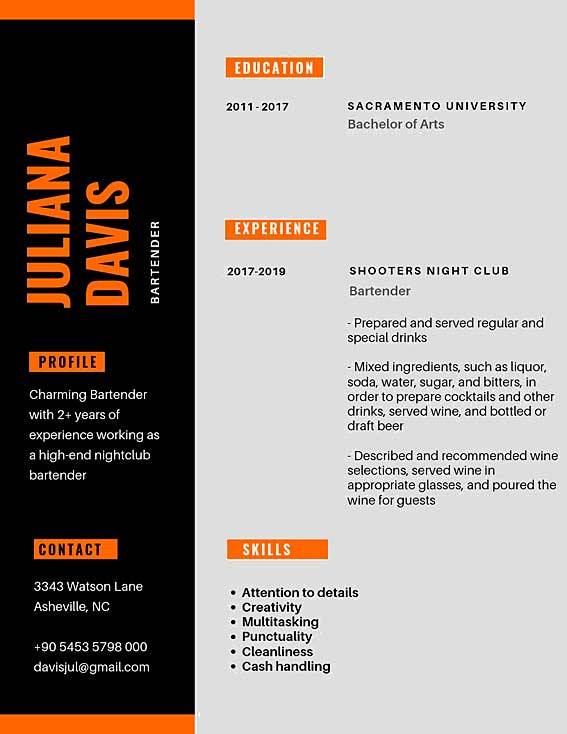 Bartender Resume Template (Text Format)
PROFILE
Charming Bartender with 2+ years of experience working as a high-end nightclub bartender
EDUCATION
SACRAMENTO UNIVERSITY, 2011 – 2017
Bachelor of Arts
SKILLS
Attention to details
Creativity
Multitasking
Punctuality
Cleanliness
Cash handling
CAREER HISTORY
SHOOTERS NIGHT CLUB, Bartender
2017-2019
Prepared and served regular and special drinks
Mixed ingredients, such as liquor, soda, water, sugar, and bitters, in order to prepare cocktails and other drinks, served wine, and bottled or draft beer
Described and recommended wine selections, served wine in appropriate glasses, and poured the wine for guests
Average Salary for Bartender Job
Bartender
Salaries
National Average
| | | |
| --- | --- | --- |
| Base Salary | $17k – $61k | |
| Bonus | $51 – $26k | |
| Profit Sharing | $23 – $30k | |
| Commission | $3k – $51k | |
| Total Pay | $10k – $43k | |
***Data are taken from payscale.com
6 Tips for Writing an Effective Bartender Resume
If you want to write the best bartender resume you need to know that hiring managers are attracted to well-formatted resumes with attention-grabbing details. You should choose an attractive design with small touches, like adding a secondary color or experimenting with a different font. Here are 6 tips how to write perfect resume:
Bartender Resume Objective.
Bartending Experience.
Bartender Resume Skills.
How you can use Bartender Job Description For Resume?
Bartender Duties And Responsibilities For Resume.
Resume Action Words for Bartender Resume.
Examples of Bartender Resume:
Do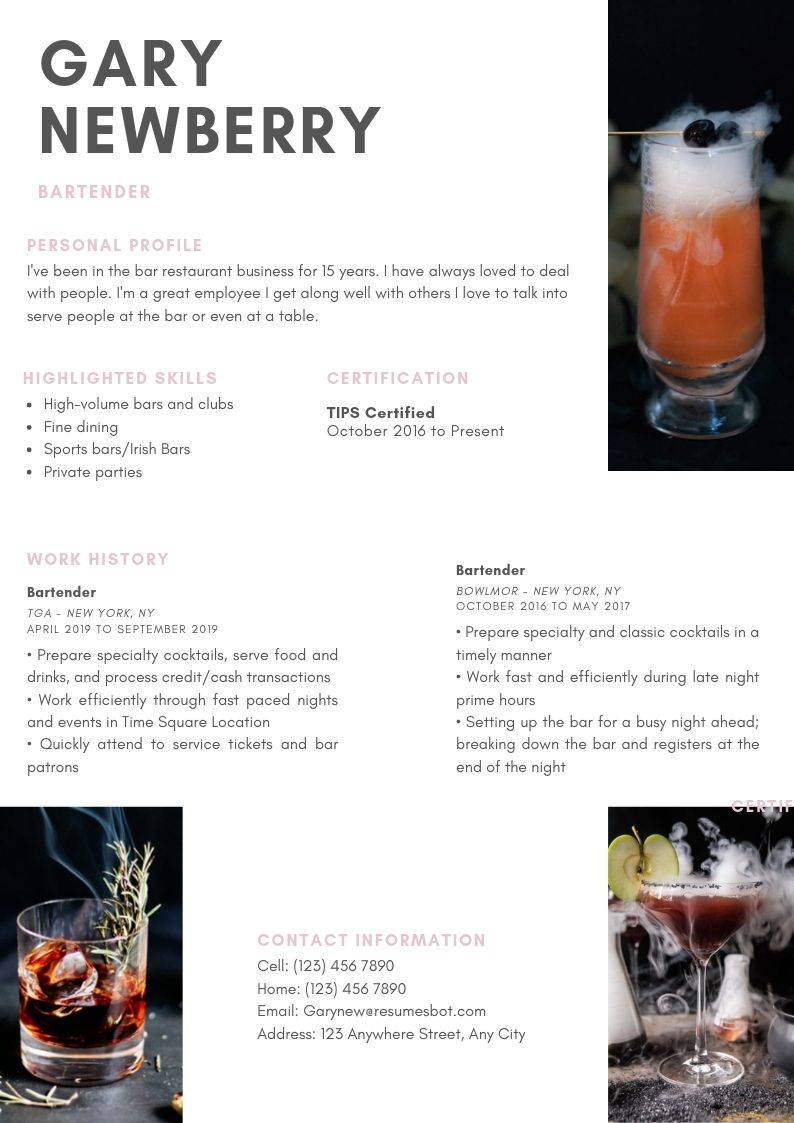 Don't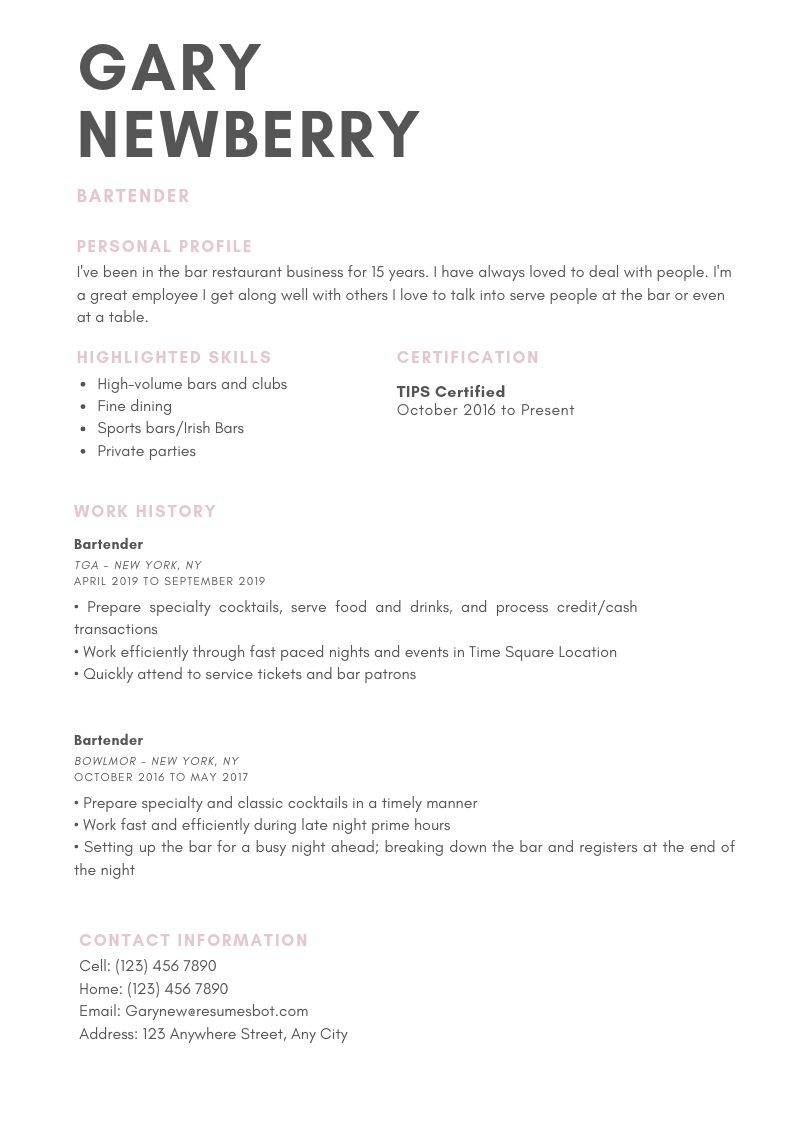 1. Bartender Resume Objective
You can include some variation of bartender's job title in your Resume. For example, if want to underline exact area or exact specialization you can indicate the next bartender resume objectives: Cocktail Serve, Pool Bartender, Private Events Bartender or Banquet Bartender.
The bartender resume objective statement is necessary if you are a student or if you decided to change your career. In such a case, it's the best way to fill gaps, if you have no relevant experience to speak of yet.
Bartender's resume summary can be tricky to write at first because you should write it in your own words. Read attentional your Resume and reflect on what you've read. Then choose the most exciting parts and include them in the summary. Describe your professional title, add some keywords and shazam, your perfect summary is ready.
2. Bartending Experience
If you don't have experience the best way to become a bartender is Become a Barback at first.
None of the courses give you a real bartender's job experience. But before you start filling out applications, make sure you brush up — at the very least — on your local laws pertaining to bartending, specifically around serving alcohol. The most popular courses bartenders and servers take to become certified to serve alcohol are ServSafe and TIPS.
In addition, you can obtain the next certificates:
Food Handler
TABC
CPR
First Aid
AED
Driver's License
Certified Nursing Assistant (CNA)
3. Bartender Resume Skills
Bartender skills for resume consist mostly of soft skills:
Exceptional talent for ensuring members are fully satisfied with service.
Special talent for adapting to different personalities of guests and co-workers without losing attention.
Mixing, garnishing and serving drinks to guests, in a fast and accurate way, in keeping with the employer's specifications.
Known to solve problems through sound decision making.
When we asked bartenders what is the most important skill for bartender they said That's what's most important, is tending to the people in front of you – making sure they're comfortable and happy, and putting a smile on their faces.
The soft skills that reinforce hospitality are what seal the deal for a great bartender. You have to hold a conversation with absolute strangers and don't feel uncomfortable.
Edit your skills to match the job posting. Also, you can "Borrowing" entire phrases right out of the job description.
Good Skills to Include in a Bartender Resume:
Multitasking
Attention to details
Creating a Pleasant Atmosphere
Monitoring Alcohol Consumption
Resolving Customer Complaints
Beer, Wine and Liquor Knowledge
Good Judge of Character & Communicator
4. How you can use Bartender Job Description For Resume?
You can use the job description to write a summary and a skills suited to the exact opening position as it was written above.
Samples of Including Job Description in Bartender Resume:
Job Description
Take orders, prepare and serve alcoholic, non-alcoholic beverages and light meals to guests, courteously and efficiently according to hotel specifications. Maintain stock/supplies and cleanliness of outlet and equipment
The Lounge Bartender is responsible for mixing and serving alcoholic and non-alcoholic beverages to patrons of the restaurant or lounge while practicing all established control systems. Promoting food and beverage sales while observing all local and state liquor laws and company policies
Resume Summary phrase
Experienced in taking orders, preparing and serving alcohol and meals
Experienced in mixing and serving alcoholic and non-alcoholic, practicing all established control systems. Certified in ServSafe and TIPS
5. Bartender Duties And Responsibilities For Resume
Bartender job duties for resume are the next:
A true desire to satisfy the needs of others
Refined verbal communication skills
Must have physical stamina to lift moderate amounts of weight
Responsibilities:
Greet customers and listen to their orders, proceed to complete their orders and charge them
Be able to notice when a customer was intoxicated or nearing intoxication and handle the situation appropriately
To count the bank after every shift and deposit it into a secure location
To be able to handle a high volume of customers and waitress orders and complete them in a timely manner
Have to ID customers who appear under the age of 40 every single time with no exceptions, and be able to refuse service to anyone with an invalid ID in a courteous and professional manner
Be able to assess any serious bar situation and call security
Even if you saw the relevant bartender job description, resume that you send in response to the vacancy may not fall into the hands of the hiring manager. You should put eye-catching action verbs in bartender resumes.
6. Resume Action Words for Bartender Resume
Featured
Managed
Prioritized
Managed
Greeted
Organized
Advertised
Developed
Coordinated
Memorized
Now you know how to create a killer bartender resume.
If you like our free bartender resume templates, check out free Bartender Cover Letter Example
How useful was this post?
Click on a star to rate it!
Average rating / 5. Vote count:
Other Samples from this Industry: