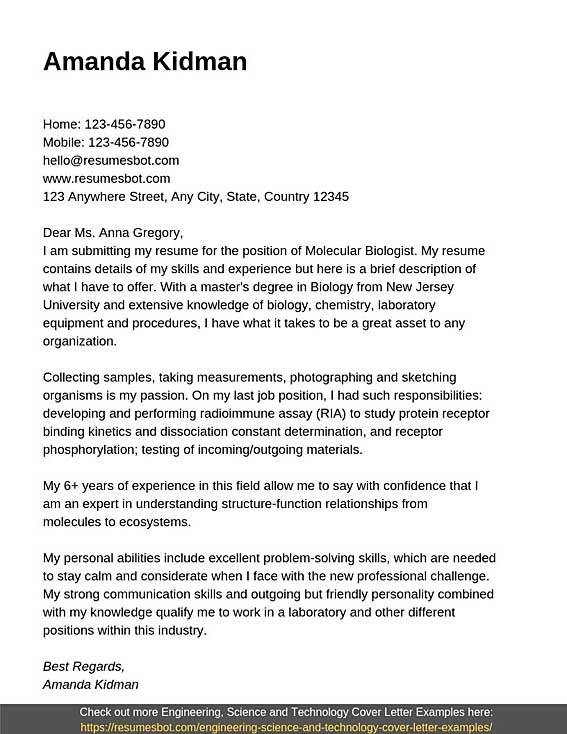 Design similar cover letter template in minutes
It's Okay to be different
BIOLOGY COVER LETTER TEMPLATE (TEXT FORMAT)
Amanda Kidman
Home: 123-456-7890
Mobile: 123-456-7890
hello@resumesbot.com
www.resumesbot.com
123 Anywhere Street, Any City, State, Country 12345
---
Dear Ms. Anna Gregory,
I am submitting my resume for the position of Molecular Biologist. My resume contains details of my skills and experience but here is a brief description of what I have to offer. With a master's degree in Biology from New Jersey University and extensive knowledge of biology, chemistry, laboratory equipment and procedures, I have what it takes to be a great asset to any organization.
Collecting samples, taking measurements, photographing and sketching organisms is my passion. On my last job position, I had such responsibilities: developing and performing radioimmune assay (RIA) to study protein receptor binding kinetics and dissociation constant determination, and receptor phosphorylation; testing of incoming/outgoing materials.
My 6+ years of experience in this field allow me to say with confidence that I am an expert in understanding structure-function relationships from
molecules to ecosystems.

My personal abilities include excellent problem-solving skills, which are needed to stay calm and considerate when I face with the new professional challenge. My strong communication skills and outgoing but friendly personality combined with my knowledge qualify me to work in a laboratory and other different positions within this industry.
Best Regards,
Amanda Kidman
How useful was this post?
Click on a star to rate it!
Average rating / 5. Vote count:
Other Samples from this Industry: