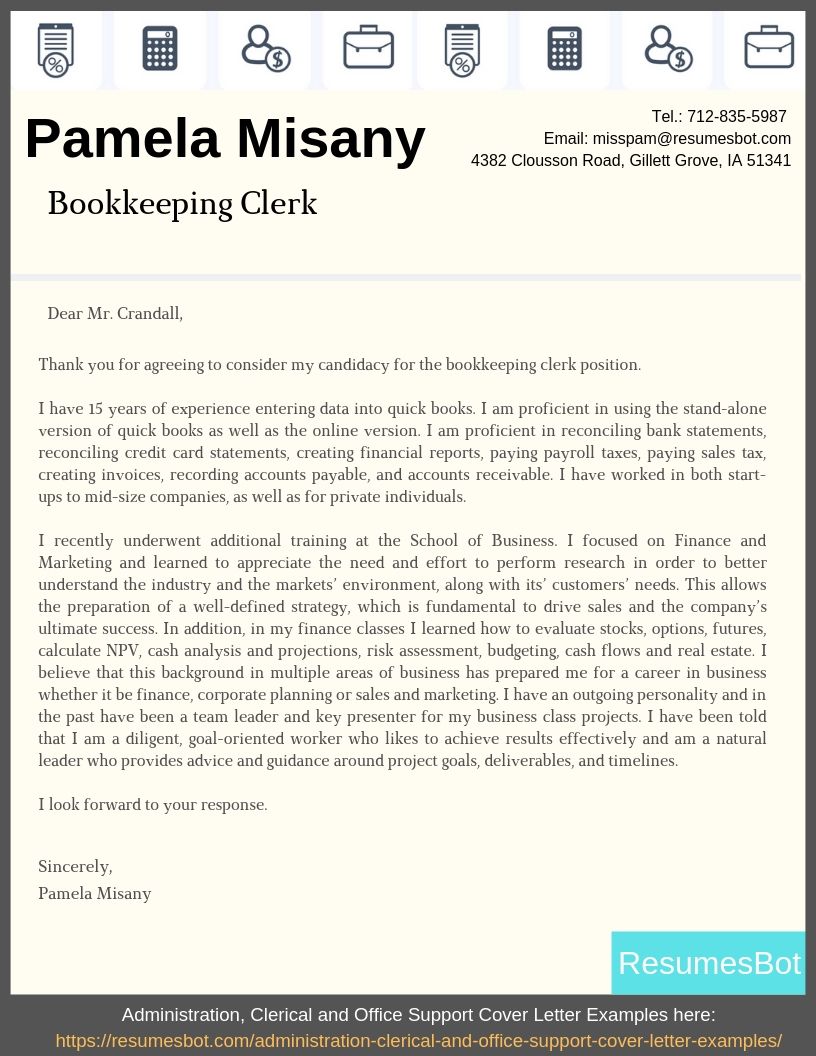 Design similar cover letter template in minutes
It's Okay to be different
BOOKKEEPING CLERK COVER LETTER TEMPLATE (TEXT FORMAT)
Pamela Misany
Tel.: 712-835-5987
4382 Clousson Road, Gillett Grove, IA 51341
---
Dear Mr. Crandall,
Thank you for agreeing to consider my candidacy for the bookkeeping clerk position.
I have 15 years of experience entering data into quick books. I am proficient in using the stand-alone version of quick books as well as the online version. I am proficient in reconciling bank statements, reconciling credit card statements, creating financial reports, paying payroll taxes, paying sales tax, creating invoices, recording accounts payable, and accounts receivable. I have worked in both start-ups to mid-size companies, as well as for private individuals.
I recently underwent additional training at the School of Business. I focused on Finance and Marketing and learned to appreciate the need and effort to perform research in order to better understand the industry and the markets' environment, along with its' customers' needs. This allows the preparation of a well-defined strategy, which is fundamental to drive sales and the company's ultimate success. In addition, in my finance classes I learned how to evaluate stocks, options, futures, calculate NPV, cash analysis and projections, risk assessment, budgeting, cash flows and real estate. I believe that this background in multiple areas of business has prepared me for a career in business whether it be finance, corporate planning or sales and marketing. I have an outgoing personality and in the past have been a team leader and key presenter for my business class projects. I have been told that I am a diligent, goal-oriented worker who likes to achieve results effectively and am a natural leader who provides advice and guidance around project goals, deliverables, and timelines.
I look forward to your response.
Sincerely,
Pamela Misany
How useful was this post?
Click on a star to rate it!
Average rating / 5. Vote count:
Other Samples from this Industry: