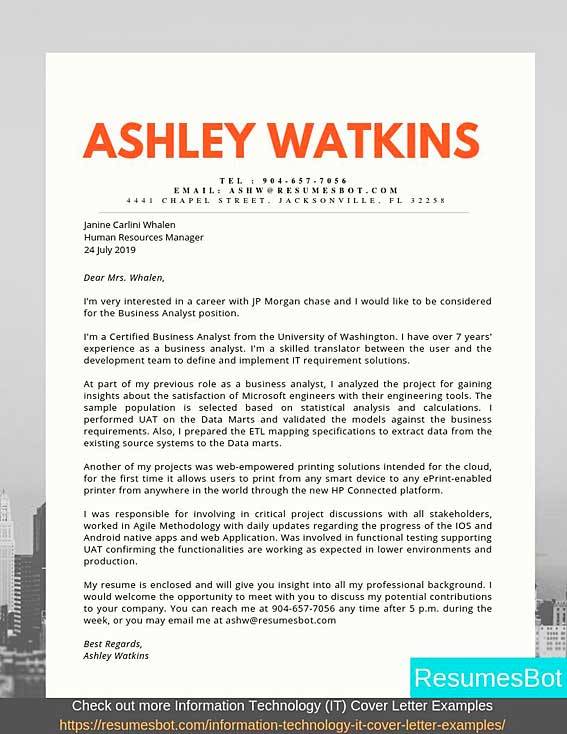 Design similar cover letter template in minutes
It's Okay to be different
BUSINESS ANALYST COVER LETTER TEMPLATE (TEXT FORMAT)
Ashley Watkins

Tel : 904-657-7056
4441 Chapel Street, Jacksonville, FL 32258
---
Janine Carlini Whalen
Human Resources Manager
24 July 2019
Dear Mrs. Whalen,
I'm very interested in a career with JP Morgan chase and I would like to be considered for the Business Analyst position.
I'm a Certified Business Analyst from the University of Washington. I have over 7 years' experience as a business analyst. I'm a skilled translator between the user and the development team to define and implement IT requirement solutions.
At part of my previous role as a business analyst, I analyzed the project for gaining insights about the satisfaction of Microsoft engineers with their engineering tools. The sample population is selected based on statistical analysis and calculations. I performed UAT on the Data Marts and validated the models against the business requirements. Also, I prepared the ETL mapping specifications to extract data from the existing source systems to the Data marts.
Another of my projects was web-empowered printing solutions intended for the cloud, for the first time it allows users to print from any smart device to any ePrint-enabled printer from anywhere in the world through the new HP Connected platform.
I was responsible for involving in critical project discussions with all stakeholders, worked in Agile Methodology with daily updates regarding the progress of the IOS and Android native apps and web Application. Was involved in functional testing supporting UAT confirming the functionalities are working as expected in lower environments and production.
My resume is enclosed and will give you insight into all my professional background. I would welcome the opportunity to meet with you to discuss my potential contributions to your company. You can reach me at 904-657-7056 any time after 5 p.m. during the week, or you may email me at ashw@resumesbot.com
Best Regards,
Ashley Watkins
To be 100% prepared for getting a new job check our Entry Level Business Analyst Resume Example
How useful was this post?
Click on a star to rate it!
Average rating / 5. Vote count:
Other Samples from this Industry: