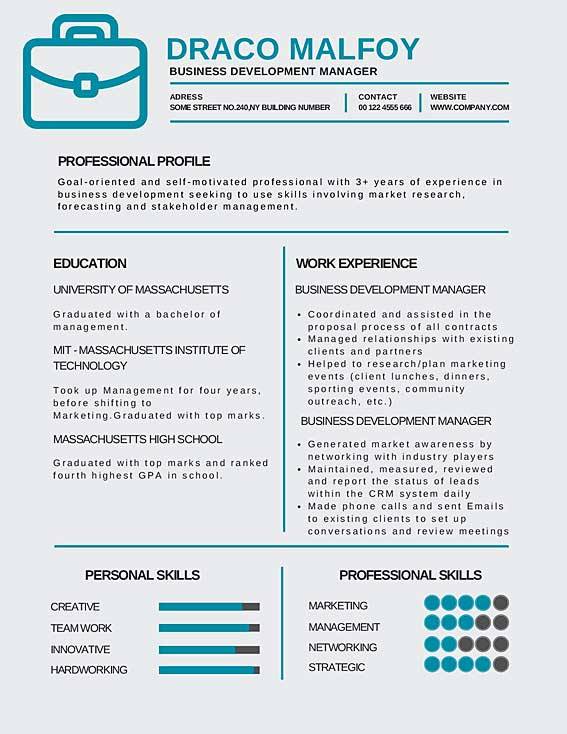 Business Development Manager Resume Template (Text Format)
PROFESSIONAL PROFILE
Goal-oriented and self-motivated professional with 3+ years of experience in business development seeking to use skills involving market research, forecasting and stakeholder management.
EDUCATION
UNIVERSITY OF MASSACHUSETTS
Graduated with a bachelor of management.
MIT – MASSACHUSETTS INSTITUTE OF TECHNOLOGY
Took up Management for four years, before shifting to Marketing. Graduated with top marks.
MASSACHUSETTS HIGH SCHOOL
Graduated with top marks and ranked the fourth-highest GPA in school.
PROFESSIONAL SKILLS
MARKETING
MANAGEMENT
NETWORKING
STRATEGIC
PERSONAL SKILLS
CREATIVE
TEAMWORK
INNOVATIVE
HARDWORKING
WORK EXPERIENCE
BUSINESS DEVELOPMENT MANAGER
Coordinated and assisted in the proposal process of all contracts
Managed relationships with existing clients and partners
Helped to research/plan marketing events (client lunches, dinners, sporting events, community outreach, etc.)
BUSINESS DEVELOPMENT MANAGER
Generated market awareness by networking with industry players
Maintained, measured, reviewed and report the status of leads within the CRM system daily
Made phone calls and sent Emails to existing clients to set up conversations and review meetings
Average Salary for Business Development Manager Job
Business Development Manager
Salaries
National Average
| | | |
| --- | --- | --- |
| Base Salary | $46k – $125k | |
| Bonus | $2k – $31k | |
| Profit Sharing | $1k – $25k | |
| Commission | $4k – $41k | |
| Total Pay | $48k – $141k | |
***Data are taken from payscale.com
Good Skills to Include on Business Development Manager Resume
Good business knowledge
Strong presentation, negotiation and persuasion skills; excellent communication skills (interpersonal, written, verbal)
Sets realistic expectations with clients
Problem-solving skills
Ability to build a brand
Good organizational skills
Sets goals and develops action plans
Strong time management skills
Knowledge of Microsoft Office and awareness and effectiveness in using various web and social media tools
Resume Action Words for Business Development Manager
Consulted
Organized
Mediated
Determined
Conducted
Analyzed
Encouraged
Scheduled
Planned
Motivated
Delegated
Enhanced
Achieved
Managed
Developed
Common Certificates for Business Development Manager Resume
Certified Business Development Expert (CBDE)
CBDM® Certified Business Development Manager
How useful was this post?
Click on a star to rate it!
Average rating / 5. Vote count:
Other Samples from this Industry: