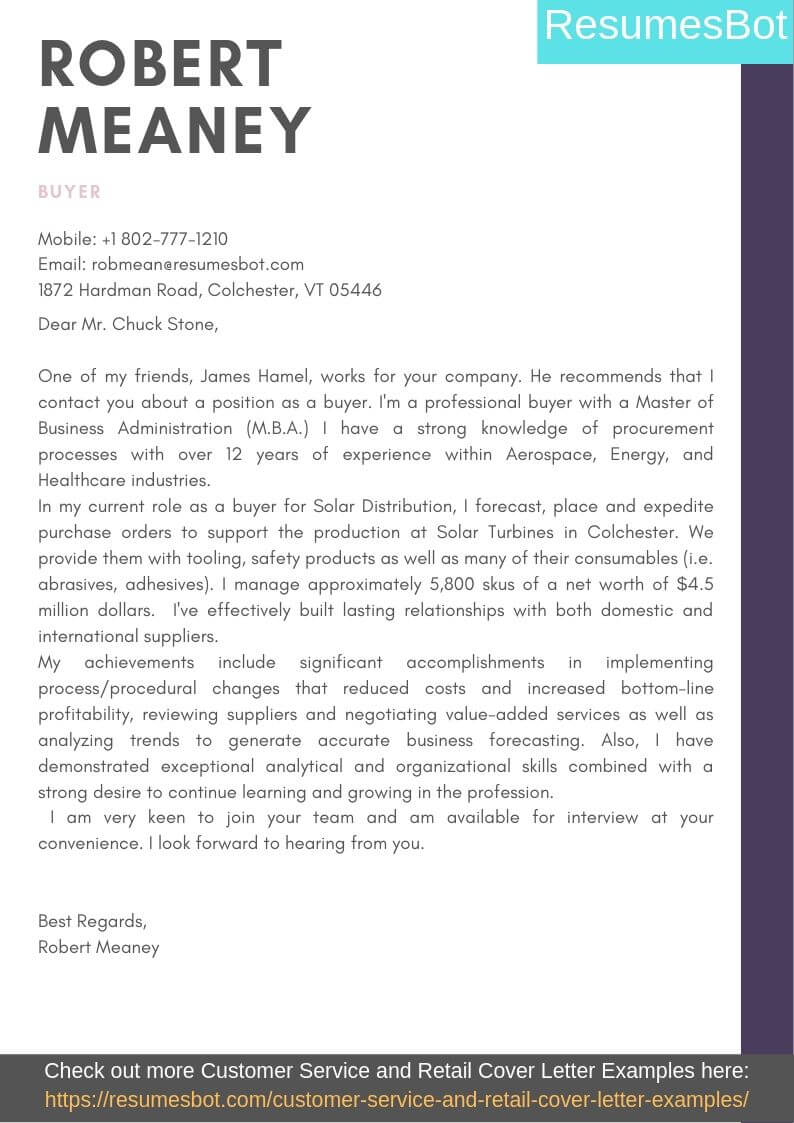 Design similar cover letter template in minutes
It's Okay to be different
BUYER COVER LETTER TEMPLATE (TEXT FORMAT)
Robert Meaney
Mobile: +1 802-777-1210
robmean@resumesbot.com
1872 Hardman Road, Colchester, VT 05446
---
Dear Mr. Chuck Stone,
One of my friends, James Hamel, works for your company. He recommends that I contact you about a position as a buyer.
I'm a professional buyer with a Master of Business Administration (M.B.A.) I have a strong knowledge of procurement processes with over 12 years of experience within Aerospace, Energy, and Healthcare industries.
In my current role as a buyer for Solar Distribution, I forecast, place and expedite purchase orders to support the production at Solar Turbines in Colchester. We provide them with tooling, safety products as well as many of their consumables (i.e. abrasives, adhesives). I manage approximately 5,800 skus of a net worth of $4.5 million dollars. I've effectively built lasting relationships with both domestic and international suppliers.
My achievements include significant accomplishments in implementing process/procedural changes that reduced costs and increased bottom-line profitability, reviewing suppliers and negotiating value-added services as well as analyzing trends to generate accurate business forecasting. Also, I have demonstrated exceptional analytical and organizational skills combined with a strong desire to continue learning and growing in the profession.
I am very keen to join your team and am available for interview at your convenience. I look forward to hearing from you.
Best Regards,
Robert Meaney
How useful was this post?
Click on a star to rate it!
Average rating / 5. Vote count:
Other Samples from this Industry: