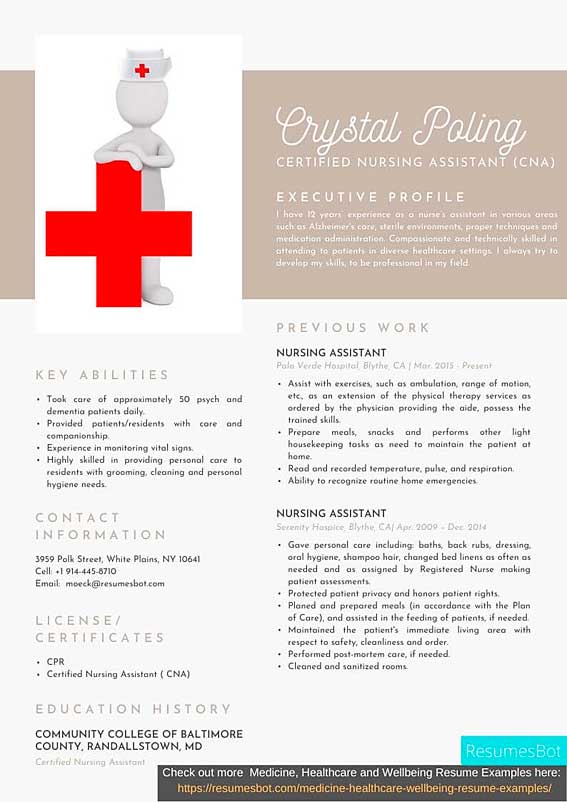 CERTIFIED NURSING ASSISTANT (CNA) RESUME TEMPLATE (TEXT FORMAT)
SUMMARY
I have 12 years' experience as a Nurse's Assistant in various areas such as Alzheimer's care, sterile environments, proper techniques and medication administration. Compassionate and technically skilled in attending to patients in diverse healthcare settings. I always try to develop my skills, to be professional in my field.
EDUCATION
Certified Nursing Assistant
Community College of Baltimore County, Randallstown, MD
SKILLS
Took care of approximately 50 psych and dementia patients daily.
Provided patients/residents with care and companionship.
Experience in monitoring vital signs.
Highly skilled in providing personal care to residents with grooming, cleaning and personal hygiene needs.
PROFESSIONAL EXPERIENCE
NURSING ASSISTANT
Palo Verde Hospital, Blythe, CA
Mar. 2015 – Present
Assist with exercises, such as ambulation, range of motion, etc., as an extension of the physical therapy services as ordered by the physician providing the aide, posse the trained skills.
Prepare meals, snacks and perform other light housekeeping tasks as needed to maintain the patient at home.
Able to read and record temperature, pulse, and respiration.
Ability to recognize routine home emergencies.
NURSING ASSISTANT
Serenity Hospice, Blythe, CA

Apr. 2009 – Dec. 2014

Gave personal care including: baths, back rubs, dressing, oral hygiene, shampoo hair, changed bed linens as often as needed and as assigned by Registered Nurse making patient assessments.
Protected patient privacy and honors patient rights.
Planed and prepared meals (in accordance with the Plan of Care), and assisted in the feeding of patients, if needed.
Maintained the patient's immediate living area with respect to safety, cleanliness and order.
Performed post-mortem care, if needed.
Cleaned and sanitized rooms.
LICENSE/CERTIFICATES
CPR
Certified Nursing Assistant ( CNA)
Average Salary for Certified Nursing Assistant (CNA) Job
Certified Nursing Assistant (CNA)
Salaries
National Average
| | | |
| --- | --- | --- |
| Base Salary | $20k – $47k | |
| Bonus | $10 – $2k | |
| Profit Sharing | $16 – $2k | |
| Commission | $0 – $150 | |
| Total Pay | $22k – $37k | |
***Data are taken from payscale.com
We have prepared some important tips about Education, Certification, Skills, etc. that can help you improve your Certified Nursing Assistant (CNA) Resume.
Certified Nursing Assistant (CNA) Education and Certification
You can be admitted to pass CNA certification exams if you complete an approved CNA training program in high schools, colleges, the Red Cross, etc.. Certified nursing assistants (CNAs) are not required to hold a college degree, but must have non-degree certificate or diploma.
10 Best Certified Nursing Assistant (CNA) Schools
Akron School of Practical Nursing, Akron, OH
Arapahoe Community College, Littleton, CO
Fort Myers Institute of Technology, Fort Myers, FL
New Mexico State University–Dona Ana, Las Cruces, NM
South Texas College, McAllen, TX
Eastern Florida State College, Cocoa, FL
Sullivan University, Louisville, KY
Colorado Technical University Online, Colorado Springs, CO
Keiser University Campus, Daytona Beach, FL
Brookline College, Phoenix, AZ
How to Receive Certified Nursing Assistant Certification?
Certification indicates the right level of knowledge to care for patients and tells employers you carry the skills necessary to do your job well. If you want to obtain a Nursing Assistant Certification, you'll have to pass the required licensing exam. You need to apply for your license within a four months after completing your training. When the CNA certification exam is passed, individuals are placed into a state registry and will be officially eligible for work as a nursing assistant.
The certification CNA exam consists of two parts: written and clinical. Recertification requires you to have 48 hours of continuing education every 24 months.
Certified Nursing Assistant (CNA) Job Description
Certified Nursing Assistant (CNA) Job Duties
Answer calls for help and observe changes in a patient's condition or behavior.
Lean and sanitize patient's rooms and common areas.
Change bed linen and maintain appropriate grooming supplies in the resident room/bathroom on a regular basis.
Ambulate and transfer residents, utilizing appropriate assistive devices and body mechanics.
Record information and perform technical procedures.
Record resident vital signs, weights and measurements, intake and output, food consumption, and other information as assigned.
Serve the patient's meals and in some cases, to help them eat if they cannot do it for themselves.
Providing emotional support, and explaining medication and treatment procedures to patients and their families.
Complied with HIPAA standard in all patients.
Assist nursing staff with the basics of aseptic and sterile techniques to avoid infection of residents and self-contamination of equipment and supplies.
Measure and record the patient's fluids and intakes.
Help your patients use the toilet and to get dressed.
Protect residents from neglect, mistreatment, and abuse.
Certified Nursing Assistant (CNA) Primary Responsibilities
Obtain and record Vital Signs and weights per policy;
Position residents in correct body alignment in and out of bed;
Assist physician and/or licensed nurse with treatments and procedures as needed;
Ensuring patients or residents receive appropriate diet by reviewing their dietary restrictions, food allergies, and preferences.
Accompany residents when transported outside the center for appointments as requested;
Perform skin care treatments, as permitted by state regulation and Service Plan;
Recording vital signs, including blood pressure, pulse, temperature, and respiration rate as requested by staff.
Promote a culture of safety to ensure a healthy practice and living environment;
Collaborate and coordinate with other departments to provide timely effective care consistent with the individual's needs, choices and preferences;
Obtaining a wide range of information from physicians, caregivers and nurses about patient condition, treatment plans, and suggested activities.
The Most Common Certified Nursing Assistant (CNA) Skills
Deep understanding of medical terminologies.
Experience in providing comprehensive patient care and other daily living activities.
Documentation and tracking patient care and progress.
Listening to a patient's complaints and needs without Judgment or personal bias.
Communicate in writing and pay attention to body language for non-verbal patients.
Urinary catheterization and care including monitoring.
Basic wound, burn and mental health care.
Nursing care plan development and implementation.
Possess sensitivity to the diverse needs of patients and families.
Ability to recognize variation from patient norms in a variety of situations.
Resume Action Words for Certified Nursing Assistant (CNA) Resume
Treated
Helped
Examined
Documented
Managed
Coordinated
Performed
Recommended
Handled
Assisted
Ensured
Developed
Initiated
Sterilized
Reported
Common Certificates for Certified Nursing Assistant (CNA) Resume
APTA
CAPTE
CCVT
CFMT
CPR and First Aid
ECS
FSBTE
MPTE
PTA
How useful was this post?
Click on a star to rate it!
Average rating / 5. Vote count:
Other Samples from this Industry: