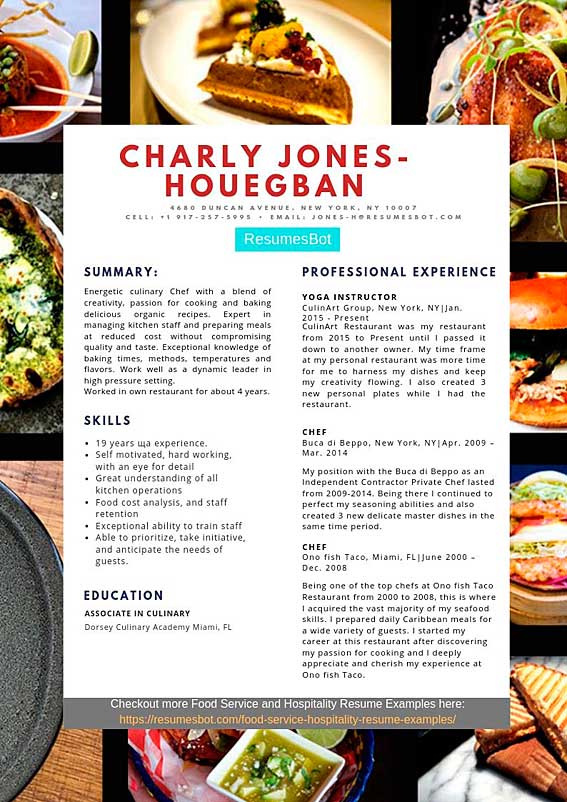 CHEF RESUME TEMPLATE (TEXT FORMAT)
SUMMARY
Energetic culinary Chef with a blend of creativity, passion for cooking and baking delicious organic recipes. Expert in managing kitchen staff and preparing meals at reduced cost without compromising quality and taste. Exceptional knowledge of baking times, methods, temperatures and flavors. Work well as a dynamic leader in a high-pressure setting. Worked in own restaurant for about 4 years.
EDUCATION
Associate in Culinary
Dorsey Culinary Academy Miami, FL
SKILLS
19 years of experience.
Self-motivated, hardworking, with an eye for detail.
Great understanding of all kitchen operations.
Food cost analysis, and staff retention.
Exceptional ability to train staff.
Able to prioritize, take initiative, and anticipate the needs of guests.
PROFESSIONAL EXPERIENCE
CHEF/OWNER
CulinArt Group, New York, NY
Jan. 2015 – Present
CulinArt Restaurant was my restaurant from 2015 to Present until I passed it down to another owner. My time frame at my personal restaurant was more time for me to harness my dishes and keep my creativity flowing. I also created 3 new personal plates while I had the restaurant.
CHEF
Buca di Beppo, New York, NY
Apr. 2009 – Mar. 2014
My position with the Buca di Beppo as an Independent Contractor Private Chef lasted from 2009-2014. Being there I continued to perfect my seasoning abilities and also created 3 new delicate master dishes in the same time period.
CHEF
Ono fish Taco, Miami, FL
June 2000 – Dec. 2008
Being one of the top chefs at Ono fish Taco Restaurant from 2000 to 2008, this is where I acquired the vast majority of my seafood skills. I prepared daily Caribbean meals for a wide variety of guests. I started my career at this restaurant after discovering my passion for cooking and I deeply appreciate and cherish my experience at Ono fish Taco.
Average Salary for Chef Job
Chef
Salaries
National Average
| | | |
| --- | --- | --- |
| Base Salary | $25k – $59k | |
| Bonus | $40 – $3k | |
| Profit Sharing | $0 – $750 | |
| Total Pay | $21k – $43k | |
***Data are taken from payscale.com
Good Skills to Include on Chef Resume
Controled portion and cost
Preparing daily prep lists for staff
Ensuring all health department regulations are in compliance
Assisted in clean up and stocking
Resume Action Words for Chef
Cooked
Accomplished
Assisted
Cleaned
Delegated
Interacted
Inventoried
Performed
Provided
Prepared
Organized
Managed
Created
Anticipated
Roasted
Common Certificates for Chef Resume
Certified Correctional Food Systems Manager
Foodservice Professional Certification
How useful was this post?
Click on a star to rate it!
Average rating / 5. Vote count:
Other Samples from this Industry: