A chronological order resume showcases your professional history to prospective employers in your career field. If you have a consistent work record with no glaring gaps, this is likely the most effective resume format for you.
What is a Chronological Resume
A chronological resume definition states that this format prioritizes your career achievements. It is one of the best resume formats for resumes nationwide. The other two are the functional resume and the combination resume.
When you consider functional vs chronological resume, you should think about your past jobs.
Choose the chronological format to tell HR specialists who are considering your application that you have recent, consistent and relevant experience for the available job.
Unlike a functional resume, which emphasizes your skills, the chronological type presents your most recent work experience. This information, with your current position listed first, is relevant to getting a new, higher-paying job in your career field.
One big reason that this is the most-used format among job seekers is its straightforward approach. It highlights your progress and growth over the years as a career professional.
Difference Between Chronological and Functional Resume
Chronological Resume
Pros:
Focuses on your work history and education in reverse time order
Good for people with a stable and solid job history in the same field, who have got a career growth
Most popular resume format that recruiters and employers love
Cons:
Indicates unrelated work experience
Highlights career gaps
Functional Resume
Pros:
Focuses on your transferable skills and abilities rather on job employment history
Good for people with gaps in career history or who had frequent job-hoping
Most preferable resume format for those who make a career change
Cons:
Doesn't display the full picture of your work history
Makes employers suspicious
Reverse Chronological Order Resume?
A reverse chronological resume is the same as a chronological resume. It is a more accurate title because the document lists your work experience from most recent to oldest, so the natural order is reversed. Check out chronological resume examples for various career fields and job titles.
Resume Templates
When you are creating a new resume, one of the best ways to get started is to use a chronological format resume free template.
Although you probably don't want your resume to blend in with the resumes of other job candidates, this document conveys your professional information in a clear, easy to read, organized fashion. Sure, it's good to add a few touches to make it stand out, but stay focused on the job you are applying for and its requirements.
When you plug your information into a template, it saves you lots of time you might otherwise spend setting it up. You don't have to fine-tune the margins or decide when to leave a space between lines. Someone else has already made those decisions for you and followed through by saving them to a template.
You'll find dozens of templates for resumes of all kinds, but you can't go wrong if you follow a few guidelines:
Start with a simple, straightforward template
Use accurate, specific information
Incorporate keywords from the job description
Be brief and to the point
Incorporate metrics if available
Fill in all your information and save the document before adding custom touches
Chronological Resume Example
The chronological format of a resume includes all of your contact data, your job history and your post-high-school education. It begins with a short introductory summary and ends with a list of the additional relevant skills and/or abilities that you have.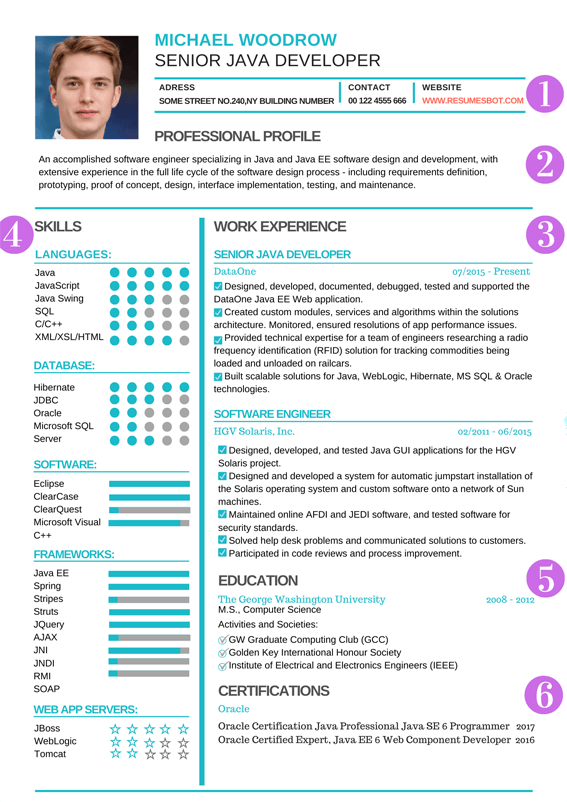 How to Write Chronological Resume
1. Contact Information
Gather contact information such as city, state and phone or email for the employers of the jobs you list. If you have a complete and compelling LinkedIn profile, immediately include it into your resume contact details. Make sure your email address looks professional and trustworthy.
2. Resume Summary / Resume Objective
Start by completing the introductory summary. This should be brief. If possible, add keywords here from the job description. For example, if the employer is looking for management experience, include that phrase in your summary and also in your job history section.
Include a resume objective in your resume if you applying for an entry-level job. It emphasizes your 2-3 main skills and shows how you can contribute it to the employer.
3. Employment Experience
Before you begin, gather all the data you will need for your resume. Arrange your employment experience from the most recent – or current – to the furthest past.
According to the New York State Department of Labor, you should also provide a brief description of your duties and main accomplishments beneath each job. This helps to hire teams quickly see the relevance to the new job.
4. Key Words
Add your final touches. Resume guru Susan Joyce of the Huffington Posts suggests the following customization tips:
Include keywords from the job description so that your resume gets noticed.
Customize your opening objectives statement to closely align with the job description.
Emphasize your skills that are relevant to the job requirements, but do not add unrelated abilities, such as being certified to scuba dive.
You should customize your information to more closely match each job you apply for. That gives you a better chance of getting an interview.
5. Education
Besides your school name, obtained degree and field of study, include your GPA if it's more than 3.4.
For example:
University of Texas Medical Branch as Galveston

PhD Candidate, Human Biological Chemistry and Genetics.

GPA: 4.0
6. Additional Sections
Don't overdo with the amount of studied languages, specially with the elementary proficiency. Certifications and Licenses are plus, but if relevant to the job you want to obtain. If you don't want to sound like a braggart, apply this rule for Awards and Honors as well.
Make sure that the information you provide on your resume is accurate and complete. Do not tweak your qualifications to fit the job description if they do not. Employers are more interested in hiring honest people who have the skills for the job than inexperienced people who embellish the truth.
Once you have filled in the template, proofread your work for grammar, spelling and punctuation. If you are unsure of your self-editing abilities, ask a friend to proof it again to find any errors you may have missed.
Conclusion
Keep in mind that brevity, readability and clarity are critical. Busy employers may only have a few seconds to scan each resume. Yours should offer a snapshot of your qualifications at first glance.
The chronological resume format is familiar to employers. They know where to look to quickly determine whether you have the experience the job requires. That's why a chronological resume is often the most effective tool for furthering your career.
MORE INFORMATION:
How useful was this post?
Click on a star to rate it!
Average rating / 5. Vote count:
Other Samples from this Industry: