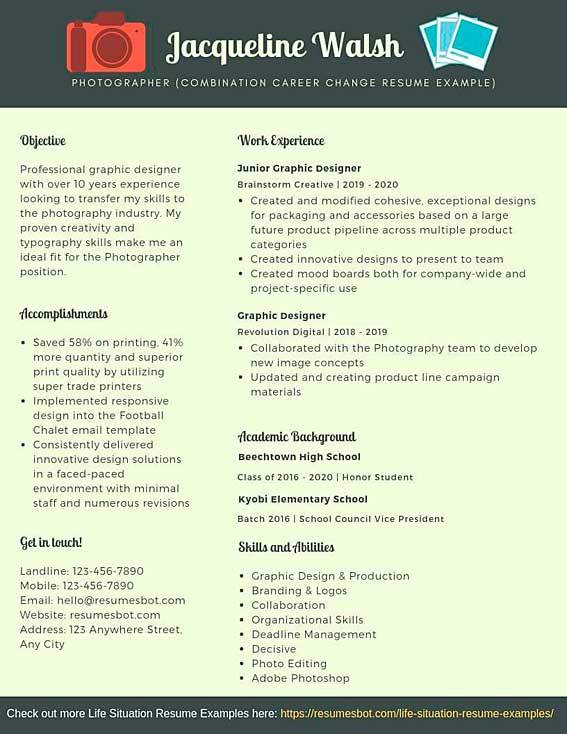 Combination Career Change Resume Template (Text Format)
Objective
Professional graphic designer with over 10 years of experience looking to transfer my skills to the photography industry. My proven creativity and typography skills make me an ideal fit for the Photographer position.
Academic Background
Beechtown High School
Class of 2016 – 2020 | Honor Student
Kyobi Elementary School
Batch 2016 | School Council Vice President
Accomplishments
Saved 58% on printing, 41% more quantity and superior print quality by utilizing super trade printers
Implemented responsive design into the Football Chalet email template
Consistently delivered innovative design solutions in a faced-paced environment with minimal staff and numerous revisions
Skills and Abilities
Graphic Design & Production
Branding & Logos
Collaboration
Organizational Skills
Deadline Management
Decisive
Photo Editing
Adobe Photoshop
Work Experience
Junior Graphic Designer
Brainstorm Creative | 2019 – 2020
Created and modified cohesive, exceptional designs for packaging and accessories based on a large future product pipeline across multiple product categories
Created innovative designs to present to the team
Created mood boards both for company-wide and project-specific use
Graphic Designer
Revolution Digital | 2018 – 2019
Collaborated with the Photography team to develop new image concepts
Updated and creating product line campaign materials
Career Change Resume Tips:
Your resume must persuade HR that you will be able to deal with tasks on your future job position. So if you decided to change specialization, write on your resume skills that are most relatable to the new job.
Emphasize your professional goals
Define your new career goals and describe why you are qualified for the position. If you have minimal experience in the field, you can still glean qualifications and skills from your previous job experience.
How useful was this post?
Click on a star to rate it!
Average rating / 5. Vote count: