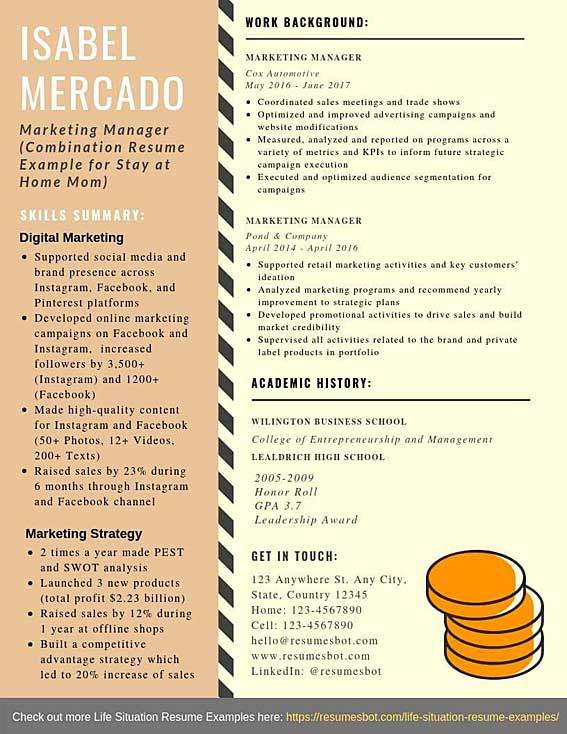 Combination Resume Template for Stay at Home Mom (Text Format)
SKILLS SUMMARY
Digital Marketing:
Supported social media and brand presence across Instagram, Facebook, and Pinterest platforms
Developed online marketing campaigns on Facebook and Instagram, increased followers by 3,500+ (Instagram) and 1200+ (Facebook)
Made high-quality content for Instagram and Facebook (50+ Photos , 12+ Videos , 200+ Texts )
Raised sales by 23% during 6 months through Instagram and Facebook channel
Marketing Strategy:
2 times a year made PEST and SWOT analysis Launched 3 new products (total profit $2.23 billion)
Raised sales by 12% during 1 year at offline shops
Built a competitive advantage strategy which led to 20% increase of sales
EDUCATION
WILINGTON BUSINESS SCHOOL
College of Entrepreneurship and Management
LEALDRICH HIGH SCHOOL
2005-2009
Honor Rol l
GPA 3.7
Leadership Award
EXPERIENCE
MARKETING MANAGER
Cox Automotive
May 2016 – June 2017
Coordinated sales meetings and trade shows
Optimized and improved advertising campaigns and website modifications
Measured, analyzed and reported on programs across a variety of metrics and KPI s to inform future strategic campaign execution
Executed and optimized audience segmentation for campaigns
MARKETING MANAGER
Pond & Company
April 2014 – April 2016
Supported retail marketing activities and key customer s ' ideation
Analyzed marketing programs and recommend yearly improvement to strategic plans
Developed promotional activities to drive sales and build market credibility
Supervised all activities related to the brand and private label products in the portfolio
Resume for Stay at Home Mom Tips:
Make sure you chose the right format
For a long time, while your children grew, you stayed at home and now, as a result, you have a big gap in your career. Now your kids get older and go to school, so you're thinking about returning to the workplace. Of course, you have to update your resume. But how to beat so formidable gap in your work experience? Everything is simple. Just choose the correct type of resume. In our situation, it will be a good idea to choose a Combination or Hybrid resume type. A combination resume format emphasizes both skills/ achievements, and recent work history.
Focus on your achievements
Write in your resume as detail as possible all your accomplishments in the previous job position. Your main task is to concentrate on the benefit that you can give to your future employer.
Emphasize the skills you gained while raising your kids
Keep in mind that you have developed some incredible skills during your time away from the workplace and those skills are in demand in today's job position. Multitasking, negotiating, budgeting, logistics coordination and project management are only a few of the many activities that you'll tackle both at home and in the office.
How useful was this post?
Click on a star to rate it!
Average rating / 5. Vote count:
Other Samples from this Industry: