No matter how brilliant your skills set, or mind-blowing list of achievements, which impactful story tells your summary statement…
joe.cooldude@gmail.com, in the header section of your resume, will drive head hunters nuts.
Okay, only if Bill Gates himself included in your references list, you have a chance to be invited for an interview.
But who will read your successful career story till the end, if the first unforgettable impression already done?
We believe that curious recruiters still exist, but there is no doubt that you want to get noticed for your professional qualities only.
Besides, your contact information on the resume needs to be well-structured, concise, and formal. A qualified candidate should consider several nuances.
Which professional title to write on a resume?
How to put an address on resume?
Should you put a LinkedIn profile on resume?
Recruiters first see your resume contact information, so it needs to grab their attention. Read on to learn what information to include — and how to provide it — to ensure you have a winning resume.
What Contact Info to Put on Resume
When thinking about where to put contact info on resume, place it at the top, regardless of the layout.
You may consider using the header feature in Microsoft Word. Then, insert the data into your resume contact information header.
Name — bold your name, so it stands out.
Address — if you feel uncomfortable listing your address until you become a pre-qualified candidate, only include your city and state. This way, applicant-tracking software scans your location.
Phone number — as a courtesy, include the number you check the most — typically a mobile one.
Email — when choosing an email address, use a professional one solely dedicated to job searching. Create a new one if needed. For example, luvhorrormovies@email.com provides information about you — just not the right kind.
Professional profile, website, or web-based resume — many professions require you to keep an online portfolio to showcase your work. One of the best ways to provide samples is to have a professional profile, website, or web-based resume.
Your resume contact information example look as follows:
---
SEE RESUMES BOT GUIDE:
How to Describe Work Experience on a Resume
How to Write a Scholarship Resume
Examples of a Functional Resume
---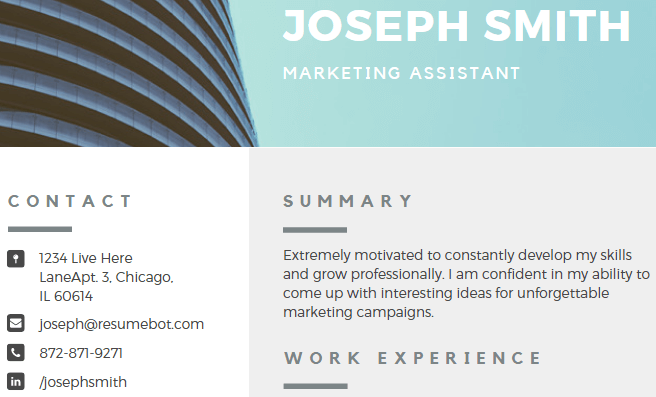 Resume Job Title
A professional title on resume may refer to many things. Those include:
Objective — you use the title of the desired job as part of your objective.
Summary — a professional summary may list the job title there or a combination of job titles you previously had. Just make sure those titles complement one another and relate to the job.
Work History/Experience — list your job titles in this section too. Because resumes only have to cover the last 10 years, exclude older jobs that do not add value. If you worked many positions at a specific company, consider including the most recent one only, especially if you need the space.
If you want to show a promotion — or that you worked your way up — consider adding a summary sentence before your most recent title and job duties.
For this example, look at how an Executive Assistant for a law firm documents this.
The sentence could say, "Before being promoted to an executive assistant, increased client satisfaction by 30% as the receptionist."
Full Name on Resume
A resume is not a legally binding document. However, it is a professional one, so think about using your legal name. Use the below to guide you:
Supply the name you use to sign documents or endorse checks — this may not be your full legal name. Not everyone includes their middle name.
Include your middle initial instead of your full middle name — if you have one. However, if you prefer to use your full middle name, go ahead.
Use the name that appears on your social security card, driver's license, or state ID.
The use of your preferred name on resume is expectable. If hired, you will provide your legal name and sign all paperwork with it.
Resumesbot Advice: Only use a preferred professional name. Joseph, the applicant, prefers Joe. In the contact information section, he listed Joseph (Joe) to provide his legal name and preferred one.
Middle Name on Resume
Including a middle name comes down to preference. Also, some people do not have one. Joe decided to include his middle name on some resumes but not others. His name looks as follows:

Joseph (Joe) Elliott Last Name
Joseph (Joe) E. Last Name
Some names are not straightforward. Examine the name — Mary Ann. Many variations and spellings exist. A recruiter may not know if the candidate's first name is Mary or Mary Ann. If Mary, she could consider using her middle initial instead — Mary A. [Last Name].
Using Nickname on Resume
Deciding whether to use a nickname in the resume header comes down to common sense.
As we learned in the resume legal name or preferred name section, if your nickname is a common derivative of your legal name, use it.
If a nickname does not resemble a legal or professional name, do not use it. Let's go back to Joe. In this scenario, he uses Joseph but prefers his nickname — pizza guy.
Despite Joseph's preference, the pizza guy is unprofessional. Plus, that is a nickname — not a preferred one.
Personal Information in Resume
Some entry-levels applicants need to fill space, so they include personal information. Never include any unrelated hobbies or unprompted details that look out of place.
Maybe you enjoy mediation. However, if you applied for an engineering job, the company may not see a connection. While it shows a way to cope with stress — if you need to fill space — provide related soft skills.
When thinking about personal information, you may ask, "Do you put your birthday on a resume?" Your birthday should not impact your ability to perform a job, so do not include it, even when omitting the year.
Candidates then naturally wonder, "Should I put my age on my resume?" Just like your birth date, your age remains irrelevant.
Exceptions may apply. For example, an internship likely targets those who went to college right after graduating from high school. Companies usually seek juniors or seniors, though some may consider graduate students. Additionally, some firms may look at change-of-career applicants.
However, many internships do not pay or only provide a stipend for living expenses. Older job seekers should weigh the pros and cons of applying for these types of positions — without savings, they may not pay enough to make ends meet.
Age may become a factor when applying for entry-level jobs — even when you want to change fields. While excluding qualified applicants based on age is illegal, proving age discrimination is difficult.
Resumesbot Advice: Other countries have different employment laws. When applying for jobs outside the United States, a company may ask for your age or date of birth. Additionally, as we mentioned in our certification and education blogs, remove older dates to increase your chances.
A recruiter or hiring manager will sense your age group based on the dates listed in your resume. Furthermore, the following factors provide clues:
Education section placement — as previously discussed, those with less education, put this section toward the top of their resumes.
Inclusion of high school — if you listed high school on your resume, you are either a new graduate, still enrolled in high school, a college student, or a recent college grad.
Objective versus summary — many entry-level candidates, have an objective because they lack skills and work history to write a professional summary. An exception exists for change-of-career applicants. They may choose to write an objective or combine these two fields.
Should I Put My Address on My Resume?
Including your address is not mandatory. When thinking about should you put your address on your resume, consider if including it reinforces your location.
Use the following scenarios:
Out-of-town applicant — if you are an out-of-town applicant — and do not specify you are moving to the area, and the company does not cover relocation expenses, they will move on to the next local candidate. However, if you omit your out-of-town address, the recruiter will likely consider you if otherwise qualified.
Remote jobs — some remote companies only hire in certain states because employment laws vary. Including your address reinforces if you live in an accepted area. Companies do not always list the states in their job postings.
Some people omit their full address to save space, or as a precaution against identity theft. Your city and state are the most important factors.
How to Write Address On Resume
If you include an address, you need to write a full address on resume. This includes putting your apartment number on resume when applicable.
A resume address example looks as follows:
1234 Anywhere Lane
Apt. 204
Chicago, IL 60613
An alternative format puts the information on one line:
4567 House Drive Las Vegas, Nevada 89134
Using a P.O. box on resume may provide the wrong impression. Recruiters may equate this to instability, regardless of the reason.
People use P.O. boxes to retrieve mail and packages, but they cannot take the place of permanent addresses.
If you have a P.O. box, consider:
Only using your city and state. If the job is in another state, make sure your cover letter communicates your desire to move. You may also work this into your objective or summary.
If already moving — and you have friends or family in the area — ask to use one of their addresses.
If you need to include your P.O. box, place it after your name, just like a permanent address. It looks as follows:
P.O. Box [number]
City, State Zip
How to Write Phone Number on Resume
Most employers contact people regarding the next steps through email. If not interested, many companies take no action. However, recruiters may text or call, especially if they need to fill an urgent position.
Therefore, this logic answers the question of should I put my phone number on my resume. If you have multiple phone numbers, use the one you most frequently check. Make sure your phone can receive texts and voicemails.
Formatting comes down to a style choice. Make sure you include your area code. Your phone numbers may look like these:
312-555-5555
(312) 555-5555
312.555.5555
Resume with Social Media Links
When putting social media on resume, never include links to sites that come across as unprofessional or confrontational. You may consider including your:>
LinkedIn profile — if you did not apply through LinkedIn, or submit a LinkedIn profile as your resume, then put this in your contact information.
Professional Website/Portfolio — some professions require you to keep updated portfolios. This could include ad campaigns, photos from professional shoots, or published articles. Include a link to your portfolio, blog, or business website.
GitHub — this site brings developers together. If you are a developer, write code, or work in a closely-related profession, consider including a GitHub profile.
Facebook profile — if you work for yourself and have a company page, include that. However, never link to a profile that contains inappropriate information or pictures — this shows you lack judgment.
If you provide your LinkedIn URL on your resume, or you submit your profile instead of one, LinkedIn has fields at the bottom of your profile. You may include a company website, links to blogs, or other relevant information.
How useful was this post?
Click on a star to rate it!
Average rating / 5. Vote count:
Other Samples from this Industry: