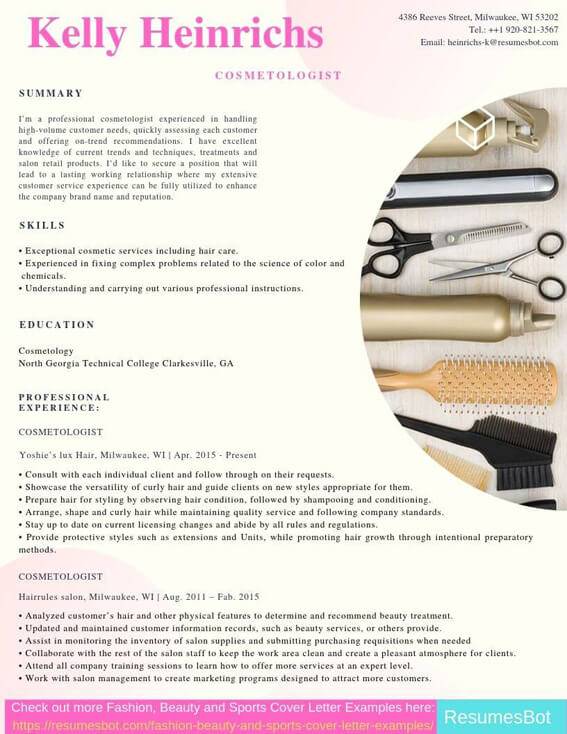 COSMETOLOGIST RESUME TEMPLATE (TEXT FORMAT)
SUMMARY
I'm a professional cosmetologist experienced in handling high-volume customer needs, quickly assessing each customer and offering on-trend recommendations. I have excellent knowledge of current trends and techniques, treatments and salon retail products. I'd like to secure a position that will lead to a lasting working relationship where my extensive customer service experience can be fully utilized to enhance the company brand name and reputation.
EDUCATION
Cosmetology
North Georgia Technical College Clarkesville, GA
SKILLS
Exceptional cosmetic services including hair care.
Experienced in fixing complex problems related to the science of color and chemicals.
Understanding and carrying out various professional instructions.
WORK EXPERIENCE
COSMETOLOGIST
Yoshie's lux Hair, Milwaukee, WI
Apr. 2015 – Present
Consult with each individual client and follow through on their requests.
Showcase the versatility of curly hair and guide clients on new styles appropriate for them.
Prepare hair for styling by observing hair condition, followed by shampooing and conditioning.
Arrange, shape and curly hair while maintaining quality service and following company standards.
Stay up to date on current licensing changes and abide by all rules and regulations.
Provide protective styles such as extensions and Units, while promoting hair growth through intentional preparatory methods.
COSMETOLOGIST
Hairrules salon, Milwaukee, WI
Aug. 2011 – Fab. 2015
Analyzed customer's hair and other physical features to determine and recommend beauty treatment.
Updated and maintained customer information records, such as beauty services, or others provide.
Assist in monitoring the inventory of salon supplies and submitting purchasing requisitions when needed
Collaborate with the rest of the salon staff to keep the work area clean and create a pleasant atmosphere for clients.
Attend all company training sessions to learn how to offer more services at an expert level.
Work with salon management to create marketing programs designed to attract more customers.
Average Salary for Cosmetologist
Cosmetologist
Salaries
National Average
| | | |
| --- | --- | --- |
| Base Salary | $18k – $64k | |
| Bonus | $10 – $10k | |
| Profit Sharing | $2k – $12k | |
| Commission | $98 – $12k | |
| Total Pay | $18k – $53k | |
***Data are taken from payscale.com


Good Skills to Include on Cosmetologist Resume
Adept at analyzing hair and scalp before recommending and performing treatments.
Adept at addressing scalp irritation/sensitivity.
Maintain highest standards of sanitation and sterilization consistent with Washington law as well as salon policies and procedures.
Positive clientele feedback on professionalism and personality.
Resume Action Words for Cosmetologist
Created
Educated
Created
Coached
Retailed
Discussed
Communicated
Managed
Educated
Wined
Listened
Helped
Learned
Informed
Monitored
Common Certificates for Cosmetologist Resume
Notary Public
CPR
First Aid
Food Handler
Driver's License
Forklift Certified
ServSafe
Medical Assistant
Insurance License
To be 100% prepared for getting a new job check our Cosmetologist Cover Letter Example
How useful was this post?
Click on a star to rate it!
Average rating / 5. Vote count:
Other Samples from this Industry: