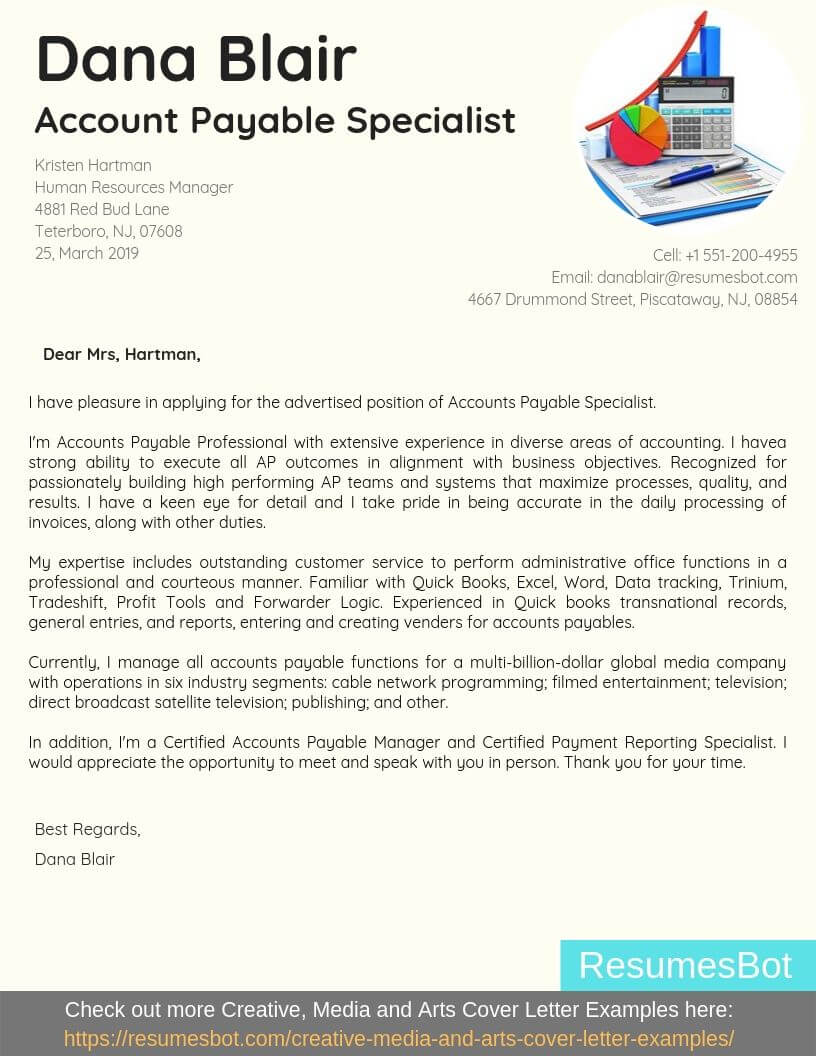 Design similar cover letter template in minutes
It's Okay to be different
COVER LETTER EXAMPLE FOR ACCOUNTS PAYABLE SPECIALIST (TEXT FORMAT)
Dana Blair
Cell: +1 551-200-4955
Email: danablair@resumesbot.com
4667 Drummond Street, Piscataway, NJ, 08854
---
Mrs. Kristen Hartman
Human Resources Manager
4881 Red Bud Lane
Teterboro, NJ, 07608
25, March 2019
Dear Mrs. Hartman,
I have pleasure in applying for the advertised position of Accounts Payable Specialist.
I'm Accounts Payable Professional with extensive experience in diverse areas of accounting. I have a strong ability to execute all AP outcomes in alignment with business objectives. Recognized for passionately building high performing AP teams and systems that maximize processes, quality, and results. I have a keen eye for detail and I take pride in being accurate in the daily processing of invoices, along with other duties.
My expertise includes outstanding customer service to perform administrative office functions in a professional and courteous manner. Familiar with Quick Books, Excel, Word, Data tracking, Trinium, Tradeshift, Profit Tools and Forwarder Logic. Experienced in Quick books transnational records, general entries, and reports, entering and creating venders for accounts payables.
Currently, I manage all accounts payable functions for a multi-billion-dollar global media company with operations in six industry segments: cable network programming; filmed entertainment; television; direct broadcast satellite television; publishing; and other.
In addition, I'm a Certified Accounts Payable Manager and Certified Payment Reporting Specialist.
I would appreciate the opportunity to meet and speak with you in person. Thank you for your time.
Best Regards,
Dana Blair
How useful was this post?
Click on a star to rate it!
Average rating / 5. Vote count:
Other Samples from this Industry: