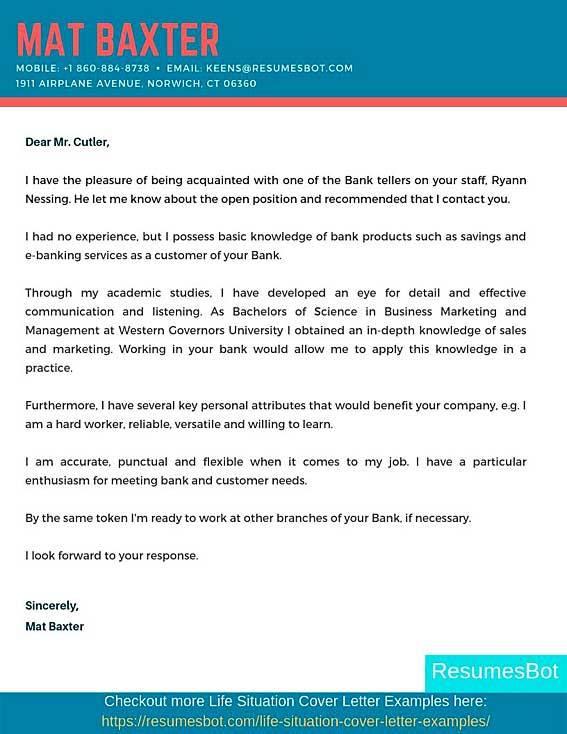 Design similar cover letter template in minutes
It's Okay to be different
COVER LETTER FOR BANK TELLER WITH NO EXPERIENCE TEMPLATE (TEXT FORMAT)
Mat Baxter
Mobile: +1 860-884-8738
keens@resumesbot.com
www.resumesbot.com
1911 Airplane Avenue, Norwich, CT 06360
---
Dear Mr. Cutler,
I have the pleasure of being acquainted with one of the Bank tellers on your staff, Ryann Nessing. He let me know about the open position and recommended that I contact you.
I had no experience, but I possess basic knowledge of bank products such as savings and e-banking services as a customer of your Bank.
Through my academic studies, I have developed an eye for detail and effective communication and listening. As Bachelors of Science in Business Marketing and Management at Western Governors University I obtained an in-depth knowledge of sales and marketing. Working in your bank would allow me to apply this knowledge in a practice.
Furthermore, I have several key personal attributes that would benefit your company, e.g. I am a hard worker, reliable, versatile and willing to learn.
I am accurate, punctual and flexible when it comes to my job. I have a particular enthusiasm for meeting bank and customer needs.
By the same token I'm ready to work at other branches of your Bank, if necessary.
I look forward to your response.
Sincerely,
Mat Baxter
How useful was this post?
Click on a star to rate it!
Average rating / 5. Vote count:
Other Samples from this Industry: