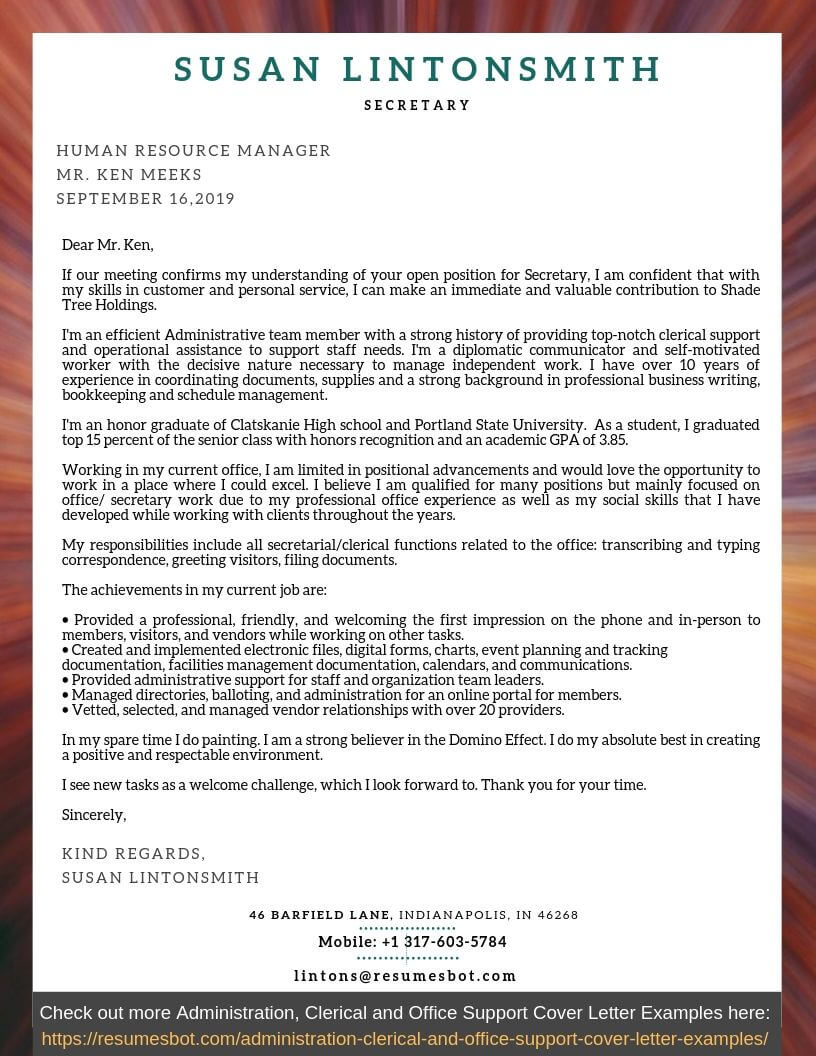 Design similar cover letter template in minutes
It's Okay to be different
COVER LETTER FOR SECRETARY TEMPLATE (TEXT FORMAT)
Susan Lintonsmith
Mobile: +1 317-603-5784
Email: lintons@resumesbot.com
46 Barfield Lane, Indianapolis, IN 46268
---
Human Resource Manager
Mr. Ken Meeks
September 16, 2019
Dear Mr. Ken,
If our meeting confirms my understanding of your open position for Secretary, I am confident that with my skills in customer and personal service, I can make an immediate and valuable contribution to Shade Tree Holdings.
I'm an efficient Administrative team member with a strong history of providing top-notch clerical support and operational assistance to support staff needs. I'm a diplomatic communicator and self-motivated worker with the decisive nature necessary to manage independent work. I have over 10 years of experience in coordinating documents, supplies and a strong background in professional business writing, bookkeeping and schedule management.

I'm an honor graduate of Clatskanie High school and Portland State University. As a student, I graduated top 15 percent of the senior class with honors recognition and an academic GPA of 3.85.
Working in my current office, I am limited in positional advancements and would love the opportunity to work in a place where I could excel. I believe I am qualified for many positions but mainly focused on office/ secretary work due to my professional office experience as well as my social skills that I have developed while working with clients throughout the years.
My responsibilities include all secretarial/clerical functions related to the office: transcribing and typing correspondence, greeting visitors, filing documents.
Achievements in my current job are:
Provided a professional, friendly, and welcoming the first impression on the phone and in-person to members, visitors, and vendors while working on other tasks.
Created and implemented electronic files, digital forms, charts, event planning and tracking documentation, facilities management documentation, calendars, and communications.
Provided administrative support for staff and organization team leaders.
Managed directories, balloting, and administration for an online portal for members.
Vetted, selected, and managed vendor relationships with over 20 providers.
In my spare time I do painting. I am a strong believer in the Domino Effect. I do my absolute best in creating a positive and respectable environment.I see new tasks as a welcome challenge, which I look forward to. Thank you for your time.
Kind Regards,
Susan Lintonsmith

How to Write Secretary Cover Letter?
If we check a definition of secretary, we'll see that it's a person employed to handle correspondence and manage routine and detail work for a superior.
Secretary works in nearly every industry. Other names for the secretary work with similar duties are:
Administrative Assistant
Receptionist
Customer Service Representative
Unit Secretary
Office Manager
Office Assistant
Assistant Manager
Executive secretary
Legal secretary
If you want to write the perfect cover letter you should follow our next recommendations.
Start your cover letter for secretary position with the contact information on which employer can contact you. Write your email address, phone number and the actual address. Include the company's address, even if you're sending it by e-mail.
Indicate position as well as the name of a person to whom you're writing. It should be a person who will make a decision about your candidacy. Spaddend time to find out who'll get your letter. The point's about more pleasant to read a letter addressed to you than the one addressed to the 'Dear Hiring Team'
Next, indicate what position you are applying for. Try to create the impression that you are not that sort of person who responded to his first job, but who chose the particular company as a future career.
Spend some of your free time to examine what the company is doing, think about the position's job responsibilities you are applying for. Think about the problems the company may face. Use all your experience and try to indicate that you can analyze, make decisions and implement them to improve effectiveness. The employer should be inspired by the idea that he'll benefit if he hires you.
Confirm this thought by indicating all your relevant experience. The cover letter for secretary job it's more informal communication than a resume. Imagine that you are telling about your background to an old buddy as if he is right in front of you. Present yourself in the best possible light. Here are some skills you can include in your cover letter:
Experienced in performing procedural and administrative work of an office, such as preparing and editing documents, maintaining files/records, and making and preparing travel arrangements.
I have the ability to use various office automation software programs, tools, and techniques to support office operations and produce a variety of documents such as letters, reports, spreadsheets, databases, and graphs.
Accuracy and attention to detail.
Professional in researching information, compiling statistics, gather and computes various data, preparing scheduled and ad hoc statistical, budget and narrative reports, summarizing or replying to inquiries, selecting relevant data from a variety of sources.
Experienced in training to others in activities, processes and responsibilities related to administrative operations of the department.
Proofread your letter several times. Do not hurry. Make sure that there are no stylistic and grammatical errors. Give thanks for a time that was devoted to you.
Secretary Resume Examples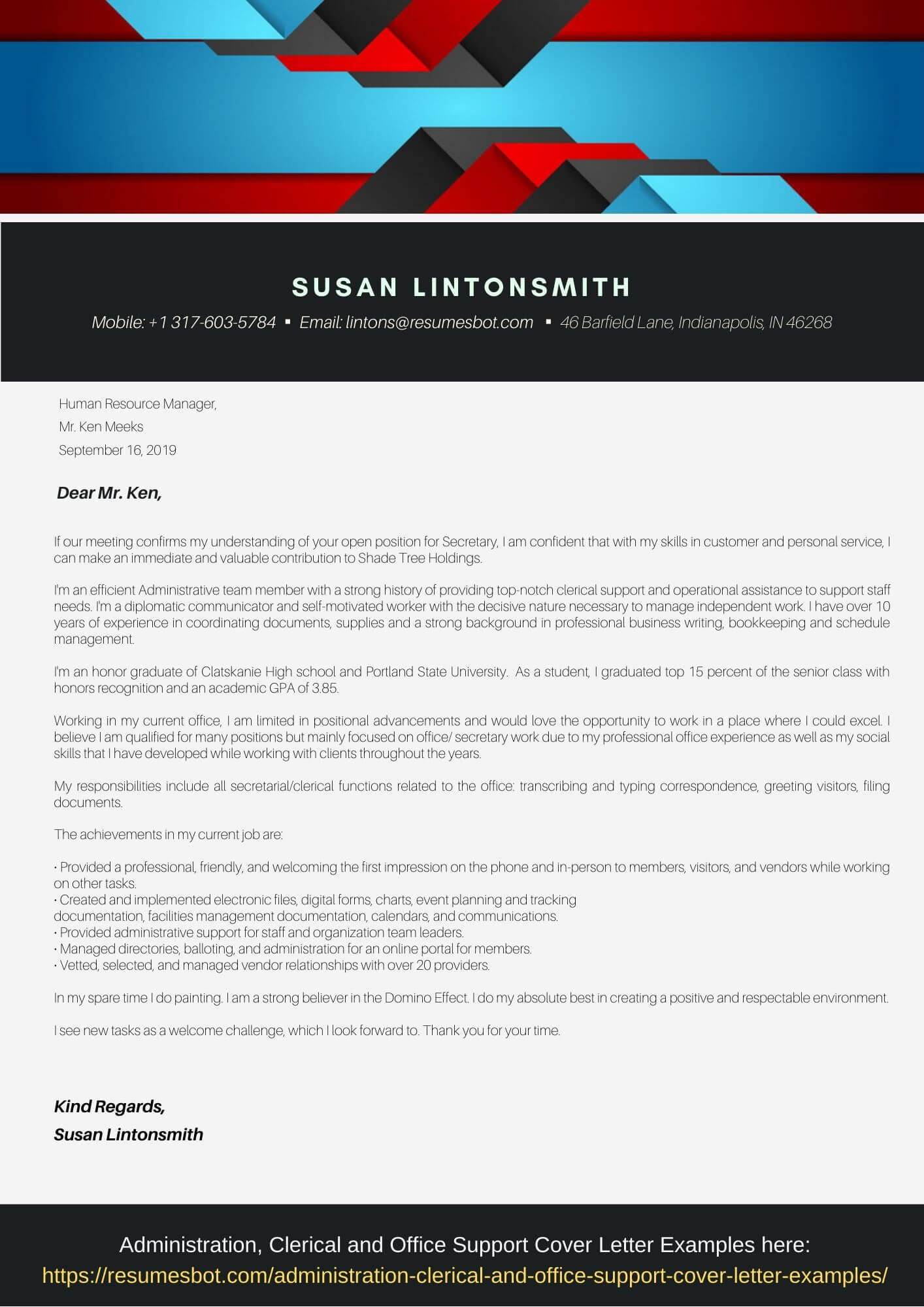 Secretary Resume Sample 1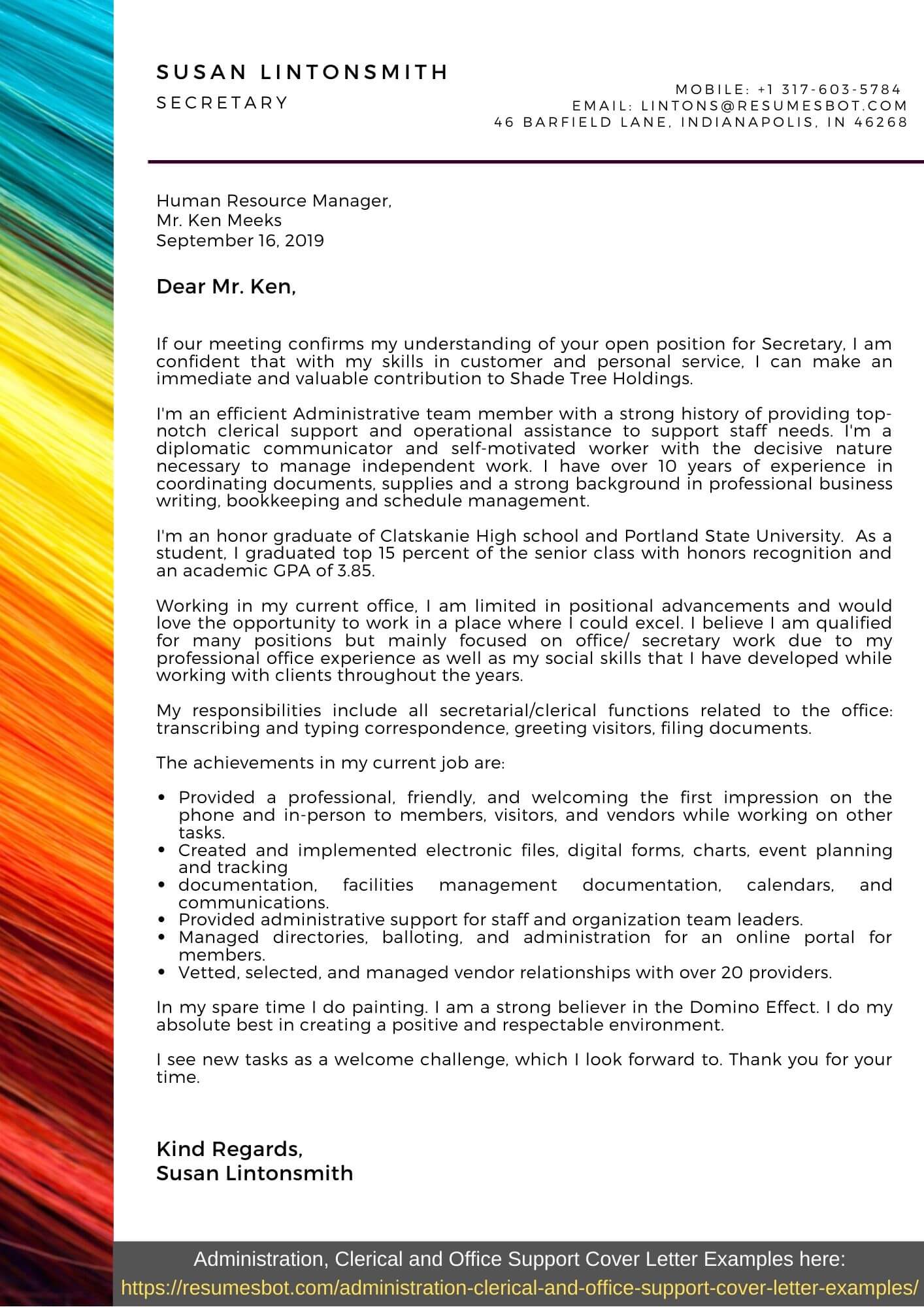 Secretary Resume Sample 2
How useful was this post?
Click on a star to rate it!
Average rating / 5. Vote count:
Other Samples from this Industry: