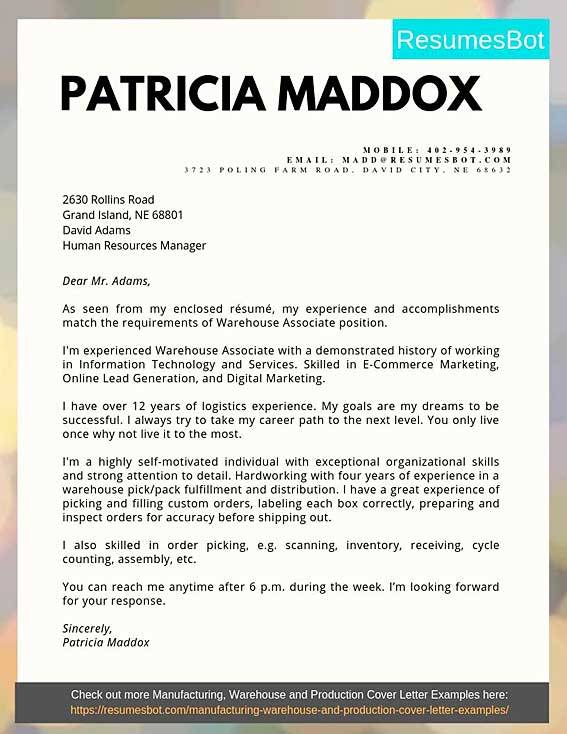 Design similar cover letter template in minutes
It's Okay to be different
COVER LETTER FOR WAREHOUSE ASSOCIATE TEMPLATE (TEXT FORMAT)
Patricia Maddox
Mobile: +1 402-954-3989
3723 Poling Farm Road, David City, NE 68632
---
2630 Rollins Road
Grand Island, NE 68801
David Adams
Human Resources Manager
Dear Mr. Adams,
As seen from my enclosed résumé, my experience and accomplishments match the requirements of Warehouse Associate position.
I'm experienced Warehouse Associate with a demonstrated history of working in Information Technology and Services. Skilled in E-Commerce Marketing, Online Lead Generation, and Digital Marketing
I have over 12 years of logistics experience. My goals are my dreams to be successful. I always try to take my career path to the next level. You only live once why not live it to the most.
I'm a highly self-motivated individual with exceptional organizational skills and strong attention to detail. Hardworking with four years of experience in a warehouse pick/pack fulfillment and distribution. I have a great experience of picking and filling custom orders, labeling each box correctly, preparing and inspect orders for accuracy before shipping out.
I also skilled in order picking, e.g. scanning, inventory, receiving, cycle counting, assembly, etc.
You can reach me anytime after 6 p.m. during the week. I'm looking forward for your response.
Sincerely,
Patricia Maddox
How useful was this post?
Click on a star to rate it!
Average rating / 5. Vote count:
Other Samples from this Industry: