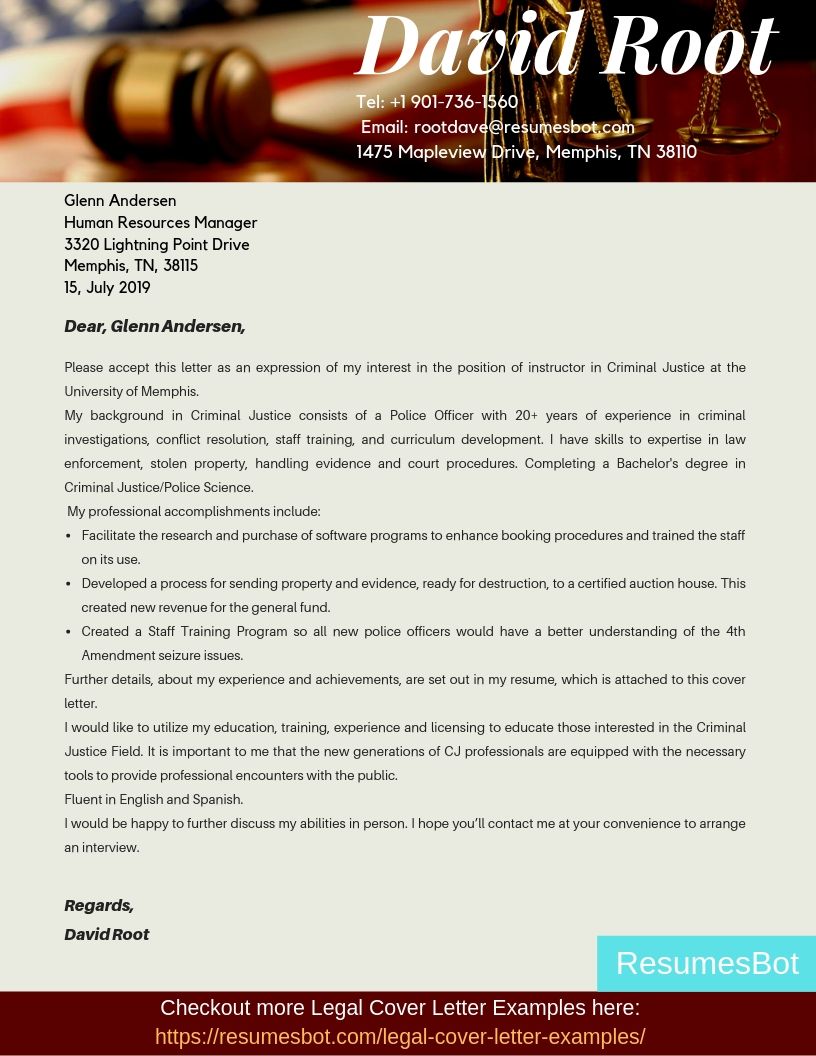 Design similar cover letter template in minutes
It's Okay to be different
CRIMINAL JUSTICE COVER LETTER TEMPLATE (TEXT FORMAT)
David Root
Tel: +1 901-736-1560
rootdave@resumesbot.com
1475 Mapleview Drive, Memphis, TN 38110
---
Glenn Andersen
Human Resources Manager
3320 Lightning Point Drive
Memphis, TN, 38115
15, July 2019
Dear, Glenn Andersen,
Please accept this letter as an expression of my interest in the position of instructor in Criminal Justice at the University of Memphis.
My background in Criminal Justice consists of a Police Officer with 20+ years of experience in criminal investigations, conflict resolution, staff training, and curriculum development. I have skills to expertise in law enforcement, stolen property, handling evidence and court procedures. Completing a Bachelor's degree in Criminal Justice/Police Science.
My professional accomplishments include:
Facilitate the research and purchase of software programs to enhance booking procedures and trained the staff on its use.
Developed a process for sending property and evidence, ready for destruction, to a certified auction house. This created new revenue for the general fund.
Created a Staff Training Program so all new police officers would have a better understanding of the 4th Amendment seizure issues.
Further details, about my experience and achievements, are set out in my resume, which is attached to this cover letter.
I would like to utilize my education, training, experience and licensing to educate those interested in the Criminal Justice Field. It is important to me that the new generations of CJ professionals are equipped with the necessary tools to provide professional encounters with the public.
Fluent in English and Spanish.
I would be happy to further discuss my abilities in person. I hope you'll contact me at your convenience to arrange an interview.
Regards,
David Root
How useful was this post?
Click on a star to rate it!
Average rating / 5. Vote count:
Other Samples from this Industry: