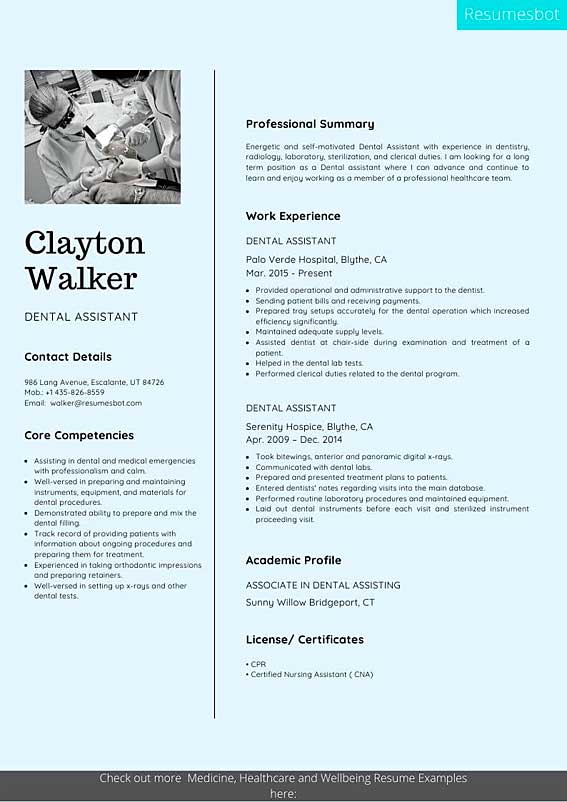 DENTAL ASSISTANT RESUME TEMPLATE (TEXT FORMAT)
EXECUTIVE PROFILE
Energetic and self-motivated Dental Assistant with experience in dentistry, radiology, laboratory, sterilization, and clerical duties. I am looking for a long term position as a Dental assistant where I can advance and continue to learn and enjoy working as a member of a professional healthcare team.
EDUCATION HISTORY
Associate in Dental Assisting
Sunny Willow Bridgeport, CT
KEY ABILITIES
Assisting in dental and medical emergencies with professionalism and calm.
Well-versed in preparing and maintaining instruments, equipment, and materials for dental procedures.
Demonstrated ability to prepare and mix the dental filling.
Track record of providing patients with information about ongoing procedures and preparing them for treatment.
Experienced in taking orthodontic impressions and preparing retainers.
Well-versed in setting up x-rays and other dental tests.
PROFESSIONAL EXPERIENCE
DENTAL ASSISTANT
Palo Verde Hospital, Blythe, CA
Mar. 2015 – Present
Provided operational and administrative support to the dentist.
Sending patient bills and receiving payments.
Prepared tray setups accurately for the dental operation which increased efficiency significantly.
Maintained adequate supply levels.
Assisted dentist at chair-side during examination and treatment of a patient.
Helped in the dental lab tests.
Performed clerical duties related to the dental program.
DENTAL ASSISTANT
Serenity Hospice, Blythe, CA
Apr. 2009 – Dec. 2014
Took bitewings, anterior and panoramic digital x-rays.
Communicated with dental labs.
Prepared and presented treatment plans to patients.
Entered dentists' notes regarding visits into the main database.
Performed routine laboratory procedures and maintained equipment.
Laid out dental instruments before each visit and sterilized instrument proceeding visit.
LICENSE/CERTIFICATES
CPR
Certified Nursing Assistant ( CNA)
Average Salary for Dental Assistant Job
Dental Assistant
Salaries
National Average
| | | |
| --- | --- | --- |
| Base Salary | $25k – $51k | |
| Bonus | $146 – $3k | |
| Profit Sharing | $245 – $4k | |
| Commission | $77 – $7k | |
| Total Pay | $26k – $49k | |
***Data are taken from payscale.com
We have prepared some important tips about Education, Certification, Skills, etc. that can help you improve your Dental Assistant Resume.
Dental Assistant Education and Certification
If you want to have the opportunity to work in 39 states you should obtain a national dental assisting certification of the Dental Assisting National Board (DANB).
DANB's CDA certification is made up of three component exams: General Chairside Assisting (GC), Radiation Health and Safety (RHS) and Infection Control (ICE).
You can be admitted to pass DANB's CDA certification exams in the following cases:
You have a formal education.
You hold a high school diploma or equivalent and have a minimum of 3,500 hours of approved work experience.
You can also have dental assistant certification online. Download a CDA application packet on the DANB website and take the exam at a Pearson VUE test center, which are located nationwide.
10 Best Dental Assistant Schools
College of Southern Nevada, Las Vegas, NV
Indiana University-Purdue University-Indianapolis, Indianapolis, IN
University of North Carolina at Chapel Hill, Chapel Hill, NC
Florida State College at Jacksonville, Jacksonville, FL
Daytona State College, Daytona Beach, FL
University of Alaska Anchorage, Anchorage, AK
University of Alabama at Birmingham, Birmingham, AL
Indian River State College, Fort Pierce, FL
10 Online Dental Assistant Schools
Nowadays many career schools and colleges have begun to offer distance-based and online dental assisting degrees. Some of the best Dental Assistant education programms are in the next universities:
Indiana University – Purdue University – Indianapolis, Indianapolis, IN
Rutgers University – New Brunswick, New Brunswick, NJ
University of Georgia, Athens, GA
The University of Alabama, Tuscaloosa, AL
Hudson Valley Community College, Troy, NY
Southeast Community College Area, Lincoln, NE
Eastern Iowa Community College District, Davenport, IA
California State University – San Marcos, San Marcos, CA
Madison Area Technical College, Madison, WI
Sinclair Community College, Dayton, OH
Dental Assistant Job Description
The dental assistant's role is to help the dentist prepare the necessary tools and equipment, assist during surgery, prepare patients for the procedures, inform them as well as documentation and scheduling.
Dental Assistant Job Duties
Performs instrument exchange procedures for operative dentistry (including general dentistry, pedodontics, prosthetics, orthodontics, periodontics and oral surgery).
Prepares dental restorative and prosthetic materials.
Assists in oral surgery as required.
Ensures compliance with OSHA regulations on infection control.
Takes digital x-rays to ensure correct diagnosis.
Schedules appointments: prepares a variety of requests for patient diagnostic testing.
Illustrates proper preventive dental hygiene to patients.
Monitors oral sedation or general anesthesia procedures to ensure patient comfort.
Plans the set-up of the instruments according to the scheduled procedures to maximize operations.
Assists with sterilization and dispensing to ensure efficient operations.
Dental Assistant Job Requirements
Knowledge of dental assisting operative procedures.
Interpersonal skills.
Ability to understand and carry out written and oral instructions.
Successfully completed the Infection Control Examination (ICE).
Successfully completed the Dental Radiation Health and Safety examination administered by the Dental Assisting National Board (DANB).
Shall possess specialty training from a licensed dentist and/or certification from an accredited Dental Assistant school.
Minimum of 2 years of experience.
Ability to work cooperatively with colleagues and supervisory staff at all levels.
Dental Assistant Primary Responsibilities
Assist the dentist during a variety of treatment procedures.
Set up and breakdown operatory post treatment.
Take dental radiographs (x-rays).
Manage infection control – prepare and sterilize instruments and equipment.
Provide patients with instructions for oral care following all dental treatment procedures.
Educate patients on appropriate oral hygiene strategies to maintain oral health.
Perform various office tasks as necessary.
The Most Common Dental Assistant Resume Skills
Provide compassionate care to patients and educate in post-operative care.
Skilled in taking impressions, making temporary's, bite registrations and fabricate model.
Experience with digital x-rays and Dentrix.
Great sensitivity to the needs of other.
Action Words for Dental Assistant Resume
Treated
Helped
Examined
Documented
Managed
Coordinated
Performed
Recommended
Handled
Assisted
Ensured
Developed
Initiated
Sterilized
Reported
Common Certificates for Dental Assistant Resume
APTA
CAPTE
CCVT
CFMT
CPR and First Aid
ECS
FSBTE
MPTE
PTA
How useful was this post?
Click on a star to rate it!
Average rating / 5. Vote count:
Other Samples from this Industry: