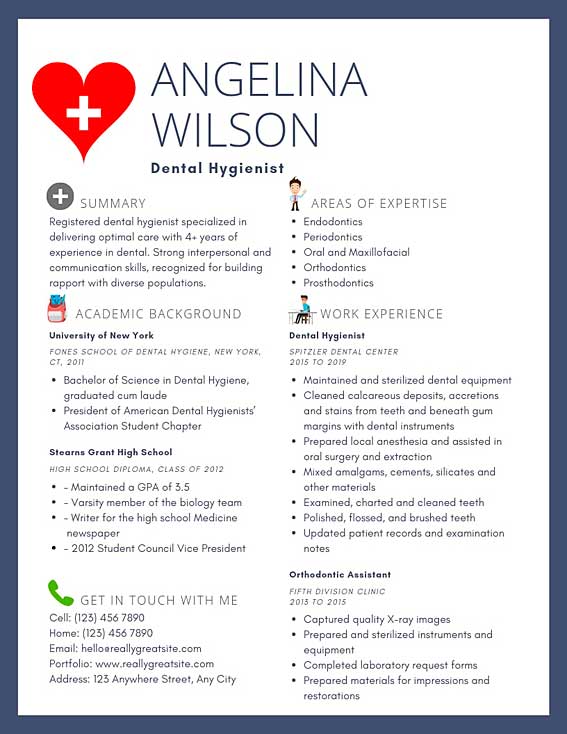 Dental Hygienist Resume Template (Text Format)
PERSONAL SUMMARY
Registered dental hygienist specialized in delivering optimal care with 4+ years of experience in dental. Strong interpersonal and communication skills, recognized for building rapport with diverse populations.
ACADEMIC BACKGROUND
University of New York
FONES SCHOOL OF DENTAL HYGIENE, NEW YORK, CT, 2011
Bachelor of Science in Dental Hygiene graduated cum laude
President of American Dental Hygienists'
Association of Student Chapter
Stearns Grant High School
HIGH SCHOOL DIPLOMA, CLASS OF 2012
Maintained a GPA of 3.5
Varsity member of the biology team
Writer for the high school Medicine newspaper
2012 Student Council Vice President
AREAS OF EXPERTISE
Endodontics
Periodontics
Oral and Maxillofacial
Orthodontics
Prosthodontics
CAREER HISTORY
Dental Hygienist
SPI TZLER DENTAL CENTER
2015 TO 2019
Maintained and sterilized dental equipment
Cleaned calcareous deposits, accretions and stains from teeth and beneath gum margins with dental instruments
Prepared local anesthesia and assisted in oral surgery and extraction
Mixed amalgams, cement, silicates and other materials
Examined, charted and cleaned teeth
Polished, flossed, and brushed teeth
Updated patient records and examination notes
Orthodontic Assistant
FIFTH DIVISION CLINIC
2013 TO 2015
Captured quality X-ray images
Prepared and sterilized instruments and equipment
Completed laboratory request forms
Prepared materials for impressions and restorations
Average Salary for Dental Hygienist Job
Dental Hygienist
Salaries
National Average
| | | |
| --- | --- | --- |
| Base Salary | $42k – $82k | |
| Bonus | $288 – $5k | |
| Profit Sharing | $498 – $6k | |
| Commission | $494 – $23k | |
| Total Pay | $57k – $94k | |
***Data are taken from payscale.com
Good Skills to Include on Dental Hygienist Resume
Leadership skills
Knowledge of overall dentistry and dental hygiene procedures, dental patient screening and medical history documentation
Communication skills both verbal and written for audiences
Interpersonal and conflict resolution skills
Active and attentive listening skills
Experience with Dentrix or Eaglesoft dental software and Microsoft Office
Strong organizational skills
CPR
Resume Action Words for Dental Hygienist
Cared
Referred
Sterilized
Monitored
Qualified
Listened
Cleaned
Corresponded
Regulated
Documented
Reported
Charged
Trained
Aided
Evaluated
Common Certificates for Dental Hygienist Resume
Commission on Dental Accreditation (CODA)
How useful was this post?
Click on a star to rate it!
Average rating / 5. Vote count:
Other Samples from this Industry: