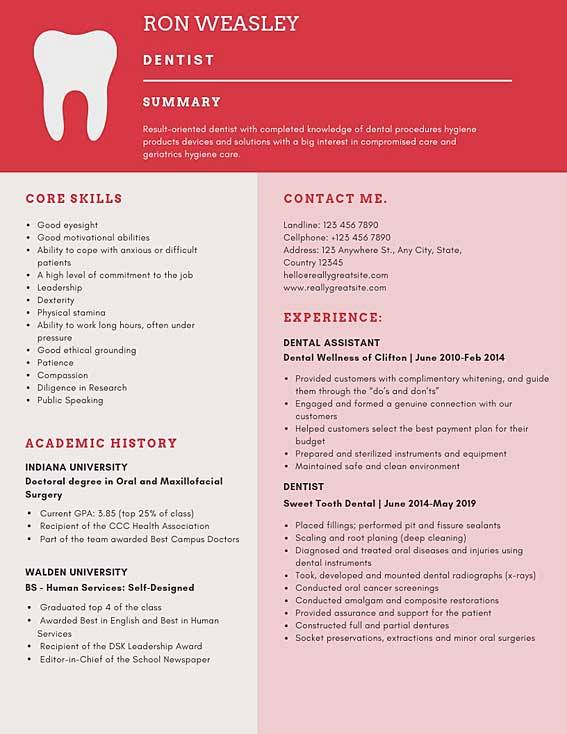 Dentist Resume Template (Text Format)
SUMMARY
Result-oriented dentist with completed knowledge of dental procedures hygiene products devices and solutions with a big interest in compromised care and geriatrics hygiene care.
ACADEMIC HISTORY
INDIANA UNIVERSITY
Doctoral degree in Oral and Maxillofacial Surgery
Current GPA: 3.85 (top 25% of class)
Recipient of the CCC Health Association
Part of the team awarded Best Campus Doctors
WALDEN UNIVERSITY
BS – Human Services: Self-Designed
Graduated top 4 of the class
Awarded Best in English and Best in Human Services
Recipient of the DSK Leadership Award
Editor-in-Chief of the School Newspaper
CORE SKILLS
Good eyesight
Good motivational abilities
Ability to cope with anxious or difficult patients
A high level of commitment to the job
Leadership
Dexterity
Physical stamina
Ability to work long hours, often under pressure
Good ethical grounding
Patience
Compassion
Diligence in Research
Public Speaking
EXPERIENCE
DENTAL ASSISTANT
Dental Wellness of Clifton | June 2010-Feb 2014
Provided customers with complimentary whitening, and guide them through the "do's and don'ts"
Engaged and formed a genuine connection with our customers
Helped customers select the best payment plan for their budget
Prepared and sterilized instruments and equipment
Maintained a safe and clean environment
DENTIST
Sweet Tooth Dental | June 2014-May 2019
Placed fillings; performed pit and fissure sealants
Scaling and root planning (deep cleaning)
Diagnosed and treated oral diseases and injuries using dental instruments
Took, developed and mounted dental radiographs (x-rays)
Conducted oral cancer screenings
Conducted amalgam and composite restorations
Provided assurance and support for the patient
Constructed full and partial dentures
Socket preservations, extractions and minor oral surgeries
Average Salary for Dentist Job
Dentist
Salaries
National Average
| | | |
| --- | --- | --- |
| Salary | $88k – $207k | |
| Bonus | $976 – $58k | |
| Profit Sharing | $335 – $117k | |
| Comission | $5k – $61k | |
| Total Pay | $91k – $223k | |
***Data are taken from payscale.com
6 Tips How to Write a Resume for a Dentist Job
Let's face it… 9 out of 10 resumes will not attract the attention of the recruiter. There are many dentist jobs, but it will not be given to you just like that. Creating a resume for a dentist that will eventually give you a job is paramount, and the Resumes Bot is here to help you stand out from the competition.
What Should a Dental Resume Include
Here is a step-by-step plan for how to write a dentist resume:
Choose the best resume dentist format.
Create a relevant resume design.
Write a dentist resume objective.
Create a dentist resume cover letter.
Choose correct resume action words.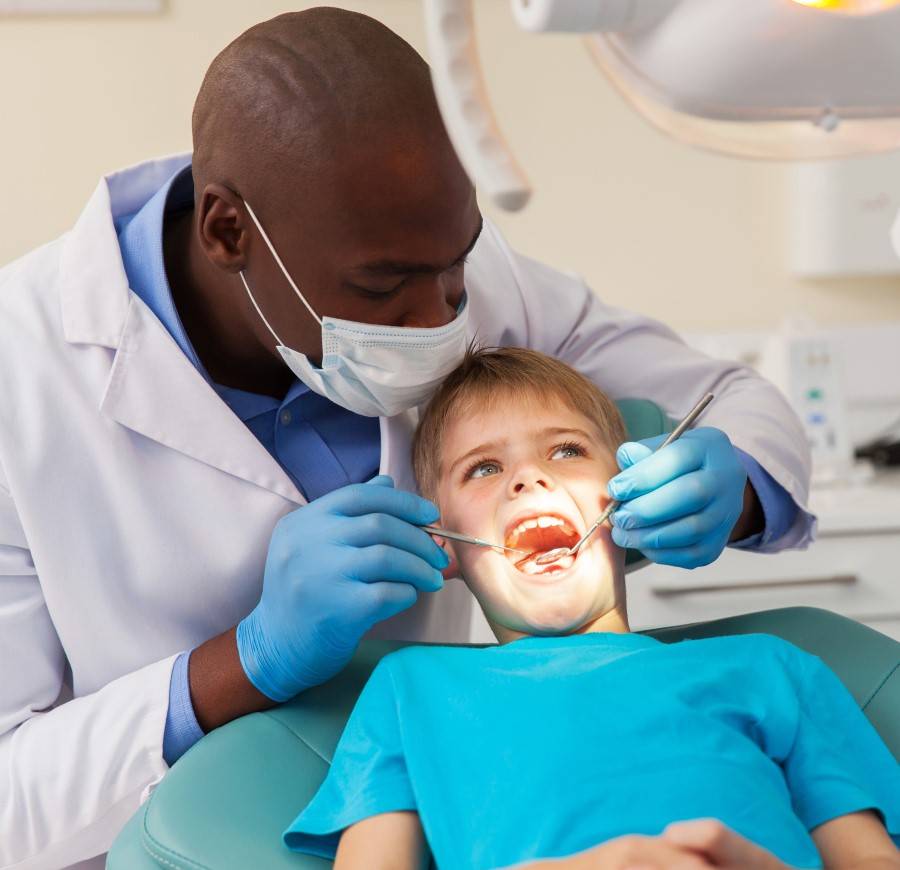 1. How to Choose the Relevant Dentist Resume Format?
The resume format that will best showcase your accomplishments mostly depends on your background and industry.
Here are the three most common resume formats that recruiters expect to see.
Chronological Resume (good resume format to emphasize your progression)
Functional Resume (relevant resume format if you have breaks in your job history)
Combination or Hybrid Resume (best resume format for people who want to make a career change or want to grab their first job position)
2. How to Create a Relevant Design for a Dentist Resume?
Your resume is one of the most important projects in your life that also needs a design. The irrelevant resume design can break job applications, make a bad first impression. You have to understand that when you send your resume, you're really sending out a piece of yourself. So what is the best dentist resume design?
All experts agree that the layout should be simple and clear with the clearly presented information.
Simple does not have to mean boring. A resume is a reflection of your personality, and the HR will be scanning it, consciously or not, for elements that distinguish your resume from the other hundreds they have to wade through. Add an idiosyncratic design or personal touches to make your resume stand out but don't overdo it.
3. How to Write a Dentist Resume Objective?
Resume Objective is a part of a summary block of the resume that helps to explain your professional goals in the company. This block is your chance to capture the attention of recruiting manager, so you have to give an argument why will you be the one for this position.
Examples of Career Objective for Dentist Resume
Do To provide strong expertise in the capacity of a Senior Dental Doctor to the patients at the state of New York Hospital
Don't Looking forward to earning more than $120,000 a year at your company
4. What Dentist Skills to List on Resume?
Ability to work long hours, often under pressure
Knowledge of and interest in science, particularly the science of oral health
A thorough and methodical approach
Excellent management skills
Basic computer knowledge
Good business sense
Listening skills
Detail-oriented
Thick skin and the ability to cope with anxious or difficult patients
5. How to Create a Dentist Resume Cover Letter?
Dentistry is the branch of the healing arts and sciences devoted to maintaining oral health. It is a dynamic health profession, offering opportunities to become a successful, highly respected member of the community.
A cover letter is the best way to show an employer what you want them to know about you, without the HR having to figure it out themselves from your resume.
A well-written cover letter sample for Dentist emphasizes the following qualifications:
Assisting with Restorative Procedures
Taking X-Rays
Applying Fluoride Treatments
Removing Deposits from Teeth
Conducting Initial Dental Assessments
Manual Dexterity
Problem Solving
Compassion
Attention to Detail
6. Resume Action Words for Dentist
Counseled
Qualified
Nursed
Practiced
Educated
Charged
Provided
Monitored
Qualified
Reset
Volunteered
Documented
Initiated
Instructed
Aided
To be 100% prepared for getting a new job check our Dentist Cover Letter Example
How useful was this post?
Click on a star to rate it!
Average rating / 5. Vote count:
Other Samples from this Industry: