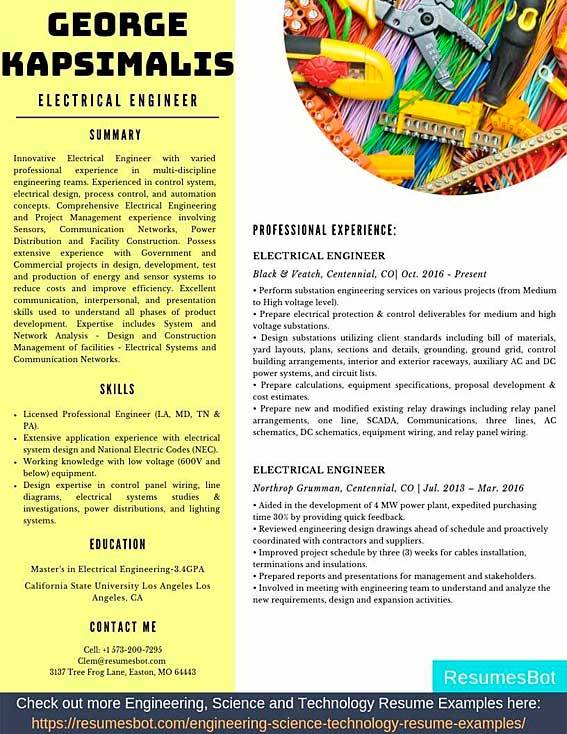 ELECTRICAL ENGINEER RESUME TEMPLATE (TEXT FORMAT)
SUMMARY
Innovative Electrical Engineer with varied professional experience in multi-discipline engineering teams. Experienced in control system, electrical design, process control, and automation concepts. Comprehensive Electrical Engineering and Project Management experience involving Sensors, Communication Networks, Power Distribution and Facility Construction. Possess extensive experience with Government and Commercial projects in design, development, test and production of energy and sensor systems to reduce costs and improve efficiency. Excellent communication, interpersonal, and presentation skills used to understand all phases of product development. Expertise includes System and Network Analysis – Design and Construction Management of facilities – Electrical Systems and Communication Networks.
EDUCATION
Master's in Electrical Engineering-3.4GPA
California State University Los Angeles Los Angeles, CA
SKILLS
Licensed Professional Engineer (LA, MD, TN & PA).
Extensive application experience with electrical system design and National Electric Codes (NEC).
Working knowledge with low voltage (600V and below) equipment.
Design expertise in control panel wiring, line diagrams, electrical systems studies & investigations, power distributions, and lighting systems.
PROFESSIONAL EXPERIENCE
ELECTRICAL ENGINEER
Black & Veatch, Centennial, CO
Oct. 2016 – Present
Perform substation engineering services on various projects (from Medium to High voltage level).
Prepare electrical protection & control deliverables for medium and high voltage substations.
Design substations utilizing client standards including bill of materials, yard layouts, plans, sections and details, grounding, ground grid, control building arrangements, interior and exterior raceways, auxiliary AC and DC power systems, and circuit lists.
Prepare calculations, equipment specifications, proposal development & cost estimates.
Prepare new and modified existing relay drawings including relay panel arrangements, one line, SCADA, Communications, three lines, AC schematics, DC schematics, equipment wiring, and relay panel wiring.
ELECTRICAL ENGINEER
Northrop Grumman, Centennial, CO
Jul. 2013 – Mar. 2016
Aided in the development of 4 MW power plant, expedited purchasing time 30% by providing quick feedback.
Reviewed engineering design drawings ahead of schedule and proactively coordinated with contractors and suppliers.
Improved project schedule by three (3) weeks for cables installation, terminations and insulations.
Prepared reports and presentations for management and stakeholders.
Involved in meeting with engineering team to understand and analyze the new requirements, design and expansion activities.
Average Salary for Electrical Engineer Job
Electrical Engineer
Salaries
National Average
| | | |
| --- | --- | --- |
| Base Salary | $59k – $114k | |
| Bonus | $987 – $12k | |
| Profit Sharing | $576 – $12k | |
| Commission | $1k – $30k | |
| Total Pay | $58k – $118k | |
***Data are taken from payscale.com
Good Skills to Include on Electrical Engineer Resume
Electrical design verification as per regional and international standards (EBCS 10, IEC, NEC, IEEE).
Substation Design, distribution system cable sizing and voltage drop calculation.
Load flow analysis, Stability analyses, Fault analysis, Relay coordination (overcurrent relay).
Resume Action Words for Electrical Engineer Resume
Advanced
Adjusted
Built
Calculated
Devised
Developed
Engineered
Installed
Programmed
Remodeled
Renovated
Repaired
Upgraded
Generated
Reduced

Common Certificates for Electrical Engineer Resume
CFA Charterholder.
CFA Level II Candidate.
Real Estate License.
Chartered Financial Analyst (CFA).
CPA.
SAS Certified Base Programmer for SAS 9.
Series 6, Series 66.
Six Sigma Green Belt.
To be 100% prepared for getting a new job check our Electrical Engineer Cover Letter Example
How useful was this post?
Click on a star to rate it!
Average rating / 5. Vote count:
Other Samples from this Industry: