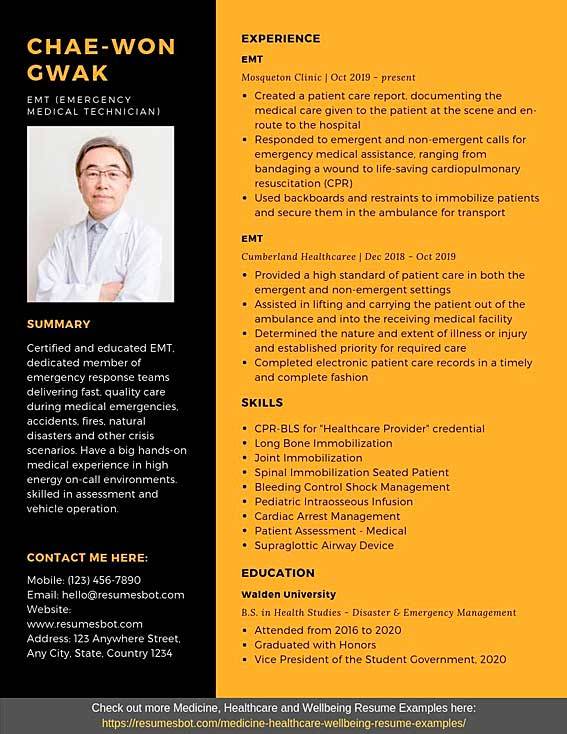 EMERGENCY MEDICAL TECHNICIAN (EMT) RESUME TEMPLATE (TEXT FORMAT)
SUMMARY
Certified and educated Emergency Medical Technician (EMT), dedicated member of emergency response teams delivering fast, quality care during medical emergencies, accidents, fires, natural disasters and other crisis scenarios. Have a big hands-on medical experience in high energy on-call environments. Skilled in assessment and vehicle operation.
EDUCATION
Walden University
B.S. in Health Studies – Disaster & Emergency Management
Attended from 2016 to 2020
Graduated with Honors
Vice President of the Student Government, 2020
SKILLS
CPR-BLS for "Healthcare Provider" credential
Long Bone Immobilization
Joint Immobilization
Spinal Immobilization Seated Patient
Bleeding Control Shock Management
Pediatric Intraosseous Infusion
Cardiac Arrest Management
Patient Assessment – Medical
EXPERIENCE
Emergency Medical Technician (EMT)
Mosqueton Clinic | Oct 2019 – present
Created a patient care report, documenting the medical care given to the patient at the scene and enroute to the hospital
Responded to emergent and non-emergent calls for emergency medical assistance, ranging from bandaging a wound to life-saving cardiopulmonary resuscitation (CPR)
Used backboards and restraints to immobilize patients and secure them in the ambulance for transport
Emergency Medical Technician (EMT)
Cumberland Healthcaree | Dec 2018 – Oct 2019
Provided a high standard of patient care in both the emergent and non-emergent settings
Assisted in lifting and carrying the patient out of the ambulance and into the receiving medical facility
Determined the nature and extent of illness or injury and established priority for required care
Completed electronic patient care records in a timely and complete fashion
Average Salary for Emergency Medical Technician (EMT) Job
Emergency Medical Technician (EMT)
Salaries
National Average
| | | |
| --- | --- | --- |
| Base Salary | $24k – $59k | |
| Bonus | $2 – $3k | |
| Profit Sharing | $0 – $228 | |
| Total Pay | $22k – $39k | |
***Data are taken from payscale.com
Good Skills to Include on Emergency Medical Technician (EMT) Resume
Dynamic Cardiology
Static Cardiology
Oral Station
Oral Stations Template
Resume Action Words for Emergency Medical Technician (EMT)
Motivated
Represented
Rehabilitated
Guided
Cared
Diagnosed
Documented
Collaborated
Helped
Influenced
Aided
Advocated
Charged
Distributed
Consoled
Common Certificates for Emergency Medical Technician (EMT) Resume
EMT I-Basic certification
EMT-paramedic certification
To be 100% prepared for getting a new job check our EMT Cover Letter Example
How useful was this post?
Click on a star to rate it!
Average rating / 5. Vote count:
Other Samples from this Industry: