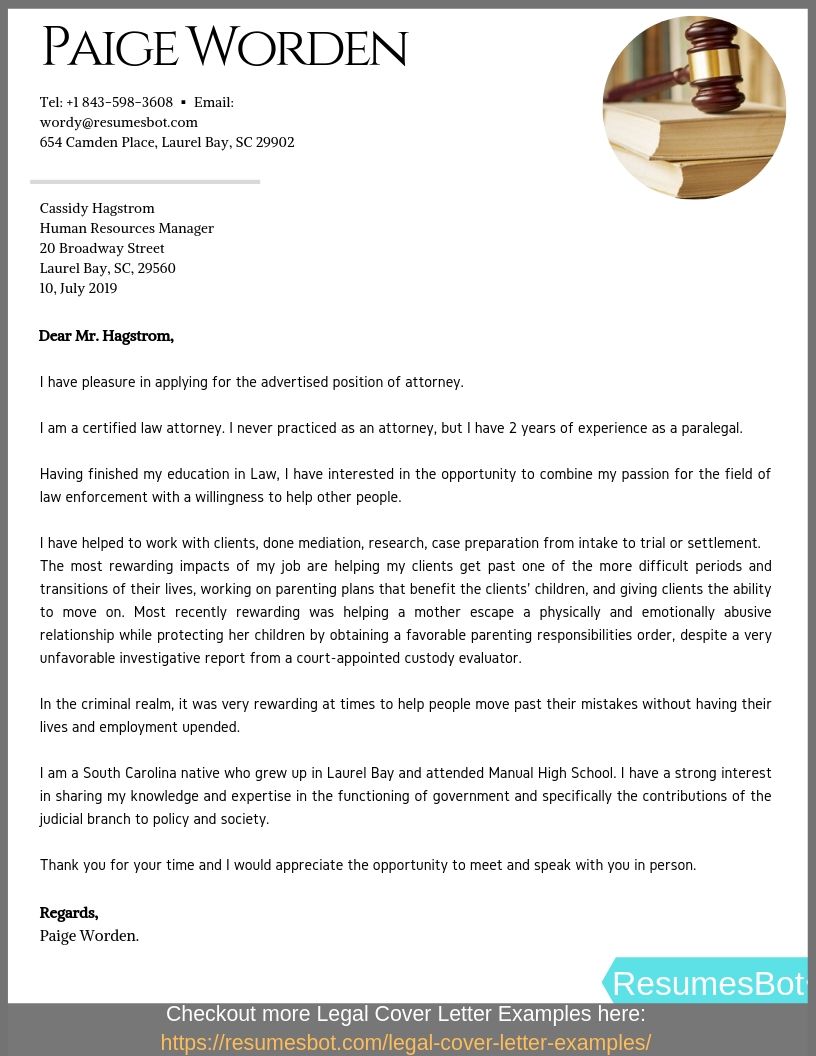 Design similar cover letter template in minutes
It's Okay to be different
ENTRY LEVEL ATTORNEY COVER LETTER TEMPLATE (TEXT FORMAT)
Paige Worden
Tel: +1 843-598-3608
wordy@resumesbot.com
654 Camden Place, Laurel Bay, SC 29902
---
Cassidy Hagstrom
Human Resources Manager
20 Broadway Street
Laurel Bay, SC, 29560
10, July 2019
Dear Mr. Hagstrom,
I have pleasure in applying for the advertised position of attorney.
I am a certified law attorney. I never practiced as an attorney, but I have 2 years of experience as a paralegal.
Having finished my education in Law, I have interested in the opportunity to combine my passion for the field of law enforcement with a willingness to help other people.
I have helped to work with clients, done mediation, research, case preparation from intake to trial or settlement.
The most rewarding impacts of my job are helping my clients get past one of the more difficult periods and transitions of their lives, working on parenting plans that benefit the clients' children, and giving clients the ability to move on. Most recently rewarding was helping a mother escape a physically and emotionally abusive relationship while protecting her children by obtaining a favorable parenting responsibilities order, despite a very unfavorable investigative report from a court-appointed custody evaluator.
In the criminal realm, it was very rewarding at times to help people move past their mistakes without having their lives and employment upended.
I am a South Carolina native who grew up in Laurel Bay and attended Manual High School. I have a strong interest in sharing my knowledge and expertise in the functioning of government and specifically the contributions of the judicial branch to policy and society.
Thank you for your time and I would appreciate the opportunity to meet and speak with you in person.
Regards,
Paige Worden
How useful was this post?
Click on a star to rate it!
Average rating / 5. Vote count:
Other Samples from this Industry: