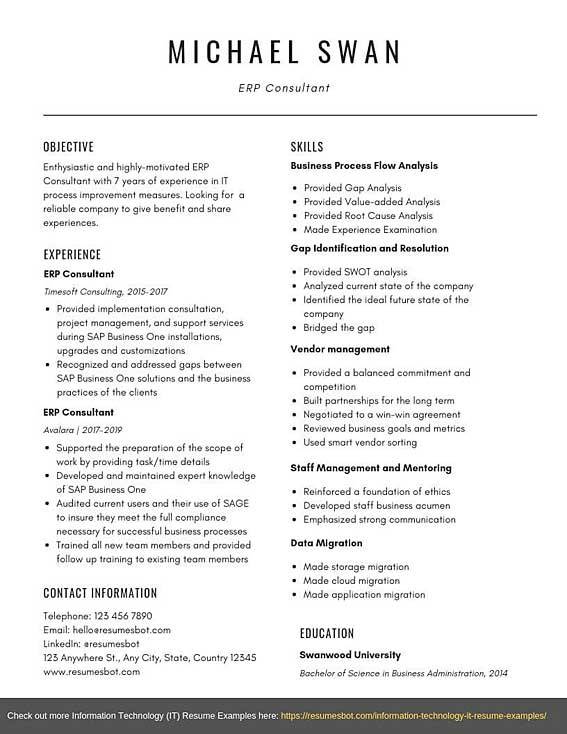 ENTERPRISE RESOURSE PLANNING (ERP) CONSULTANT RESUME TEMPLATE (TEXT FORMAT)
OBJECTIVE
Enthysiastic and highly-motivated ERP Consultant with 7 years of experience in IT process improvement measures. Looking for a reliable company to give benefit and share experiences.
EDUCATION
Swanwood University
Bachelor of Science in Business Administration, 2014
SKILLS
Business Process Flow Analysis
Provided Gap Analysis
Provided Value-added Analysis
Provided Root Cause Analysis
Made Experience Examination
Gap Identification and Resolution
Provided SWOT analysis
Analyzed current state of the company
Identified the ideal future state of the company
Bridged the gap
Vendor management
Provided a balanced commitment and competition
Built partnerships for the long term
Negotiated to a win-win agreement
Reviewed business goals and metrics
Used smart vendor sorting
Staff Management and Mentoring
Reinforced a foundation of ethics
Developed staff business acumen
Emphasized strong communication
Data Migration
Made storage migration
Made cloud migration
Made application migration
EXPERIENCE
ERP Consultant
Timesoft Consulting, 2015-2017
Provided implementation consultation, project management, and support services during SAP Business One installations, upgrades and customizations
Recognized and addressed gaps between SAP Business One solutions and the business practices of the clients
ERP Consultant
Avalara | 2017-2019
Supported the preparation of the scope of work by providing task/time details
Developed and maintained expert knowledge of SAP Business One
Audited current users and their use of SAGE to insure they meet the full compliance necessary for successful business processes
Trained all new team members and provided follow up training to existing team members
Use Our IT Executive Resume Writing Service to Get Hired!
Average Salary for Enterprise Resource Planning (ERP) Consultant Job
ERP Consultant
Salaries
National Average
| | | |
| --- | --- | --- |
| Base Salary | $58k – $128k | |
| Bonus | $2k – $20k | |
| Profit Sharing | $927 – $14k | |
| Commission | $0 – $14k | |
| Total Pay | $60k – $147k | |
***Data are taken from payscale.com
Good Skills to Include on a ERP Consultant Resume
Educational Qualification: An employee who wants to become an ERP consultant requires a basic educational qualification in computers and software. This is important so as to be able to learn the software use and know the technical and functional features. This is one of the basic and key requirements to become an ERP consultant.
Understanding of Business: The processes and the operations of the company must be well-known by the consultant. It is important to understand the business environment to be able to implement an ERP application.
Business Intelligence Tool: ERP Consultant must know different Business Intelligence Tools like Discoverer and be an expert at it.
Resume Action Words for ERP Consultant
Documented
Evaluated
Analyzed
Reviewed
Studied
Implemented
Developed
Customized
Involved
Modified
Created
Identified
Led
Initiated
Carried out
Common Certificates for Enterprise Resource Planning (ERP) Consultant Resume
NetSuite Certification ERP Consultant
How useful was this post?
Click on a star to rate it!
Average rating / 5. Vote count:
Other Samples from this Industry: