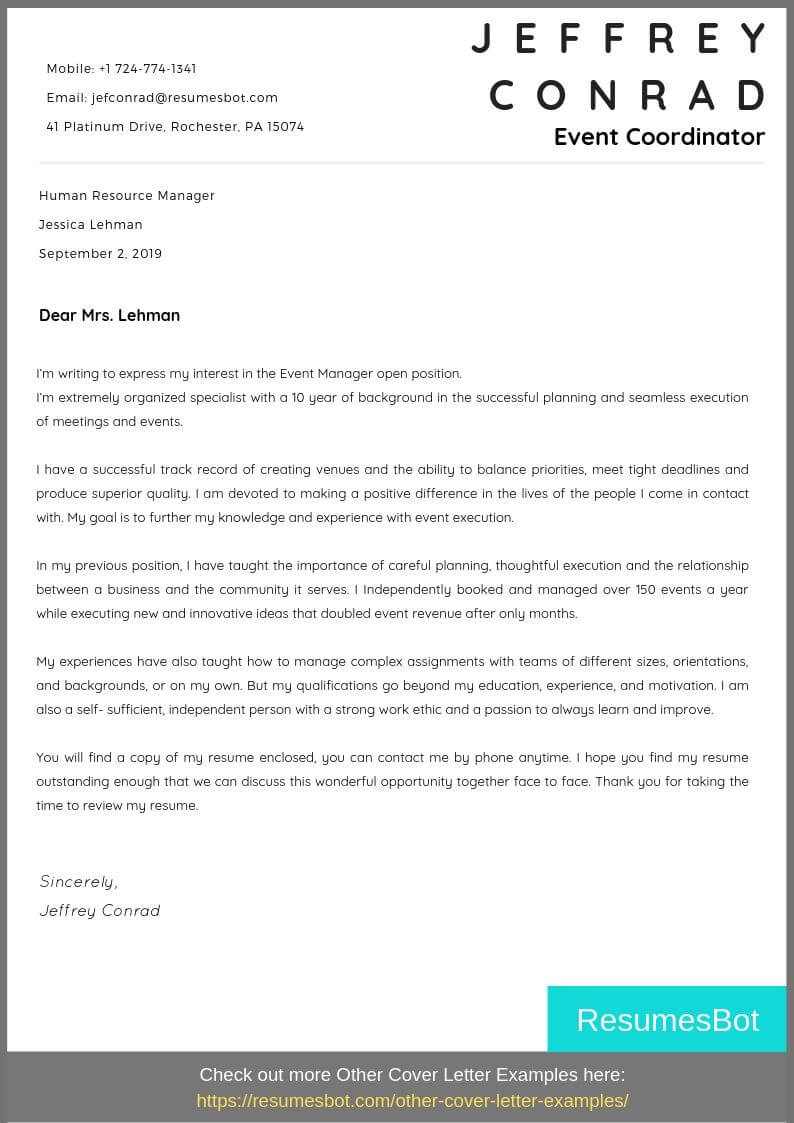 Design similar cover letter template in minutes
It's Okay to be different
EVENT COORDINATOR COVER LETTER TEMPLATE (TEXT FORMAT)
Jeffrey Conrad
Mobile: +1 724-774-1341
jefconrad@resumesbot.com
41 Platinum Drive, Rochester, PA 15074
---
Human Resource Manager
Jessica Lehman
September 2, 2019
Dear Mrs. Lehman,
I'm writing to express my interest in the Event Manager open position.
I'm extremely organized specialist with a 10 year of background in the successful planning and seamless execution of meetings and events.
I have a successful track record of creating venues and the ability to balance priorities, meet tight deadlines and produce superior quality. I am devoted to making a positive difference in the lives of the people I come in contact with. My goal is to further my knowledge and experience with event execution.
In my previous position, I have taught the importance of careful planning, thoughtful execution and the relationship between a business and the community it serves. I Independently booked and managed over 150 events a year while executing new and innovative ideas that doubled event revenue after only months.
My experiences have also taught how to manage complex assignments with teams of different sizes, orientations, and backgrounds, or on my own. But my qualifications go beyond my education, experience, and motivation. I am also a self- sufficient, independent person with a strong work ethic and a passion to always learn and improve.
You will find a copy of my resume enclosed, you can contact me by phone anytime. I hope you find my resume outstanding enough that we can discuss this wonderful opportunity together face to face. Thank you for taking the time to review my resume.
Sincerely,
Jeffrey Conrad
How useful was this post?
Click on a star to rate it!
Average rating / 5. Vote count:
Other Samples from this Industry: