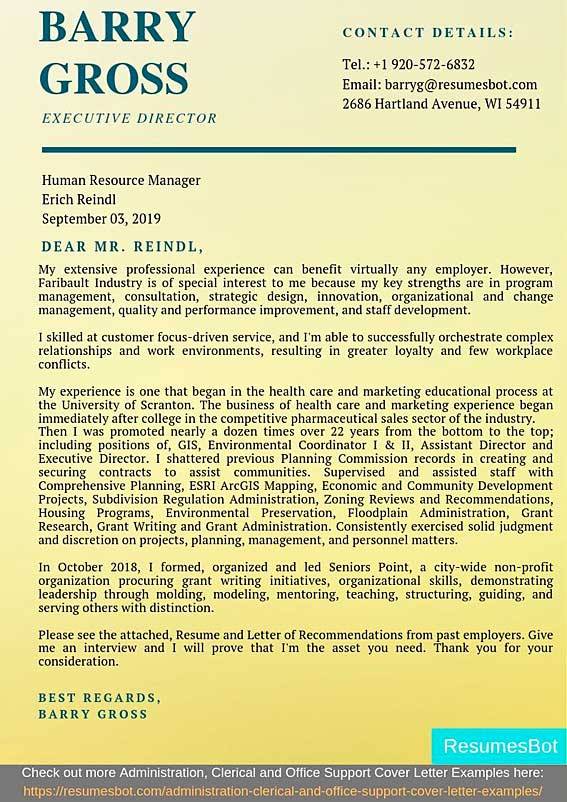 Design similar cover letter template in minutes
It's Okay to be different
EXECUTIVE DIRECTOR COVER LETTER TEMPLATE (TEXT FORMAT)
Barry Gross
Tel.: +1 920-572-6832
barryg@resumesbot.com
2686 Hartland Avenue, WI 54911
---
Human Resource Manager
Erich Reindl
September 03, 2019
Dear Mr. Reindl,
My extensive professional experience can benefit virtually any employer. However, Faribault Industry is of special interest to me because my key strengths are in program management, consultation, strategic design, innovation, organizational and change management, quality and performance improvement, and staff development.
I skilled at customer focus-driven service, and I'm able to successfully orchestrate complex relationships and work environments, resulting in greater loyalty and few workplace conflicts.
My experience is one that began in the health care and marketing educational process at the University of Scranton. The business of health care and marketing experience began immediately after college in the competitive pharmaceutical sales sector of the industry.
Then I was promoted nearly a dozen times over 22 years from the bottom to the top; including positions of, GIS, Environmental Coordinator I & II, Assistant Director and Executive Director. I shattered previous Planning Commission records in creating and securing contracts to assist communities. Supervised and assisted staff with Comprehensive Planning, ESRI ArcGIS Mapping, Economic and Community Development Projects, Subdivision Regulation Administration, Zoning Reviews and Recommendations, Housing Programs, Environmental Preservation, Floodplain Administration, Grant Research, Grant Writing and Grant Administration. Consistently exercised solid judgment and discretion on projects, planning, management, and personnel matters.
In October 2018, I formed, organized and led Seniors Point, a city-wide non-profit organization procuring grant writing initiatives, organizational skills, demonstrating leadership through molding, modeling, mentoring, teaching, structuring, guiding, and serving others with distinction.
Please see the attached, Resume and Letter of Recommendations from past employers. Give me an interview and I will prove that I'm the asset you need. Thank you for your consideration.
Sincerely,
Margaret Dou
How useful was this post?
Click on a star to rate it!
Average rating / 5. Vote count:
Other Samples from this Industry: