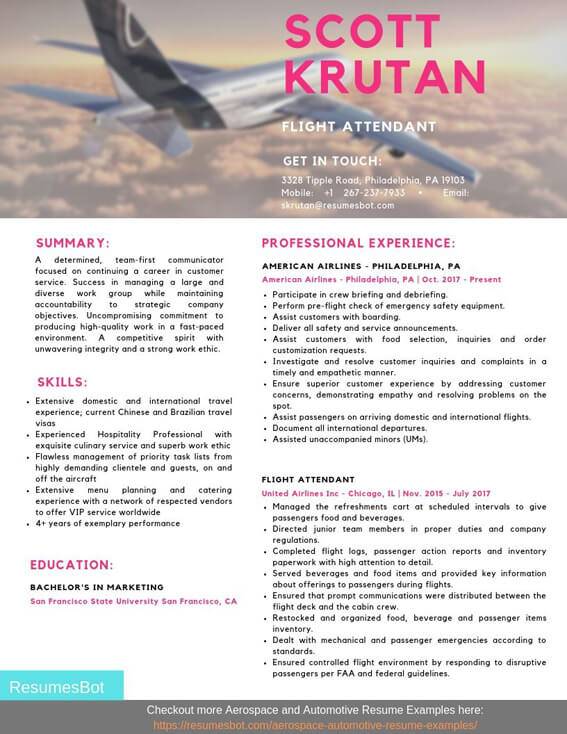 FLIGHT ATTENDANT RESUME TEMPLATE (TEXT FORMAT)
SUMMARY
A determined, team-first communicator focused on continuing a career in customer service. Success in managing a large and diverse work group while maintaining accountability to strategic company objectives. Uncompromising commitment to producing high-quality work in a fast-paced environment. A competitive spirit with unwavering integrity and a strong work ethic.
EDUCATION
Bachelor's in Marketing
San Francisco State University San Francisco, CA
SKILLS
Extensive domestic and international travel experience; current Chinese and Brazilian travel visas.
Experienced Hospitality Professional with exquisite culinary service and superb work ethic.
Flawless management of priority task lists from highly demanding clientele and guests, on and off the aircraft.
Extensive menu planning and catering experience with a network of respected vendors to offer VIP service worldwide.
4+ years of exemplary performance.
PROFESSIONAL EXPERIENCE
FLIGHT ATTENDANT
American Airlines – Philadelphia, PA
Oct. 2017 – Present
Participate in crew briefing and debriefing.
Perform pre-flight check of emergency safety equipment.
Assist customers with boarding.
Deliver all safety and service announcements.
Assist customers with food selection, inquiries and order customization requests.
Investigate and resolve customer inquiries and complaints in a timely and empathetic manner.
Ensure superior customer experience by addressing customer concerns, demonstrating empathy and resolving problems on the spot.
Assist passengers on arriving domestic and international flights.
Document all international departures.
Assisted unaccompanied minors (UMs).
FLIGHT ATTENDANT
United Airlines Inc – Chicago, IL
Nov. 2015 – July 2017
Managed the refreshments cart at scheduled intervals to give passengers food and beverages.
Directed junior team members in proper duties and company regulations.
Completed flight logs, passenger action reports and inventory paperwork with high attention to detail.
Served beverages and food items and provided key information about offerings to passengers during flights.
Ensured that prompt communications were distributed between the flight deck and the cabin crew.
Restocked and organized food, beverage and passenger items inventory.
Dealt with mechanical and passenger emergencies according to standards.
Average Salary for Flight Attendant Job
Flight Attendant
Salaries
National Average
| | | |
| --- | --- | --- |
| Base Salary | $27k – $87k | |
| Bonus | $52 – $8k | |
| Profit Sharing | $250 – $10k | |
| Commission | $202 – $509 | |
| Total Pay | $32k – $125k | |
***Data are taken from payscale.com
Good Skills to Include on Flight Attendant Resume
Basic computer skills
Excellent communication skills and have a professional and conservative appearance;
Manage difficult or emotional customer situations and respond promptly to customer needs.
Contribute to building a positive crew spirit.
Ability to read, analyze and interpret technical procedures and governmental regulations.
Resume Action Words for Flight Attendant
Clarified
Counseled
Supported
Assisted
Guided
Verified
Extracted
Inspired
Approved
Demonstrated
Clarified
Prepared
Counseled
Evaluated
Dispatched
Common Certificates for Flight Attendant Resume
FAR Parts 91,125,135, CARs
Aviacervice Aviation Center Emergency Training and Crew Resource Management Training
American Red Cross Certified
To be 100% prepared for getting a new job check our Flight Attendant Cover Letter Example
How useful was this post?
Click on a star to rate it!
Average rating / 5. Vote count:
Other Samples from this Industry: