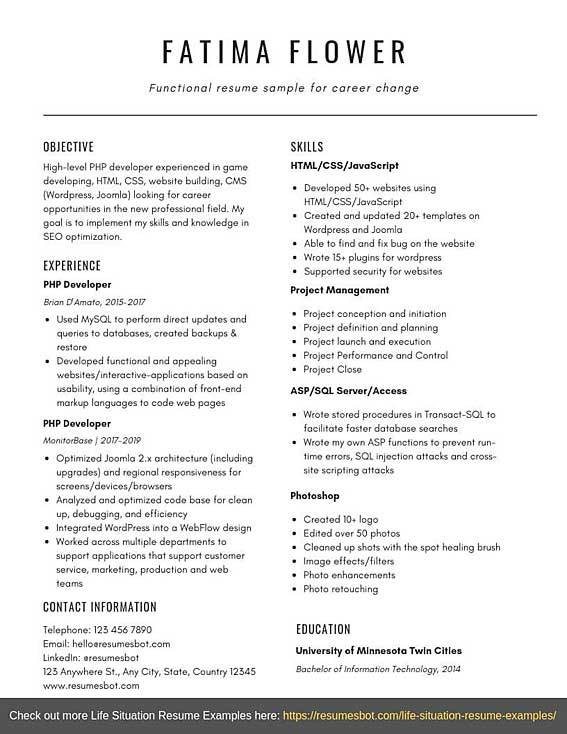 Functional Resume Template for Career Change (Text Format)
Objective
High-level PHP developer experienced in game developing, HTML, CSS, website building, CMS (WordPress, Joomla) looking for career opportunities in the new professional field. My goal is to implement my skills and knowledge in SEO optimization.
Education
University of Minnesota Twin Cities
Bachelor of Information Technology, 2014
Skills
HTML/CSS/JavaScript
Developed 50+ websites using
HTML/CSS/JavaScript
Created and updated 20+ templates on WordPress and Joomla
Able to find and fix bug on the website
Wrote 15+ plugins for WordPress
Supported security for websites
Project Management
Project conception and initiation
Project definition and planning
Project launch and execution
Project Performance and Control
Project Close
ASP/SQL Server/Access
Wrote stored procedures in Transact-SQL to facilitate faster database searches
Wrote my own ASP functions to prevent runtime errors, SQL injection attacks and cross site scripting attacks
Photoshop
Created 10+ logo
Edited over 50 photos
Cleaned up shots with the spot healing brush
Image effects/filters
Photo enhancements
Photo retouching
Experience
PHP Developer
Brian D'Amato, 2015-2017
Used MySQL to perform direct updates and queries to databases, created backups&restore
Developed functional and appealing websites/interactive-applications based on usability, using a combination of front-end markup languages to code web pages
PHP Developer
MonitorBase | 2017-2019
Optimized Joomla 2.x architecture (including upgrades) and regional responsiveness for screens/devices/browsers
Analyzed and optimized code base for clean up, debugging, and efficiency
Integrated WordPress into a WebFlow design
Worked across multiple departments to support applications that support customer service, marketing, production and web teams
Career Change Tips for Functional Resume:
Highlight valuable experiences
Remember your projects that allowed you to develop transferable skills — including related education, training, and volunteer work. If your previous professional experience has little application this career switch, you may be able to make up for it by emphasizing work done outside of office hours.
Don't fear the qualification gaps.
If you don't have related professional background, there will be qualification gaps. However, keep in mind that few job candidates meet 100% of every single desired qualification. Many employers would rather hire someone who's a 70-80% fit, but has a big enthusiasm and willingness to learn.
How useful was this post?
Click on a star to rate it!
Average rating / 5. Vote count: