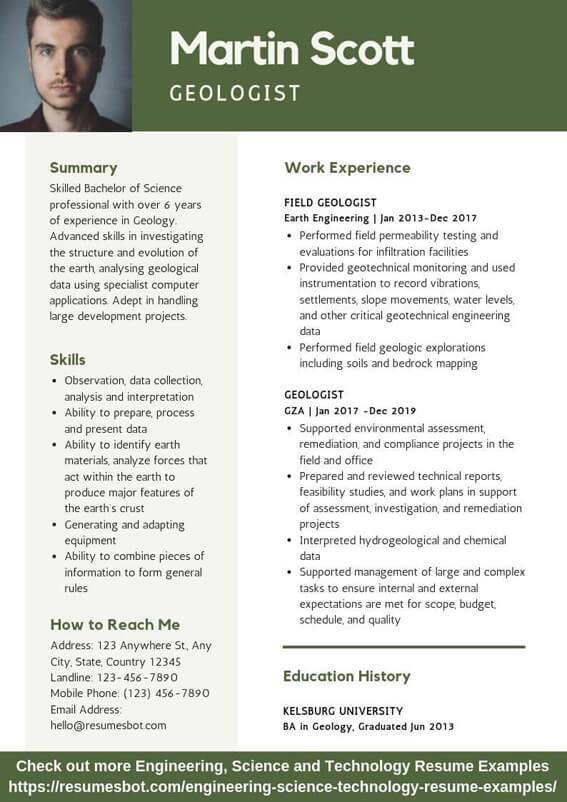 GEOLOGIST RESUME TEMPLATE (TEXT FORMAT)
SUMMARY
Skilled Bachelor of Science professional with over 6 years of experience in Geology. Advanced skills in investigating the structure and evolution of the earth, analyzing geological data using specialist computer applications. Adept in handling large development projects.
EDUCATION
KELSBURG UNIVERSITY
BA in Geology, Graduated Jun 2013
SKILLS
Observation, data collection, analysis and interpretation
Ability to prepare, process and present data
Ability to identify earth materials, analyze forces that act within the earth to produce major features of the earth's crust
Generating and adapting equipment
Ability to combine pieces of information to form general rules
WORK EXPERIENCE
FIELD GEOLOGIST
Earth Engineering | Jan 2013-Dec 2017
Performed field permeability testing and evaluations for infiltration facilities
Provided geotechnical monitoring and used instrumentation to record vibrations, settlements, slope movements, water levels, and other critical geotechnical engineering data
Performed field geologic explorations including soils and bedrock mapping
GEOLOGIST
GZA | Jan 2017 – Dec 2019
Supported environmental assessment, remediation, and compliance projects in the field and office
Prepared and reviewed technical reports, feasibility studies, and work plans in support of assessment, investigation, and remediation projects
Interpreted hydrogeological and chemical data
Supported management of large and complex tasks to ensure internal and external expectations are met for scope, budget, schedule, and quality
Average Salary for Geologist Job
Geologist
Salaries
National Average
| | | |
| --- | --- | --- |
| Base Salary | $42k – $113k | |
| Bonus | $495 – $20k | |
| Profit Sharing | $685 – $41k | |
| Total Pay | $40k – $115k | |
***Data are taken from payscale.com
Good Skills to Include on Geologist Resume
Practical application of engineering science and technology
Machines and tools, including their designs, uses, repair, and maintenance
Arithmetic, algebra, geometry, calculus, statistics, and their applications
Resume Action Words for Geologist Resume
Calculated
Formulated
Collected
Explored
Researched
Tracked
Observed
Inquired
Measured
Estimated
Clarified
Summarized
Upgraded
Mapped
Pioneered
Common Certificates for Geologist Resume
Certified Petroleum Geologist
Certified Coal Geologist
How useful was this post?
Click on a star to rate it!
Average rating / 5. Vote count:
Other Samples from this Industry: