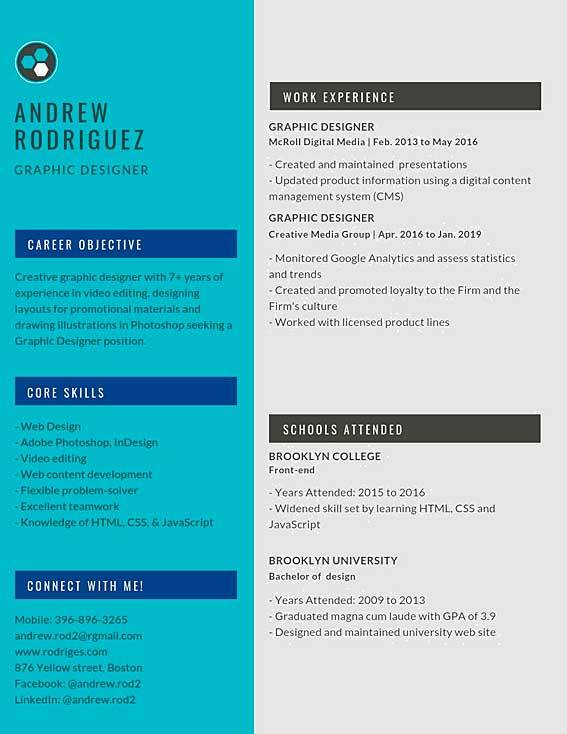 GRAPHIC DESIGNER RESUME TEMPLATE (TEXT FORMAT)
CAREER OBJECTIVE
Creative graphic designer with 7+ years of experience in video editing, designing layouts for promotional materials and drawing illustrations in Photoshop seeking a Graphic Designer position.
EDUCATION
BROOKLYN UNIVERSITY
Bachelor of design
Years Attended: 2009 to 2013
Graduated magna cum laude with a GPA of 3.9
Designed and maintained the university web site
BROOKLYN COLLEGE
Front-end
Years Attended: 2015 to 2016
Widened skill set by learning HTML, CSS and JavaScript
CORE SKILLS
Web Design
Adobe Photoshop, InDesign
Video editing
Web content development
Flexible problem-solver
Excellent teamwork
Knowledge of HTML, CSS, & JavaScript
CAREER HISTORY
McRoll Digital Media, GRAPHIC DESIGNER
Feb. 2013 to May 2016
Created and maintained presentations
Updated product information using a digital content management system (CMS)
Creative Media Group, GRAPHIC DESIGNER
Apr. 2016 to Jan. 2019
Monitored Google Analytics and assess statistics and trends
Created and promoted loyalty to the Firm and the Firm's culture
Worked with licensed product lines
Use Our Best IT Resume Writing Services to Get Hired!
Average Salary for Graphic Designer Job
Graphic Designer
Salaries
National Average
| | | |
| --- | --- | --- |
| Base Salary | $35k – $66k | |
| Bonus | $244 – $5k | |
| Profit Sharing | $300 – $6k | |
| Commission | $456 – $10k | |
| Total Pay | $31k – $66k | |
***Data are taken from payscale.com
The gig economy takes its toll, making landing a high-paying full-time position for a graphic designer more difficult than ever. Along with adding possibilities for participating in freelance projects, new recruiting formats also reduce opportunities to be hired on a long-term basis for those who choose a steadygraphic design career path at the office.
Still, as an indispensable part of building new professional brands, graphic design is always considered to be in high demand within businesses or non-profit organizations. This is the main reason to put effort into crafting an eye-catching resume that captivates the recruiters in no time and helps you to land a dream job.
Let's go into detail on how to write a graphic designer resume that ultimately shows off your creative skills, experience, and previous projects to the advantage of your candidacy.
How to Craft an Appealing and Well-Designed Resume for a Graphic Designer
Сreative thinking is good for graphic design projects but not for graphic design resume writing. Avoid pretentious and excessive results distracting the reader and stick to a conservative way. And never use templates without enriching them with substance and style. The best graphic design resumes are one-paged, concise, with every detail tailored to the job ad.
Your task is to make your resume brief, easily scannable, visually appealing, and well-designed. If you look at numerous graphic design resume examples, along with eye-catching design, relevant skill sets, and action words, all of them have six essential components in common:
Header;
Objective Statement/Summary;
Work History/Personal Projects;
Skills;
Education;
Contact Information.
Beyond mentioning the programs you are skilled at, your resume should communicate the value you can bring to the company. Leave a link to an online portfolio to allow recruiters to see the skill level, type, range, and style of work you can produce. The accessible portfolio is great to show off your experience, highlight relevant experience and potential value, and get noticed for superior graphic design.
Resume Format for Graphic Designer
If you've got lots of graphic design experience, choose a tried and tested reverse-chronological format to get a higher chance of success or stick to a functional resume or combination one in other cases. The resume format for a graphic designer excludes using unique layouts, unusual fonts, flashy images, or text boxes to make the resume ATS-compatible.
Too creative bells and whistles make a resume hard to read or find there the information recruiters are looking for. An applicant tracking system strips out major design elements and delivers a mere plain text version to the recruiter. To get an effective resume, stick to the following formatting tips:
Margins: 1″ on all sides;
Font: Standard Arial, Ubuntu, Times New Roman, Roboto;
Font Size: 11-12pt for text, 14-16pt for headers;
Line Spacing: 1.0 or 1.15.
Start with a logical, clean, and easy-to-read layout without loading the page up with too much unnecessary information. You may add a professional-looking color scheme and a clean typography hierarchy for your resume not to look bland. Clearly defined section headers with a balance of white space and columns throughout the resume make the exposition both functional and attractive.
Find out which file formats the company accepts. MS Word is great for writing, but saving your resume as a .pdf file can prevent formatting borkage. Don't print your resume on milk cartons or in super-spy dossiers in order not to seem an attention-seeker, or your resume goes to recycle bin.
Graphic Designer Resume Objective Statement
An effective graphic designer objective statement gives a quick intro to the past experience and future goals and a strong footing for a job interview. Several brief incomplete sentences executed well can paint a full picture of all benefits you bring to the company, hooking the recruiter at a glimpse.
Not to waste a recruiter's precious time, place a graphic designer summary or objective section right on top of your resume, just under your name and position section, as follows:
Graphic Designer Summary Example
If you want to highlight your professional experience, write 2-4 sentences as a summary of your achievements:
Talented, inventive graphic designer and dynamic team player with 7+ years of experience creating digital assets and print material for Forbes's top companies. Handled simultaneously several high-profile creative projects under extremely tight deadlines. Able to escalate brand awareness, meet client specifications, identify opportunities, and find solutions. Highly skilled in Adobe Creative Suite (Ps, InDesign, Illustrator, 3D, AR) and web UI/UX design.
Graphic Designer Objective Example
If your background in graphic design is not so impressive, state your goals and aspiration in 2-4 sentences for a resume objective section:
Energetic and motivated graphic design student with developed digital art skills and strong analytical frame of mind looking for joining Game Software Company as a junior designer, willing to commute or work remotely. Passionate about gameplay design, animation, visual conceptualization, knowledgeable in game engines and gaming trends. Skilled in Unity, Unreal, Photoshop, Maya, 3D Studio Max, and Sketchup 3D.
Graphic Design Resume Skills
Interpersonal and technical skills are key skills in a resume for a graphic designer. Along with the ability to convert ideas and words into visual content with the help of artistic elements, tools, and techniques, you are to understand different points of view, communicate with clients or a marketing team, as well as meet requirements and deliver projects in time. While crafting your resume, it's better to include all skills reflecting your ability to cope with different tasks in the industry, such as:
IT skills, design, and photo-editing software proficiency;
Personal creativity and originality;
Accuracy and attention to detail;
Time management skills, problem-solving, and managerial capabilities;
Professional approach to time, costs, and deadlines;
Awareness of the latest trends and their role within a commercial environment.
Graphic Design Skills Examples
Award-Winning Hard Skills & Proficiencies
Microsoft (Ms PowerPoint/Ms Outlook/Ms Word/Ms Excel/Ms Expression Web);
Adobe Suite (Photoshop/Illustrator/InDesign/DreamWeaver);
Web design (HTML/CSS/Webpage/Front-end development/UX/Responsive design);
Marketing (SEO/Advertising/Web ads/Digital analytics);
Typography (Layout/Spacing/Storyboarding/Font selection);
Traditional Art (Sketching/Color theory/Composition/Portraiture/Background);
Corel Draw/Affinity;
Free Hand;
Premiere Pro;
Framer;
Moqups/Invision App;
Coding;
Branding & Signage;
Logo Design;
After Effects;
Quark/QuarkXpress;
Photo Editing;
Information Architecture.
Excellent Soft Skills & Abilities
Creativity & Imagination;
Perceptivity;
Flexibility;
Time Management/Meeting deadlines;
Verbal & Written Communication;
Planning, Coordination, Prioritizing;
Collaboration & Teamwork;
Innovation & Desire to learn;
Brainstorming & Ingenuity;
Attention to details;
Problem-Solving;
Active Listening;
Multitasking;
Customer Service;
Presentation;
Critical Thinking;
Being Confident, Persuasive & Decisive;
Taking Criticism.
Graphic Designer Duties and Responsibilities
Graphic designer duties stated in the job ad are the helpful keywords to explain the positive impact in the previous work to a new potential team. Enumerating graphic designer responsibilities in the experience section of your resume should be close to the duties from the posting. But never lie about the responsibilities you had not or the outcome of the work you didn't perform. Your real competencies and achievements in graphic design can easily get exhibited and verified.
If you consider what to include for your duties and responsibilities in your previous roles, look through the list of general job duties of a graphic design position to reference. Below you can find the list of the most common ones:
Consulting with the project team, determining visual design preferences, illustrating the concept showing a rough layout of art and copy arrangements.
Turning a verbal concept into graphics with the help of graphic design tools and computer software to meet the expectations.
Developing prototypes and enhancing existing digital images, including the application of contrasts and gradients for projects.
Taking a visual concept from an art director and designing graphics around the communications goals.
Improving marketing materials layout, designing the logo and ideas for the website.
Adding a creative flair of original graphics with unique colors, shapes, and typography fonts to all brand assets of the company.
Communicating brand messages in illustrations.
Submitting visual design concepts for brainstorming and customer's approval on time.
Collaborating with a Creative Director to oversee projects and obtain approval.
Working in a team with an Art Director to define and develop creative directions.
Coordinating with customers, agencies, third parties from the starting point to the project's final stage.
Resume Action Words for Graphic Designer
Competent
Interpreted
Performed
Created
Effectiveness
Effected
Coordinated
Motivated
Developed
Found
Won
Reviewed
Designed
Adapted
Recommended
Common Certificates for Graphic Designer Resume
Autodesk certified
Adobe CS5 certified
HubSpot certified
To be 100% prepared for getting a new job check our Designer Cover Letter Example
How useful was this post?
Click on a star to rate it!
Average rating / 5. Vote count:
Other Samples from this Industry: