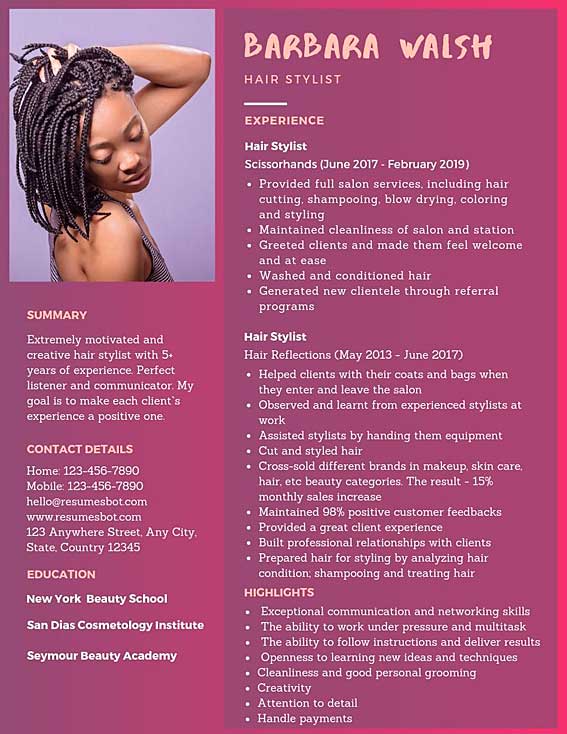 Hair Stylist Resume Template (Text Format)
SUMMARY
An extremely motivated and creative hairstylist with 5+ years of experience. Perfect listener and communicator. My goal is to make each client`s experience a positive one.
ACADEMIC BACKGROUND
New York Beauty School
San Dias Cosmetology Institute
Seymour Beauty Academy
HIGHLIGHTS
Exceptional communication and networking skills
The ability to work under pressure and multitask
The ability to follow instructions and deliver results
Openness to learning new ideas and techniques
Cleanliness and good personal grooming
Creativity
Attention to detail
Handle payments
EXPERIENCE
Hair Stylist
Scissorhands (June 2017 – February 2019)
Provided full salon services, including hair cutting, shampooing, blow-drying, coloring and styling
Maintained cleanliness of salon and station
Greeted clients and made them feel welcome and at ease
Washed and conditioned hair
Generated new clientele through referral programs
Hair Stylist
Hair Reflections (May 2013 – June 2017)
Helped clients with their coats and bags when they enter and leave the salon
Observed and learned from experienced stylists at work
Assisted stylists by handing them equipment
Cut and styled hair
Cross-sold different brands in makeup, skincare, hair, etc beauty categories. The result – 15% of monthly sales increase
Maintained 98% positive customer feedbacks
Provided a great client experience
Built professional relationships with clients
Prepared hair for styling by analyzing hair condition; shampooing and treating hair
Average Salary for Hair Stylist Job
Hair Stylist
Salaries
National Average
| | | |
| --- | --- | --- |
| Base Salary | $20k – $82k | |
| Bonus | $101 – $5k | |
| Profit Sharing | $1k – $20k | |
| Commission | $75 – $38k | |
| Total Pay | $18k – $64k | |
***Data are taken from payscale.com
Good Skills to Include on a Hair Stylist Resume
Keep up the conversation about hairstyle options
Wash, color, lighten, and condition hair
To change chemically hair textures
Cut, dry, and style hair
Cut and style wigs or hairpieces.
Clean and disinfect all tools and work areas
Resume Action Words for Hair Stylist
Suggested
Retained
Handled
Placed
Upheld
Helped
Ensured
Offered
Managed
Delighted
Resolved
Welcomed
Demonstrated
Communicated
Kept
Common Certificates for Hair Stylist Resume
Hair Styling & Salon Management Certification Course
To be 100% prepared for getting a new job check our Hair Stylist Cover Letter Example
How useful was this post?
Click on a star to rate it!
Average rating / 5. Vote count:
Other Samples from this Industry: