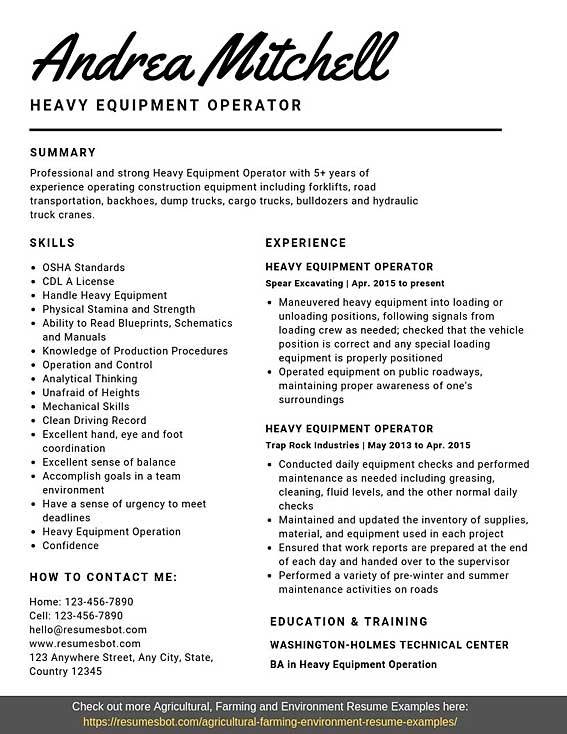 HEAVY EQUIPMENT OPERATOR RESUME TEMPLATE (TEXT FORMAT)
SUMMARY
Professional and strong Heavy Equipment Operator with 5+ years of experience operating construction equipment including forklifts, road transportation, backhoes, dump trucks, cargo trucks, bulldozers and hydraulic truck cranes.
EDUCATION
WASHINGTON-HOLMES TECHNICAL CENTER
BA in Heavy Equipment Operation
SKILLS
OSHA Standards
CDL A License
Handle Heavy Equipment
Physical Stamina and Strength
Ability to Read Blueprints, Schematics and Manuals
Knowledge of Production Procedures
Operation and Control
Analytical Thinking
Unafraid of Heights
Mechanical Skills
Clean Driving Record
Excellent hand, eye and foot coordination
Excellent sense of balance
Accomplish goals in a team environment
Have a sense of urgency to meet deadlines
Heavy Equipment Operation
Confidence
EXPERIENCE
HEAVY EQUIPMENT OPERATOR
Spear Excavating | Apr. 2015 to present
Maneuvered heavy equipment into loading or unloading positions, following signals from loading crew as needed; checked that the vehicle position is correct and any special loading equipment is properly positioned
Operated equipment on public roadways, maintaining proper awareness of one's surroundings
HEAVY EQUIPMENT OPERATOR
Trap Rock Industries | May 2013 to Apr. 2015
Conducted daily equipment checks and performed maintenance as needed including greasing, cleaning, fluid levels, and the other normal daily checks
Maintained and updated the inventory of supplies, material, and equipment used in each project
Ensured that work reports are prepared at the end of each day and handed over to the supervisor
Performed a variety of pre-winter and summer maintenance activities on roads
Average Salary for Heavy Equipment Operator Job
Heavy Equipment Operator
Salaries
National Average
| | | |
| --- | --- | --- |
| Base Salary | $31k – $89k | |
| Bonus | $197 – $5k | |
| Profit Sharing | $489 – $12k | |
| Total Pay | $31k – $71k | |
***Data are taken from payscale.com
Good Skills to Include on a Heavy Equipment Operator Resume
A good work ethic and, because you will be working on expensive and potentially dangerous equipment around other people, a responsible attitude

An interest in working outdoors

Reliable transportation

The ability to work "regular" construction hours of 6:00 or 8:00 a.m. to 5:00 or 6:00 p.m., as well as overtime at short notice or swing shifts on some project
Resume Action Words for Heavy Equipment Operator
Achieved
Operated
Conducted
Maintained
Demonstrated
Provided
Coordinated
Enforced
Commended
Ensured
Performed
Accomplished
Maximized
Observed
Issued
Common Certificates for Heavy Equipment Operator Resume
Level III – Professional Operator Certification
National Association of Heavy Equipment Training Services
How useful was this post?
Click on a star to rate it!
Average rating / 5. Vote count:
Other Samples from this Industry: