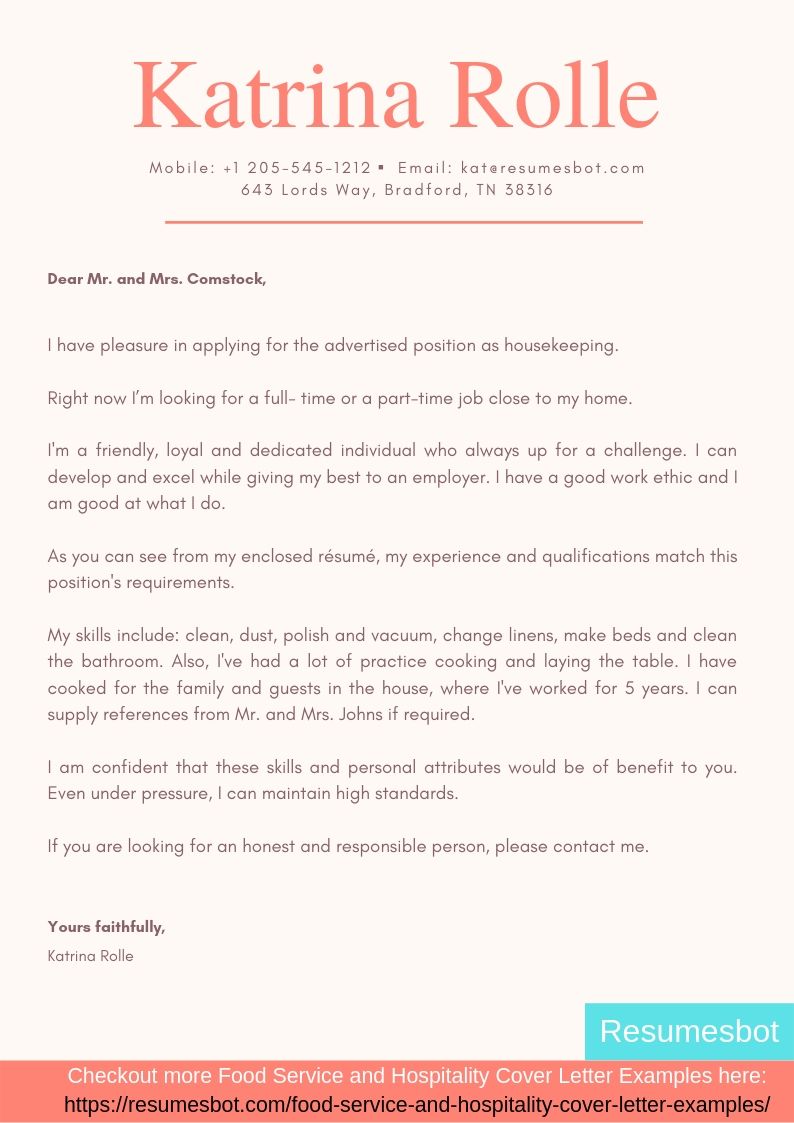 HOUSEKEEPER COVER LETTER TEMPLATE (TEXT FORMAT)
Katrina Rolle
Mobile: +1 205-545-1212
www.resumesbot.com
643 Lords Way, Bradford, TN 38316
---
Dear Mr. and Mrs. Comstock,
I have pleasure in applying for the advertised position as housekeeping.
Right now I'm looking for a full- time or a part-time job close to my home.
I'm a friendly, loyal and dedicated individual who always up for a challenge. I can develop and excel while giving my best to an employer. I have a good work ethic and I am good at what I do.
As you can see from my enclosed résumé, my experience and qualifications match this position's requirements.
My skills include: clean, dust, polish and vacuum, change linens, make beds and clean the bathroom. Also, I've had a lot of practice cooking and laying the table. I have cooked for the family and guests in the house, where I've worked for 5 years. I can supply references from Mr. and Mrs. Johns if required.
I am confident that these skills and personal attributes would be of benefit to you. Even under pressure, I can maintain high standards.
If you are looking for an honest and responsible person, please contact me.
Yours faithfully,
Katrina Rolle
Check out our Housekeeping Resume Sample to learn the professional resume writing style
How useful was this post?
Click on a star to rate it!
Average rating / 5. Vote count:
Other Samples from this Industry: