When it comes to the process of exposing your work experience, most of the job-seekers are curious about how to handle it properly. In that case, it is essential to know how to describe work experience on a resume in 2023, which, in turn, is among the most crucial aspects for head-hunters.
Speaking of which, we prepared a brief guide for you to learn how to describe relevant work experience in your resume.
So, if you're intimidated by a mere thought of getting rejected from your long-anticipated job position, you are welcome to read on and get acquainted with how to expose your work experience in resume.
How Many Jobs to List on Resume
Well, we have encountered dozens of resumes, in which the section with work accomplishments exceeded two pages.
Although it might be interpreted as a sign of remarkable experience, the question is how many of those occupations might be counted as relevant work experience.
So, in case you're wondering how many jobs should be included in your list, you should double-check your resume according to the following criteria:
First things first, your jobs included in the Work Experience section should be related to the occupation you're applying to. In that case, nobody is interested in your experience of working as an Instructor Assistant a decade ago if you apply to the work of a Geodesist.
In terms of the time frames, you should be aware that only the recent experience truly matters. Just try sticking to the last few years since some of the previous ones might be just irrelevant for your potential employer.
The last criterion that you should count on is the type of occupation you're applying to. If you're wondering how many jobs should you list on a resume, you should be ready to enlist any of your previous work experience that has, at least some, relation to your field of work.
Once you manage to assess your resume according to the criteria mentioned above, you would come up with fresh ideas of how many jobs to enlist.
Resumesbot Advice: Include 5 recent occupations, which best match the requirements of your field of work.
Resume Experience Examples
Alright, let's imagine a situation that you've already thought about how to list work experience on resume. Now, another crucial question arises, which relies upon the format of a resume.
Keeping that in mind, you're required to check the top-notch examples of how to enlist all the relevant experience.
Once you're asked to describe your work experience sample, you should review the superb samples to learn the best techniques and tools for your writing.
So, take a look at the two following examples, which would have sharply contrasting influences on your potential employer:
Example 1
2015-02 – 2018-07
Customer Care Support Representative
on Company Company
Responsibilities:
gathering customer-related information
assessing customer personas
compiling the information about customers
receiving hot calls and instructing regarding solutions to technical issues
---
MORE INFORMATION:
How to Write a Functional Resumes
---
From what you can see, this sample reveals the primary responsibilities regarding previous experience in the role of the Customer Care Support Representative.
But how to polish it decently to make it more appealing for your resume? Feel free to review another sample:
Example 2
2015-02 – 2018-07
Customer Care Support Representative
on Company Company
Responsibilities:
organized customer information and account data
created spreadsheets regarding customer personas
received nearly 98% of satisfaction from customers in the post-consultation surveys
developed a unique system of speeding the calls, eventually increasing the speed up to 20%
increased customer retention rates almost by 25% by designing and implementing the method for contacting the customers.
The differences between these two samples are just overwhelmingly crucial.
The colossal distinction is that the second sample is filled with action words, coupled with numbers. The use of such words as "organized, created, received, developed, and increased" are the best indicators of your real results on your previous occupations.
Similarly, the inclusion of numbers, which represent the statistical increases, is a decent option for a work history resume example.
Regardless of whether this occupation is applicable to your profession, you should still aim to depict your work experience according to the professional experience resume example, which is depicted above.
---
RELATED:
How far Back Should a Resume Go
How to Put a Publication on a Resume
---
Resume Experience Section
Now, you should be aware that not only factual information matters. By saying this, we mean that design might be something to make your resume stand out.
When it comes to selecting a proper design and format, you should be careful in order not to make your resume too informal.
Keeping this in mind, we are sure that your experience section of resume should be appropriately polished, especially in terms of a clean layout.
Regarding the part of your work experience, you should pay enough attention to the simple, explicit, and straightforward manner of your job experience resume appearance.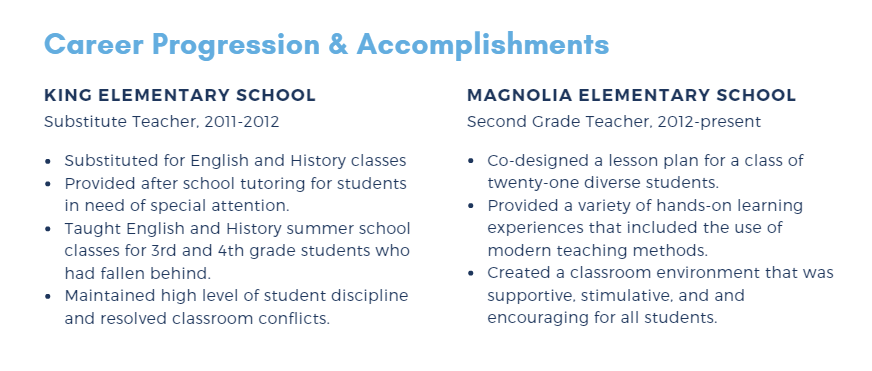 Resumesbot Advice: Use bullet points and lists to organize your resume experience section.
Although one may claim that unique representations of content are now valued, you should stick to a more conventional way of "advertising" yourself to your employer.
With all that said, be sure to design your resume and its section related to work experience straightforwardly and explicitly.
How to List Experience on Resume
Use a Reverse-Chronological Approach
Enlist all your work experience during the last 10 or 15 years by including all commercial occupations during these time frames.
It wouldn't be a big of a surprise to say that your valuable and extensive experience should be visible to the employers so that you should make it highly visible by yourself.
The Power of Action Words and Numbers
Since we've previously mentioned the use of action words and numbers, we find it noteworthy to remind regarding their relevance.
The job descriptions should convey value-added accomplishments, which were accomplished during your previous jobs. So, the use of those numbers and action words is a must for your resume.
Include Your Present Job on Resume.
Some people are asking us one single question the most, which is: Should I put my current job on my resume?
Our answer is final: yes, you should do it regardless of what is your current occupation.
According to the internal survey among the recruiters, the most attention is usually dedicated to your present and the most recent job. Keeping that in mind, you should include your ongoing job by describing it according to our aforementioned recommendations.
Balance the Scale of the Information
In other words, aim for a balance in depicting your professional work experience in terms of your responsibilities and accomplishments.
Sometimes, just by picking the most relevant and valid ones, your resume would naturally stand out due to your approach to polishing it.
As we've claimed that you are absolutely welcome to use the reverse-chronological approach, your attention to detail should be at its maximum scale.
Hide Employment Gaps
In case you have solid gaps in your work experience or your occupation-related history is full of switches to other industries, you should try crafting your work experience section via the functional resume type.
This particular approach aims to emphasize your comparative advantages by focusing on your skills and competencies.
Although you would be still asked to provide the notions of your work experience, this framework is a chance to express the concealed or hidden competencies of the potential employee.
Also, you shouldn't disregard providing your portfolio, team projects, or any other projects you've completed during your previous occupations.
By doing so, you quickly skyrocket your chances of securing the profession in your industry, even if you use a functional type of resume.
What is Professional Experience
Here comes one of the most troublesome tasks for those who are engaged in the corporate world. In 2019, most of the borders regarding the divisions of experience are erased. Solely because of that, it is often troublesome for applicants to distinguish their professional expertise from the non-professional one.
So, the question of what is considered professional experience remains topical among modern job-seekers.
Luckily for you, we have prepared a list of factors, which would allow assessing your own experience quickly, as follows:
Alright, this is among the most important factors to rely upon when deciding whether to include your former occupation or not. If you were paid for doing some work, you should include it in your experience section, especially if this occupation relates to your primary field.
This criterion relies upon determining the length of your stay during your previous job position. In some sense, it determines the extent to which you were able to master your professional skills and competencies in your last place of work. So, if your last stay was long enough to include it in your resume, go ahead and describe it as vividly as possible.
Another valid consideration is how far can you relate to your previous experience with your current demands in terms of functional specifications.
For example, if you are seeking an opportunity for a position of a UX writer, your last summer freelance as a Content Writer is worthy of including.
Therefore, you should be careful while thinking about all the previous occupations and their relations to your current industry.
So, if you're intimidated by the question of what to put in experience section of resume, follow our recommendations about crafting a professional experience section.
And remember that almost all commercial experience that required dedication from your side in the chosen industry might be associated with professional experience. In that case, kindly mention all of it to maximize your chance to secure that long-anticipated job!
What is Relevant Experience
Another crucial point that should be appropriately assessed by all job-seekers is a matter of relevant experience.
But what is relevance, after all?
As we've mentioned the functional type of resume, which emphasizes skills and competencies, this framework might be used to reveal relevant experience.
Speaking of the mere characteristic of relevance, we are confident that this category is too abstract and loose in 2019. As the world continues to globalize in terms of the labor market, the aspect of relevance develops accordingly.
We are trying to say that much of your experience during your previous occupations might be applied to your new work if the discipline is somehow related.
This rule of universality is real for programmers, designers, managers, and executives.
Regardless of what is your industry, try remembering all pieces for your resume relevant experience section. The possible pieces can include but are not limited to:
specialized courses

internships

commercial experiences

freelance and remote work.
By enlisting all of these, your chances to secure that particular occupation increase gradually.
As we've pointed out, the relevance is too vague to analyze, eventually forcing you to adapt to new work conditions and work-related responsibilities.
So, you should try assessing all of your previous experiences by reviewing the factor of relevance:
Point out the commonalities in skills, if your field was different from the one you're currently focusing on.
Underline your soft skills, which are always relevant regardless of the job and industry. Keeping that in mind, you should be able to reflect on your past in terms of occupation by paying extreme attention to the soft skills, which are to be applied to your place of work.
Include only the experience of the last 10 years. The main reason for it is to reflect your contemporary knowledge regarding technologies, methods, and operations.
So, it would be nice on your side if you manage to stick to the latest applications of your hard knowledge and soft skills to compile all your relevant experience within your resume.
How to Include Work Projects in Resume
And here comes one of the most intriguing questions about the work projects section of your resume.
In most cases, any work projects aren't included in the main section dedicated to revealing your work experience.
So, you should be attentive in terms of allocating the space in your layout. Your portfolio of work projects should rather be located at the bottom of your resume, especially if you're sending an online version of it.

If to review those work projects as a whole, they make an unprecedented contribution to increasing the appeal of your resume.
The crucial point is that most wanna-be employees search for "resume experience example" or "work experience resume sample" without researching their real experiences from the previous occupations.
In most cases, especially in terms of creative industries, your portfolio is more convincing than your section with previous works and responsibilities.
The executives from your previous occupations allow you to use the work projects in your resume-based portfolio, and you're encouraged to do so. Not only this will boost the appeal of your resume but also be a driver for representing your skills and competencies empirically.
In case you are struggling to fit your portfolio of work projects in your resume, you should consider placing them outside the section with your work experience.
Your section with commercial work experience should be designed logically, explicitly, and straightforwardly to make it genuinely appealing for potential employers.
Our last recommendation for you is not to overfill your work projects section with an abundance of similar or related projects. Instead, do your best to group the tasks that are much alike, which is the best for your future employer.
From what you have seen already, designing a decent work experience section of your resume is a troublesome task. Yet, you should be sure that once you comply with our recommendations and hints, your resume will naturally stand out.
So, we wish you the best of luck with that, at the same time, keeping our fingers crossed during your next job interview.
How useful was this post?
Click on a star to rate it!
Average rating / 5. Vote count:
Other Samples from this Industry: