Licenses and certifications usually tie into education, training, or professional development. Companies may view certifications as necessary or a nice-to-have extra. Certifications have the main difference when compared to licenses. While a license falls into a subset of certification, you cannot legally perform a job without it. Your list of certifications and licenses depends on a few factors. Those include necessity, if your license expires or if you are an experienced applicant versus an entry-level one.
In general, you need to include the following:
Certification/License/Membership name – you may belong to a professional organization if you have certain ones.
Certifying body's name – make sure to use a reputable one recognized within your industry. Some professions may require a specific accrediting agency.
Dates – include the month and year obtained and any applicable expiration date for professional ones. Some certification may only provide the month and year.
Location – if a job requires you to hold state certification, or you want to include the headquarters of the certifying body, include the location.
Where to Put Certifications on Resume?
When you add certifications to resume, you have many placement options. If you add one after your name, you are likely talking about a license. If not, you have plenty of ways to incorporate them.
Anytime you list multiple ones, or with other education and training, always put information in reverse chronological order. An exception is usually academia – your degrees hold more weight. Also, bold the name of your resumes certifications.
When listing certifications on resume, think about the following to determine placement:
Mandatory – if the job posting requires certification, put that at the top of the resume. Some options include:
By your name – when putting one after your name, ask yourself if that makes sense. You are likely talking about a license – a type of certification but with more requirements. Include the designation after your name as the acronym. A good example is a Certified Public Accountant (CPA). You cannot hold this title without the proper license.
Professional summary – certifications may also go before your "Work History" or "Experience" section.
Objective – some entry-level candidates may not have enough experience for a professional summary. In this case, include "Objective" as a heading instead. Alternatively, people seeking to change careers or their work environment may have an objective.
Education/Training/Certifications versus Work History – put this information at the top after a summary or objective when educational endeavors hold more weight. Also, use this method when you lack experience. Remember that your certifications back up the skills you say you have.
Number of certificates – in general, adding a new section for just certifications stands out. However, if you only have one, that may not make sense or look right. Adding completed training courses to certifications will enhance that section. Use a heading of "Certifications and Training."
Older certifications – if irrelevant to the job, do not include it. There are a couple of exceptions:
If your certification expired or is pending, including that depends on your industry.
If expired, then you need to be recertified when mandatory for a job. In the meantime, include the dates you had it. Then, add the pending completion date.
When you have one in process, include the targeted completion date.
Resumesbot Advice: Resumes only have to go back for ten years. When determining how to list a certificate of completion on a resume, think about if it remains relevant. If so, but it dates you, consider eliminating this because of age discrimination.
How to Add Certification in Resume Sample
Many professional certifications may go after your name. However, if not a professional one or does not require a license, ask yourself if that belongs there.

The below uses an IT professional obtaining a Scrum certification to demonstrate how to put certifications on a resume:
After your name – [Your name], CSM
Summary – as an example, "Certified ScrumMaster (CSM) with over five years of experience working in an Agile environment." You have worked in your certification, years of experience, and stressed the needed IT framework. Then, proceed with the rest of your summary.
Resume certification section – Certified ScrumMaster (CSM)|Scrum Alliance|Issued: April 2019|Expires April 2021|Badge ID:|Denver, Colorado
Resumesbot Advice: The above example says badge because that certification body uses that language. When you have an ID, use the wording on your certificate.
CPR Certification on Resume
Anyone in the medical field who acts as a first responder must maintain their cardiopulmonary resuscitation certifications. However, medical professionals are not the only ones. Teachers should also know how to perform CPR. Courses differ depending on your profession.
Now that you know about courses, you need to know where to place CPR on a resume. Placement depends on many factors. Use the below as your guide when including CPR certified on a resume:
CPR certificates expire within one or two years from an eligible course completion date. If obtained as part of an overall training program, it remains valid for one or three years. Always check the requirements of the state you reside in – those may vary from the national chapter guidelines. The overseeing body will put that on your certificate.
You could still place this at the top to distinguish yourself from other applicants if not required. Make sure it does not take the place of a mandatory requirement.
Even if knowing CPR is mandatory, no official license exists. Therefore, you automatically eliminate placing this after your name.
Include the certification body. For CPR, the American Red Cross (ARC) is reputable.
Now, look at how to put CPR certification on a resume:
Summary – if required, start your review with "

CPR certified

."

If extra, present your skills about that job first. Then add, "Also

CPR certified

by the American Red Cross."

Objective – if in the medical field, start with something like, "

CPR Certified

EMT looking to apply first-responder skills for [company name]."

Certification and Training section –

CPR Certified

,

American Red Cross

, Issued May 2, 2019, |Expires May 2, 2021
The CPR certificate looks as follows: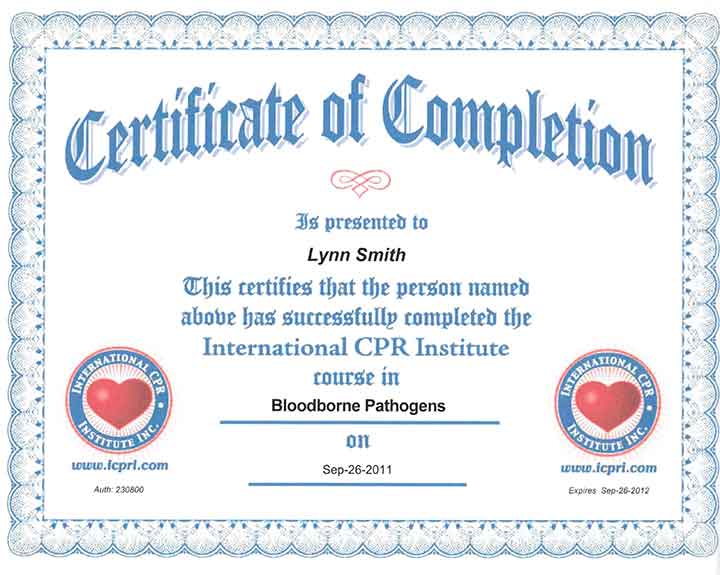 Resumesbot Advice: Some health providers offer free CPR certification. Currently, the ARC charges $92 for a blended learning course – a hybrid of in-person and online courses. Look for any pricing specials during CPR week. The ARC and the American Heart Association may offer free certification then.
BLS Certification on Resume
The American Red Cross also offers a Basic Life Support (BLS) certification. First responders and family members who want to know life-saving measures may take this. These expire in two years, so you will need to recertify.
The ARC offers a shortened BLS course when your certification is about to expire or has expired within 30 days of the expiry date.
Using the same guidelines and template for CPR, your resume certification example for BLS looks like:
Summary – include "

BLS certified

by the American Red Cross."

Objective – an example includes, "Empathetic

BLS Certified

EMT looking to join [company name] as a first responder to contribute to patient care in emergencies."

Certification section –

BLS Certification

;

American Red Cross

; Issued May 2, 2019, |Expires May 2, 2021
Here is an example of Basic Life Support certificate template: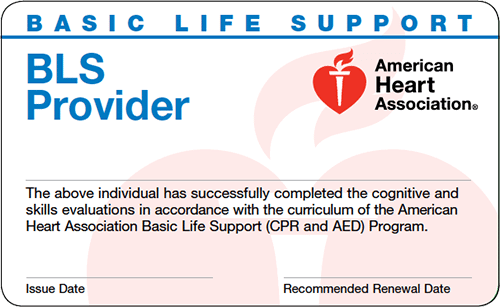 FEMA Certification on Resume
All Federal Emergency Management Agency (FEMA) certifications require you to complete a series of courses in a specific order. FEMA requires following an approval process to take courses.
Some certifications expire, and others do not. All programs go through the Emergency Management Institute (EMI); always list this as the accrediting body.
The Professional Development Series (PDS) is the first certification. You must complete seven courses to obtain this.
Below you will see FEMA resume example on how you list this based on completion in your certification section:
Professional Development Series (PDS)

,

Emergency Management Institute

, September 2019

Professional Development Series (PDS)

,

Emergency Management Institute

, pending completion in January 2020

Coursework completed toward the

Professional Development Series (PDS)

,

Emergency Management Institute
Here is an example of FEMA Professional Development Series: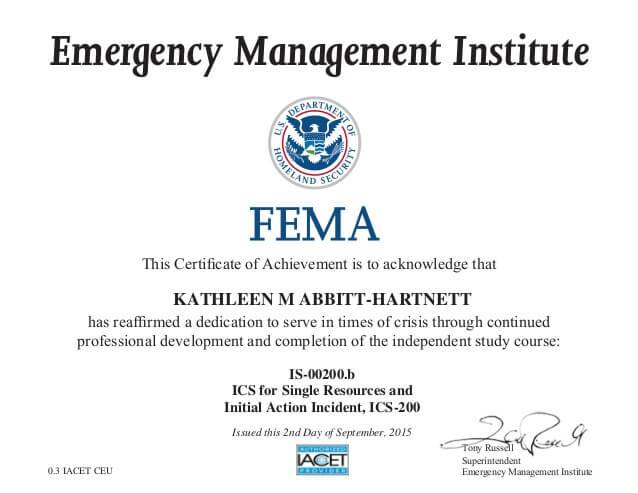 Easy Certifications to Add to Your Resume
Certification of completion means you passed a course and obtained documentation because you met the requirements from an instructor. They are not the same as a professional certification.
Below are some examples of real training companies or organizations. These examples provide different formatting suggestions. Use the type of divider consistently throughout your resume.
Adding certifications to resume looks like:
If you do not have time to undergo a more in-depth certification, consider some online free certifications for resume. Some choices include:
Twitter Flight School courses – modules take about 15 to 20 minutes to complete. While first available to agency markets, in 2016, Twitter opened up this academy to all marketers.

Google courses – Google offers some free classes too. Two popular choices include Google AdWords and Google Analytics. These are good options to understand what drives search engine optimization (SEO).
When you translate the guidelines, your easy certifications for a resume look like this:
Google AdWords Certified

, March 2018 (or pending date) – there is no need to include the company because it already exists in the certification.

Coursework completed toward

Twitter Flight School Certification

.
How to List Licenses on Resume?
Resume certification may include obtaining a license. Some places may call a license or licensure a certification. The how to include certifications in resume for an EMT demonstrates that.
Where you list a license remains the same as a certification. You may include it by your name, in your summary, objective, under a blended heading, or a separate license one.
A registered nurse cannot practice without schooling and passing an exam. Below you will find how to document this:
[Your name], RN – you do not need to spell this out by your name. You have the chance to spell it out later in your resume. Besides, everyone in the medical field knows the meaning. Most people bold their name on a resume, so add the designation after it.

Summary – to start this, "

Registered nurse

with over five years of experience." You then go on to list the rest of your summary.

Objective – "

Registered nurse

seeking to transfer skills from an ER setting into private practice." While seasoned professionals do not typically use a resume objective, you may do so when you want to change your work environment. You may also use this to start the summary section.

Licenses and Certification section – with medical professionals, the education section comes first. Use this rule when you cannot obtain a license without completing a degree. Examples of how to document this include:
License to practice as a Registered Nurse in the state of Illinois
Registered Nurse in New Jersey, license number
Note: Some nurses omit license numbers to protect their privacy. However, licenses are public knowledge. Anyone can use the national database to find them.
Truck drivers may serve as an example of easy licenses to get. They have a different type of driver's license than someone who drives a regular vehicle – a commercial driver's license (CDL). They must pass a test to get one.
---
YOU MAY ALSO LIKE:
What is the Best Format to Send a Resume
Should I Put High School on Resume
---
Use Job Posting and Industry Standards to Guide You
Knowing the difference between the types of certifications will help your resume stand out. Always ask yourself if your certificate or license gives you an advantage. Follow the specifications of a job posting, and the guidelines discussed, to present a more polished resume.
How useful was this post?
Click on a star to rate it!
Average rating / 5. Vote count:
Other Samples from this Industry: