After graduating from high school, education typically refers to the colleges and universities you attended, along with the degrees you earned.
However, as we learned from the previous blog, your educational background relates to much more.
It pertains to on-the-job training, professional development, courses, certifications, and licenses. All of these examples may comprise part of your education section of resume.
Typically, the resume education format goes in reverse chronological order. This means that whatever educational endeavor you finished last, or is currently in process and you plan to finish, goes first.
Some exceptions apply. When deciding what comes first, if you cannot obtain certification without a degree, then your degree starts the section.
How to Format Education on Resume
Where you place your education depends on a few factors. Those include:
Industry
If you still attend high school or college
If recruiters consider you an entry-level applicant or an experienced one
To format this part, follow the below tips on how to write education on resume:
For entry-level candidates and some professions, the education section goes near the top. People starting their careers have fewer skills.
For experienced professionals, the education section goes at the bottom. If you have a separate IT skills section near the bottom, put your education after that one.
How to List Degree on Resume
Now that you know where to place education see how listing education on resumes works.
The below provides the needed components to complete your sample resume education section. Include:
Type of degree granted

Field of study – this may include your major(s) and a minor. Some universities do not offer minors.

School, college or university's name

Location – consider omitting the location if the school's name contains it, or if you completed an online degree. If earned online, include the area of the main campus or office.

Graduation date or pending graduation date
An optional category relates to your grade point average. Use the below guidelines to see if you should include a GPA:
If you have a GPA of 3.0 or higher, and you finished your degree within the last three years, but no more than five years ago, include it.

Include it if required by the industry, though some fields require a GPA of at least 3.4.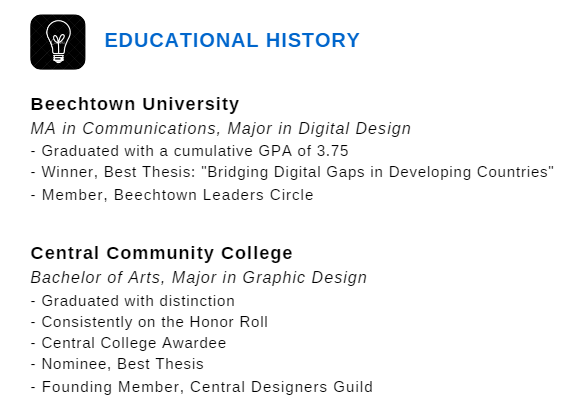 Resumesbot Advice: If listing your graduation date harms your chances of being considered because of your age, remove it. The potential employer may obtain a copy of your diploma or transcript at a later time.
Education Resume Examples
How to write degree on resume has many options. If you want to capitalize your major, include the information as part of the degree. Otherwise, only capitalize proper nouns.
When using a degree's acronym, always capitalize it. Follow the style guidelines used in your industry or specified by the job posting when writing education on resume.
Now that you know how to list college degree on resume, look at some samples. The below examples include putting an associate's and bachelor's degree on resume:
Associate Degree in Early Childhood Education; Columbus State, Columbus, Ohio; May 2019
Bachelor of Arts|Political Science and History|University of Wisconsin-Madison|May 2017
BA in History, University of Wisconsin-Madison, Madison, WI., May 2017
B.S. in Economics; University of Wisconsin-Madison
The above examples provide a few different formatting options. Because you want the degree to stand out, bold that.
When you include your major(s) as part of the degree, you may also bold that. Whether you italicize, the school's name comes down to preference. If you used this format for company names, remain consistent.
Finally, use the same divider type. Different ones were used to provide options.
When you refresh your education section, you omit information like your GPA or graduation date when applicable. It means that recruiters know you are an experienced applicant versus an entry-level one.
A refresher section usually follows the reverse-chronological order rules. However, when you have an advanced degree that goes first.
The education field provides a perfect example of how to write educational qualification in resume for freshers. The refreshed section looks as follows:
Master of Science in Early Childhood Education ▪ Northern Illinois University ▪ DeKalb, IL
Bachelor of Science in Early Childhood Education ▪ Northern Illinois University, DeKalb, Illinois
The Child Development Associate (CDA) Credential ▪ Northern Illinois University, DeKalb, Illinois ▪ Granted: August 3, 2018 ▪ Expires: August 3, 2021
Not everyone who works in early childhood education will have an advanced degree. Therefore, the refreshed section for the sample resume education looks as follows:
Associate Degree in Early Childhood Education; Columbus State; Columbus, Ohio
Early Childhood Education; 60 semester hours of completed college credit; Youngstown State University; Youngstown, Ohio
The Child Development Associate (CDA) Credential, Columbus State, Columbus, Ohio, Valid from August 3, 2018 to August 3, 2021
Both refreshed education resume examples contained a CDA certificate that expires.
In the second updated section, the 60 completed college credit hours equaled an associate's degree. However, the applicant completed the credits at a four-year university that does not grant associate degrees.
In the field of early childhood education, the AA and 60 credit hours are equivalent.
Should I Include High School on Resume
A dilemma exists regarding when to include high school on your resume. Many candidates often wonder, "Should I put high school on resume?" The short explanation is it depends. However, following the below tips will help resolve the question:
Current high school or college students – younger applicants enrolled in high school or college likely lack experience. List all your education to back up your skills.

Recent college graduate – by graduation time, applicants have more experience or internships to demonstrate skills. However, a recent college graduate still fits into the entry-level category. Include high school if you graduated from a prestigious or well-known one.

Entry-level applicants – if you are starting your career and do not have an associate's or another type of degree, include your high school diploma.

Wording in the job posting – if the job requires a high school diploma, but the position does not require college education, include this.
Consider removing high school if:
Other forms of education take its place – this means you have licenses, certifications, or additional training.

You are an experienced applicant – work experience and skills, along with soft skills that complement your background, make you a compelling potential employee based on merit.

Including the information may result in age discrimination.
Resumesbot Advice: Large amounts of text, smaller fonts and unnecessary information clutter resumes. Only keep essential information for the desired job. Debate will always exist regarding the necessity of having a one-page resume. As you gain experience, you will find yourself running out of space. Take that as a sign to omit your high school diploma on resume.
---
SEE RESUMES BOT GUIDE:
How to Write a Great Cover Letter
---
How to List High School Education on Resume
Now that you understand when to include high school education, you need to know how to list that on your resume. Look at the below resume education examples:
If you graduated:
John Hersey High School, Arlington Heights, IL, Graduated in (or Diploma Granted) May 2012
If you did not graduate:
John Hersey High School, Arlington Heights, Illinois, Attended from May 2012-May 2015
If in process:
John Hersey High School, Arlington Heights, IL, Anticipated Graduation Date of May 2020
If you obtained a Many nonprofits offer free courses. A popular choice is General Educational Diploma:
GED High School Equivalency Diploma, San Bernardino Adult School; San Bernardino, CA; July 2018
List relevant awards or accomplishments to enhance this section. You will remove high school education and achievements when you graduate college or become an experienced applicant.
Resume With No College Degree Example
Emphasize skills, experience, and soft skills when you did not attend college. Place your work history section after your professional summary and stress the following:
Make sure the hiring manager understands all of your career achievements.

Include statistics to show how your actions turned into measurable results.

As an example, a new business account manager needs to bring in new clients to generate revenue. In your professional summary, you could say, "Results-driven new business account manager responsible for growing businesses by 25%."

Then, include the amount of revenue you generated at your places of employment.

Sprinkle your measurable actions throughout your resume. Word your job duties as accomplishments.
If you never attended a community college or four-year university, but you have certifications, licenses, or other training, use them as your education.
Many nonprofits offer free courses. A popular choice is freeCodeCamp – a nonprofit that provides no-cost certifications and courses.
Coding extends across industries – anyone from a marketing professional to a content manager will have a better resume when learning applicable code.
Without a degree, certification, or license, your "Education and Training" lists completed coursework or courses in progress. That section looks as follows:
Introduction to Basic HTML and HTML5|freeCodeCamp|April 2019 (or Pending completion date)
Javascript Algorithms and Data Structures|freeCodeCamp|June 2018
The above courses are part of a more extended 300-hour certification program. If you continue to take more relevant courses, add them to boost your resume. If you decide to finish the certification at a later date, once completed, change the information to a certificate.
How to Put College on Resume If You Haven't Graduated Yet
You need to know how to put college on resume if you didn't graduate yet. Including your college history follows the same pattern as listing licenses and certifications. Even if pending, but the degree remains relevant, include it.
You have a few choices regarding how to list education on resume if still in college. Include the below information:
College or university name

City and State

Degree Name

Dates attended

Coursework completed toward or completed number of credits

Anticipated graduation date if you plan to complete the degree

Put the pending date with no extra wording – the recruiter will understand the meaning.
An example looks as follows:
University of Wisconsin-Madison; Completed 60 credits toward a Bachelor of Science in Information Technology
How to Put Expected Graduation Date on Resume
Include any degree – even when in process – when deciding how to put education on resume. The previous section explained what to include, and this section translates that into more concrete examples. Samples of how to list education in progress on resume include:
University of Wisconsin-Madison; coursework completed toward B.S. in Economics
70 credits completed toward B.S.; Economics; University of Wisconsin-Madison; Aug. 2017 – May 2019
Bachelor of Science in Economics; University of Wisconsin-Madison; Anticipated graduation date (or degree expected) May 2020
B.S. in Economics; University of Wisconsin-Madison; Madison, Wisconsin; Aug. 2016 – May 2020
Resumesbot Advice: When you include dates, make sure they align. Some candidates place the date first – use consistency. However, think about what needs to stand out. You need your degree, coursework, or school name to get a recruiter's attention – not the date of an unfinished degree.
How to List Graduating with Honors on Resume
When graduating with honors, you have a few different ways to note that. Keep in mind that honor requirements vary based on the attended school. In Latin, cum laude means with honor. Some colleges and universities have three distinctions to denote the highest one achieved. Use the below as a guideline:
Summa cum laude – typically, students need to maintain a GPA of 4.0 or higher.

Magna cum laude – the next highest category usually honors those who achieve a 3.8 to 3.9 GPA.

Cum laude – for this category, the median estimate is a GPA ranging from 3.5 to 3.7.

With distinction – some schools use this wording as an alternative to the Latin distinctions.
A sample looks as follows:
MBA, specialization in Leadership, New York Institute of Technology, Graduated with distinction; GPA: 3.8; July 2017
You may include your GPA to support you graduated with honors. Use the wording on your diploma or follow your school's guidelines.
All Applicable Education Matters
Even if you did not complete a degree or attend college, you still learned skills from on-the-job-training and other forms of education. Follow the guidelines regarding education placement to ensure you present yourself in the best way possible.
How useful was this post?
Click on a star to rate it!
Average rating / 5. Vote count:
Other Samples from this Industry: