Are you wondering how to quit a job you just started? Between a new office culture, new colleagues, and an annoying boss, there are many reasons why you can feel uncomfortable in your new place of work.
Sometimes, submitting your resignation letter before the ink on your contract is dry can seem like the only option. But don't forget to leave graciously and courteously. Even if you're leaving a job after 3 months, it's essential to leave on good terms for your reputation and future employment opportunities.
What to Say When Quitting New Job You Just Started
The hiring process is equally a taught task as job hunting. It is time-consuming and requires a constant investment in a vacancy promotion, time cost of the recruiter and assistant, pre-employment background check, and other verification tests.
Not every new employee requires the same process but leaving any job the right way is critical for building a network across your industry. Remember that it is important to be professional quitting your job, even when things are tough.
Below is what to say when quitting a job after 2 months:
Thank you for this opportunity:

Convey your gratitude for the chance to work with the company. You can also reference the skills and knowledge you acquired while working with your colleagues for that short period.


Please explain why you are quitting:

While you should not detail everything, you can give a general explanation of why you are quitting.

Don't mention anything negative about the employer, especially in writing. If an emergency came up at home and you have to quit to take care of your parents, you could mention this to your new employer: "I accepted a job offer but now want to decline because I will be moving back home to care for my ailing parents". Don't leave the job in bad faith.

Give notice:

Sometimes, leaving a job after a month is not easy. However, the best way to quit a job you just started is by giving notice.

Usually, two weeks' notice is ample time for the employer to look for a replacement.

But if you have to resign immediately, it's essential to talk to your employer to prepare them for your departure. Ensure you have a face-to-face conversation with your boss before submitting your letter of resignation to let them know you are thinking about leaving.
This polite gesture can help reduce enmity feelings between the two of you. Giving notice when quitting a new job is considered an act of courtesy.
---
SEE RESUMES BOT GUIDE:
How to Write an Objective For a Resume
How Many Years Should You Go Back on a Resume
How to Include Work Projects in Resume
---
Good Reasons for Quitting a Job You Just Started
There are many good reasons for leaving a job after a short time. These reasons include:
What you are assigned to do is not what you signed up for, and the company doesn't have any other job openings in other departments that you would be interested in.

You realize that the job you just got will not help your career grow.
The recruiting agent lied to you about the details of the job and what the company is offering is not something you would consider doing, or you can't accept their new terms and conditions.
Your boss or manager is emotionally and physically abusive and doesn't change the treatment no matter how many times you have complained to human resources.
The working conditions are unsafe, with little to no protection.
The working environment is toxic and gives you anxiety or depression.
You are asked to do something ethically or morally against your values and principles, such as sexual favors.
You feel that working at that company is a mistake, and you can live with the repercussions of quitting the job.
How to Write a Resignation Letter for a Job You Just Started
Are you pondering on how to resign from a job you just started? Are you also considering leaving without submitting a resignation letter? Most people are tempted to leave new jobs without writing a resignation letter.
If you think that writing a resignation letter for a new job you just started is a waste of time, you're wrong. Submitting a well-written letter is essential to show your employer that you are professional and courteous even though you are leaving after a short time.
Even if you are quitting a job after a week, ensure you write a formal resignation letter to your employers.
Resignation Letter Format and Content
You have decided to quit your job, but you're unsure of how to write a resignation letter after 3 months; what should be included in the letter? And what format should the letter be in?
All resignation letters should be formal, professional, and precise. The content should consist of an apology for working such a short period of time and best wishes for the company.
Ensure that the letter is 3 paragraphs long, including your contact details- email and phone number where the company can reach you in the future.
Don't forget to also include an appropriate gratitude expression for the opportunity to work with the company.
Ensure you use clear and proper grammar, sign and date the letter, then make a copy for you, the human resources department, and your boss.
Resignation Letter Template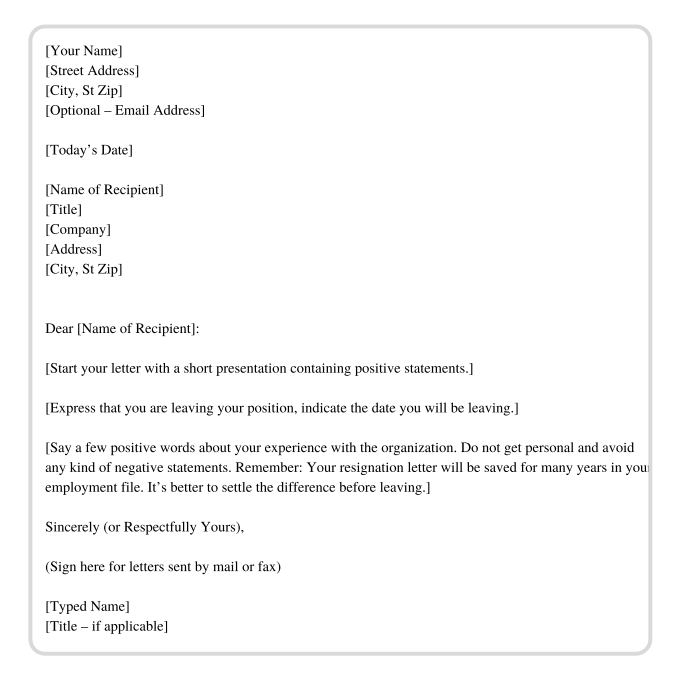 Don't Let It Emotionally Drain You
There are many negative emotions related to leaving your new job. While quitting job after 1 month can make you feel guilty and ungrateful, always keep in mind your reasons for leaving. Don't let the negative feelings get to you.
Sometimes, what the recruiters advertise is not what you get, or you could be dealing with a toxic environment that affects your emotional well-being. If you must leave, take it as a lesson and move forward. However, if you still feel the guilt, try talking to a supportive friend about your feelings. Talking can help you feel better.
Consider Options for Staying
Before signing your resignation letter, consider other staying options. Can the employer modify your position to fit your personal preferences? If this is an option, talk to your boss and try to work it out. If you can work in a different department in the same company, consider making that change instead of quitting.
Can you stay awhile?
If you have had some challenges finding a new job, you can consider staying a while as you look for other better opportunities. You can stay for a few weeks to try and outlive your initial instinct to leave. Sometimes things change, and you may even consider staying.

How fast can you find another job?
Unless it is necessary, don't quit your job until you secure another one. But if it is easy for you to get another job, you can even consider quitting a job after 3 months. If this is the case and you are wondering how long to give a new job before quitting, experts recommend that employees stay for at least 12 months before taking steps to jump ship.
While it can be challenging to remain positive and motivated when you are considering leaving your job, staying for 12 months will give you enough time to check out other better job offers.
However, if you are not able to stay that long due to circumstances, or your situation requires you to quit immediately, ensure you follow the right steps when quitting a job after a month for another job. But be ready to explain to potential employers why you are leaving a job after such a short period of time.
---
SEE RESUMES BOT GUIDE:
What is the Best Resume Format
What is a Good Summary for a Resume
How to List Awards on Resume: Example
---
The Best Way to Quit a Job on Short Notice
Are you wondering how to quit a part time job you just started on short notice or how to quit a job you just started without notice? There are many reasons why people leave their jobs on short notice.
Even when you're in a hurry to quit, ensure you have given your employer notice and submit a formal letter of resignation. Notify all the relevant parties such as the HR department and your immediate boss of your intent to leave the job.
Follow the below tips on how to quit your job on short notice:
Inform your manager or immediate boss first

Write a short notice resignation letter

State in the letter your position and the date you will be resigning

Explain why you are resigning after such a short time
Consequences of Quitting New Job
Are you wondering how to quit your job immediately? Or how to quit a job you just started 3 days ago? While the process of leaving a new job can be mentally stressful, there are other consequences that could hurt your career.
Sometimes other better offers come along a few weeks or even months after you start working at your new job. This can leave your mind fixated on how to quit a job you just started for a better offer forgetting the impending consequences of doing so.
While quitting a new job for another better offer is sometimes the best option for your career, doing so especially in bad faith could lead to the below consequences:
1. Your employer might give you a bad reference, which will hurt your chances of getting a job in future.
2. Loss of network.
3. Loss of income and benefits.
4. You may experience personal disappointment.
5. You may damage your reputation.
How useful was this post?
Click on a star to rate it!
Average rating / 5. Vote count:
Other Samples from this Industry: